(State of the City)
"We cannot stride with confidence toward the future without honoring lessons learned, community leaders, and contributors that paved the path to where we are today. Many mayors and councils came before us, but they have passed the leadership of this city to us. People may not realize how valuable our town is until we, ourselves, tell the story.
Everything we are and have accomplished is because we worked for it.
Thank you for the incredible honor and privilege of presenting my second state of the city presentation.
I extend thanks to my colleagues who continue to demonstrate their passion for our community, and thanks to the Hemet City staff who work tirelessly to make sure that our residents and stakeholders get top notch service.
Most importantly, I thank the residents of Hemet.
All of you who choose to run a business here, live here, and shop here—you are what make this community great.
We are committed to collaboration, endurance, and hard work.
Just think of the businesses that have weathered tough times here in the city.
I immediately am reminded of Steer-n-Stein. Throughout the economic downturn, restaurants like Applebee's and Sizzler opened and closed, but Steer'n'Stein remained—much like many of our city's thriving businesses. In light of that, we recently launched the Mayor's Business Advisory Group and had our first meeting last month. The whole idea is to work with businesses through their issues to help them toward success. A lot of challenges came to our attention in just one meeting, and I am excited to work alongside our city's businesses to grow our economy. It isn't always about the success for us at this point, it is more about welcoming those who need help. I am happy to report that La Michoacana Victoria recently opened after being a part of our Advisory Group; and although we didn't have a chance to meet Tacos N Beer, at the Advisory Group, I have personally dined there, and highly recommend their restaurant. Thank you again, for choosing Hemet.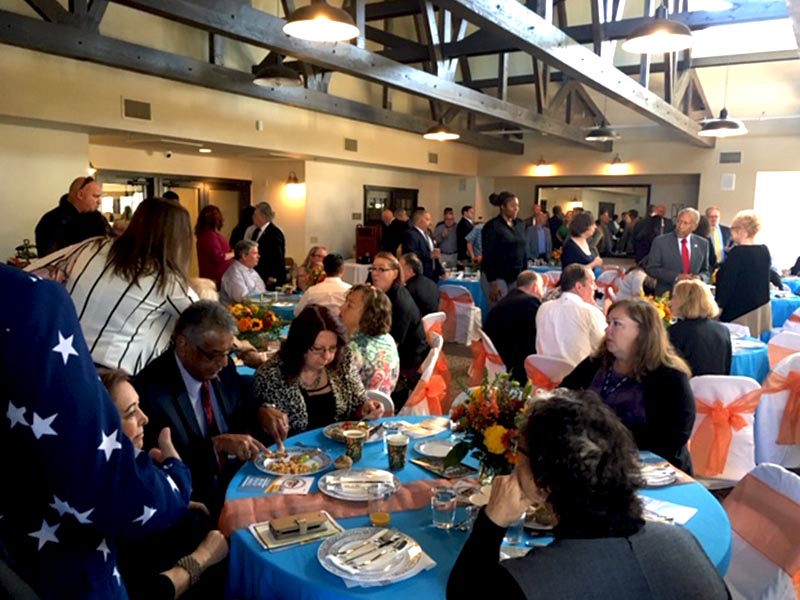 We have seen incredible growth in just one year, and our staff has worked diligently to ensure that we can sustain long-term success through budget solvency, and efficient service delivery.
This past June, the council adopted a completely balanced budget, maintaining the city's 20% reserve for emergencies and maintaining the current service levels.
You, the community, are a vital part of this process. The Hemet City Council extends our sincere appreciation for your confidence and trust in us to steward the funds openly and honestly.
When Measure (U) was passed, the Council fully committed the funds to public safety, and with that, both the Fire and Police Departments committed to bolstering their manpower; their technology; and overall improving service to the community… I don't know about you all, but the people that serve in these two forces make me so proud to be a part of the Hemet City Team. Thank you, Police and Fire, for all that you do to keep our community safe. We are committed to doing all that we can to maintain the safety of you all who run toward danger while we take cover.
With the inception of Measure U funding, Hemet Fire Department has been able to improve emergency response by adding 6 additional employees who encompass a full medic squad, and 3 fire captains that contribute to the fully staffed Station 5 that serves East Hemet. The Department's response times continue to improve, with its current time for a unit to arrive on scene being 8 minutes from when the call is placed.
Our 109-year-old Fire Department responded to 16,510 calls for service in 2018! They rendered emergency medical service to 14,000 people; responded to 552 fires; dispatched to 1,818 non-emergency calls; and, were on the frontlines of EVERY MAJOR FIRE INCIDENT in California! In the coming year, Measure U will fund modern breathing apparatus, protective equipment, a call taker, and a fire truck!
Last year Measure U funded 6 additional Police Department staff members, including 2 Dispatchers and 2 Community Service Officers. This year, three new vehicle requests, a radio system replacement, and two public safety operators will be funded. It is clear that our continued investment helps the Department, because in this past year, crime continued its downward trend, as the department focused its effort toward community engagement."
The mayor then went on to thank McCrometer as a staple in our community, while guests dined on the excellent breakfast prepared and served by HSJC's own pastry chef/food connoisseur Allysun the Uhmayzing of madamconfection, and Destination Coffee Bar owner Nick Yepremian. The mayor also went on to site other businesses: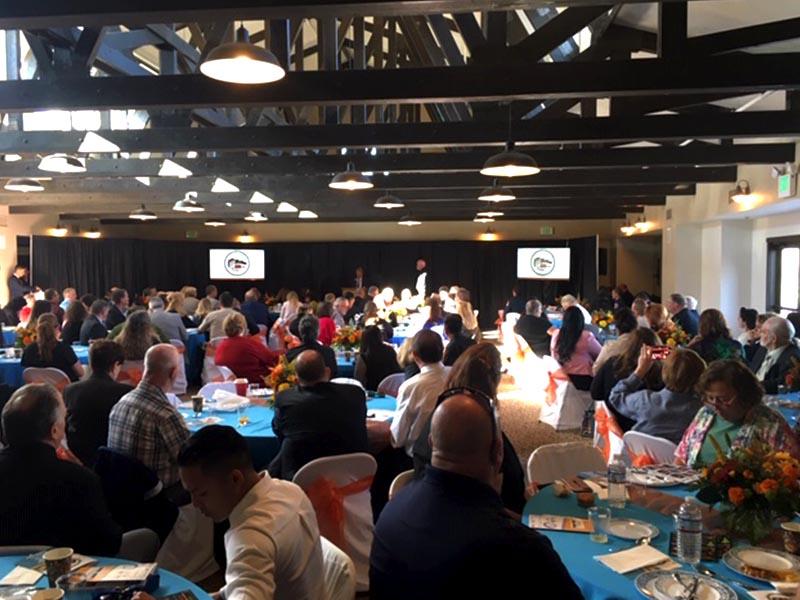 "More than 65 years ago, the Hemet Valley Medical Center opened.
Over 90 years ago, the Ramona Bowl premiered its first season.
And almost 100 years ago, the Hemet Theatre premiered its first showing.
These iconic staples of our community have stood the test of time, served thousands of patrons, and still maintained their character, their mission and goals, and their home here in Hemet.
We are proud to be home to McCrometer and many other long-standing businesses.
Thank you for choosing Hemet."
Ms. Wright went on to say:
"(The) City Clerk's Office has improved both transparency and efficiency by streamlining agenda management workflow, improving Public Records Act requests, adding useful information on the City website for residents, and developing a retention schedule and records management manual.
Our Administrative and Legal staff have continued to survey outdated protocols and policies that we haven't revisited in years, and a lot of records in multiple departments are getting transferred to digital databases for public access.
As we adopt new processes and fine tune the current ones, it is important to acknowledge that growth and change are challenging. I want to be intentional about allowing a moment for us all to be proud of choosing to embrace change. Hemet is opening the doors to innovation, diversity in thought and opinion; it is through this collective process, that Hemet will continue to grow into a thriving Riverside County community.
It has been a long time coming, but we are definitely moving forward.
It is impossible to look behind us and not be confident in what lies ahead for our community. As your Mayor, and Council Member, I want to encourage you to use the lessons from our past to succeed in the future—that is what this team is committed to doing. We will continue to position ourselves to engage our residents, businesses, and neighbors as we grow.
I encourage you to get out into the city, visit the shops that have chosen to serve our community, and recognize that more and more businesses are finding the value in our city. I am incredibly excited for what is on the horizon for Hemet. There will be challenges but there will also be successes. Together we will work through them for positive outcomes.
Before going, I would like to thank both Madam Confection and (the) Destination Café for making the delicious meal this morning."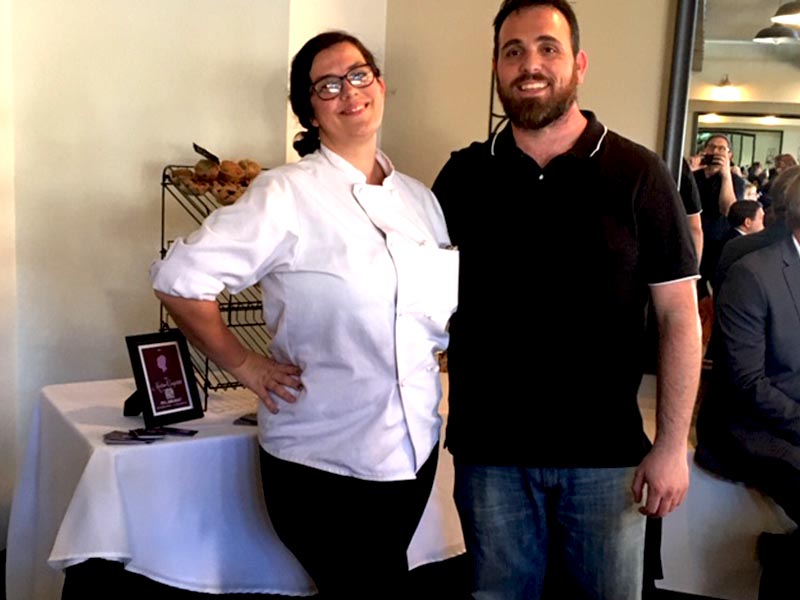 The Hemet-San Jacinto Chronicle appreciates the time and transparency show by the Mayor and City Council in meeting with our staff.
Find your latest news here at the Hemet & San Jacinto Chronicle
Search: State of the City