Good Neighbor donates much-needed flag to American Village
(Good Neighbor donates flag)
Neighbors had been complaining for years.
With each passing summer the hallowed flag at American Village Mobile Home Park became more and more faded, and with each passing winter it became more and more tattered.
No one would help.
What's worse is that those who wanted to help couldn't risk climbing up the flag-pole to hang a beautiful new version of "Ol' Glory." And no one could find a decent replacement.
No one except Joyce Newsom that is.
Joyce Newsom is a woman who loves our flag…and our police and firefighting personnel as well. Ms. Newsom proved her patriotism by donating the flag to American Village. "Fred Zerkle is the one who has been pushing this for so long," said Ms. Newsom, adding, "I'm just proud to be able to help."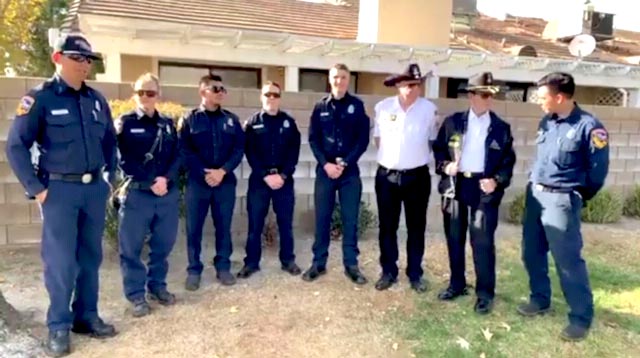 Fred Zerkle, Purple Heart recipient, couldn't have been more pleased. "It's just…beautiful." Mr. Zerkle was flanked by his friend and fellow veteran Dan Lesko.
People seemed in awe of the new red, white and blue. "Something had to be done…and Joyce came through for us. Isn't it beautiful?" said one American Village resident, adding, "Those colors are so vibrant. It's really eye-catching."
And the risk of putting up the new flag? Piece o' cake for Cal Fire. "The Riverside County Fire Department Station Number 25 agreed to come out and help us because…they're wonderful, and they save us every day. And this is another form of saving us, so we didn't have to kill ourselves goin' up that old pole," said Ms. Newsom.
"We annually replace flags that are coming apart and are no good anymore. The problem is, that one is the tallest pole in the village, so we really needed these guys to come through for us," said Mr. Zerkle.
In attendance with excellent service from Cal Fire were firefighters and EMT personnel including Andrew Patlan, Steven Ponce, Shawn Papp, Travis Mojica, Oscar Pulido and Anne Marie Miller.
The HSJ Chronicle salutes and thanks all who were associated with this wonderful act of kindness and patriotism.
This story and all pictures could not have been published without the help and courtesy of Eddie George, Mario Sevilla and Hemet Eye News (hemeteyenews.com), and on Facebook @ Hemet Eye News 
Find your latest news here at the Hemet & San Jacinto Chronicle
Search: Good Neighbor donates flag