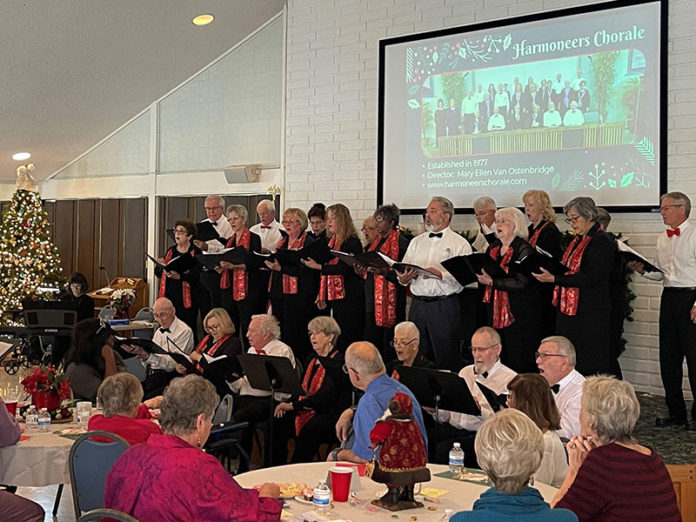 CalRTA members celebrate the spirit of the holidays
Sue Breyer, CalRTA Division 33 Vice President
Nearly 80 members and friends of the California Retired Teachers Association (CalRTA) Division 33 celebrated the holiday season with a special performance by the valley's own Harmoneers Chorale at their December 6th luncheon. The Chorale's 25 members treated luncheon guests to a variety of holiday classics ranging from "What Child is This?" to a unique toe-tapping Christmas rendition of Glenn Miller's "In the Mood."
The Harmoneers Chorale was founded in the Hemet area in 1977 under the name The Happy Harmoneers. The group was comprised of people who simply loved to sing, and who wanted to share their love of choral music with their community.
Under the leadership of Director Mary Ellen VanOstenbridge for the past 13 years, and Accompanist Charity Putnam for over 19 years, The Harmoneers Chorale presents two major concerts each year. Their yearly winter holiday concert was recently held on December 4th and featured traditional and contemporary Christmas music. Their annual Spring concert will be held on Sunday, May 21, 2023, at the First Presbyterian Church in Hemet. The Spring concert theme is different each year and might include music ranging from Broadway show tunes to popular movie songs, or patriotic tunes to gospel numbers.
The Chorale also provides scholarships for graduating high school seniors who desire to further their education at a two-year or four-year college and pursue a career in vocal music, musical theater, or music education.
In keeping with the holiday spirit and with a desire to help those who are struggling in our local community, CalRTA members also brought bags and boxes loaded with food and household goods for the Valley Community Pantry. Jim Lineberger, Executive Director and CEO of the Community Pantry, took a moment to share with the audience the great needs of our valley residents, including many seniors, and thanked CalRTA for their support.
CalRTA's next luncheon meeting will be February 14, 2023, from 11:30 am to 1:30 pm at the Seven Hills Members Club and will feature guest speaker Dr. David Pyle, Superintendent of the San Jacinto Unified School District. You can get more information about the state CalRTA organization at their website, calrta.org, or for information about CalRTA local Division 33 (Hemet, San Jacinto, Menifee, Nuview, Romoland), go to div33.calrta.org, or send an email to calrtadivision33@gmail.com.
Find your latest news here at the Hemet & San Jacinto Chronicle