CalRTA Teacher Grants
Sue Breyer | CalRTA Division 33 Vice President
Valentine's Day has come and gone, but the sweet sentiments shared in those cute little cards we give and receive each year linger on. Sometimes those Valentines come with tiny candy hearts that say "Be Mine" or "Crazy 4 U" or other sappy sentiments, but for three local teachers, Valentine's Day brought them much more than a box of candy. Kate Paragone and Ginamarie Richards, both of Menifee, and Wendy Lizardi of Romoland, each received notice that their names were randomly selected by Division 33 to receive a $100 Teacher Grant. And, in a separate drawing, Tahquitz High School teacher, Cheryl Miller, was announced as a recipient of one of the 35 State CalRTA $100 Teacher Grants awarded in February.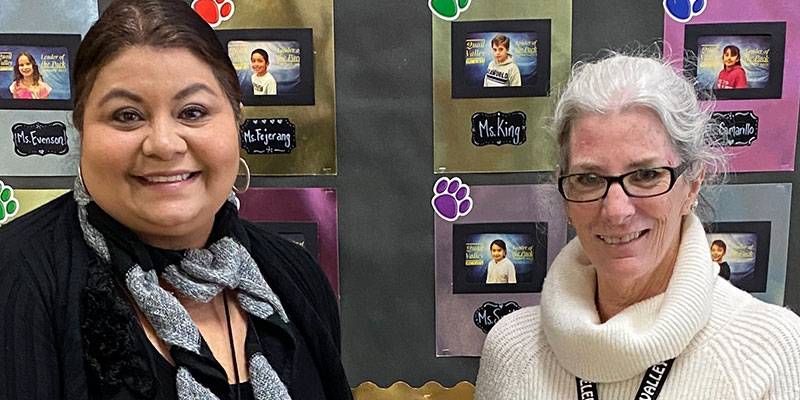 Kate Paragone teaches 4th and 5th grade RSP/SDC at Evans Ranch Elementary School in Menifee. Paragone works with RSP (Resource Specialist Program) students, quite a number of whom struggle with math concepts. "So I turned my attention to that area and bought play money and play cash register and some other supports and work with the students on adding, subtracting, multiplying and dividing as well as adding purchases and computing the tax to arrive at a total," Paragone explained. "I'm trying to make real life application for the students to understand the concepts of managing finances."
Ginamarie Richards, who teaches 5th grade at Quail Valley Elementary School in Menifee, says, "We usually extend our learning through STREAM (Science, Technology, Reading, Engineering, Arts, and Mathematics) and integrated hand-on activities so this will help tremendously. Our next project is to build/replicate a constellation for our space culminating project. We will be needing beads, metallic sharpies, glue for our student safe glue guns, and pipe cleaners" to complete the project, Richards added. "Now we will be able to have each student make a constellation."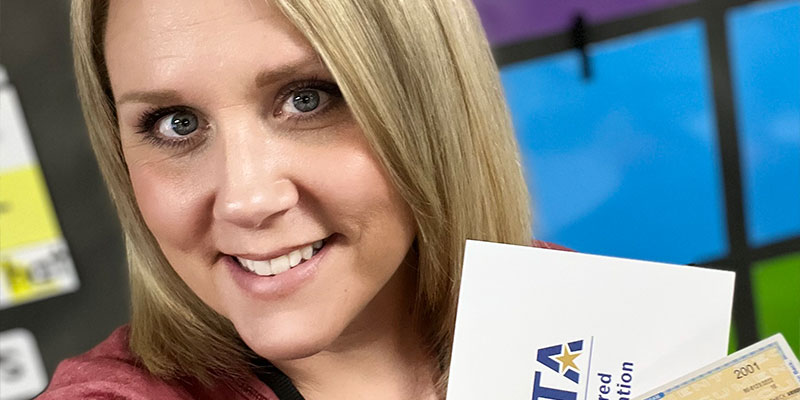 Wendy Lizardi teaches kindergarten at Harvest Valley Elementary School in Romoland. When she received notice that she had receive one of Division 33's grants she was thrilled. "Thank you!! I'm so excited! With the $100 grant, I will purchase math and ELA manipulatives for my students to use for centers and small groups. I enjoy giving my students hands on experiences in order to promote multi- sensory learning."
When Tahquitz High School biology and botany teacher Cheryl Miller received word that she had been selected to receive one of CalRTA's state teacher grants, she responded, "I am so excited to get the $100.00! It will sure help with the purchase of some good topsoil for the garden beds" that her science students have created to carry out their experiments. "Since COVID, the gardens need a little help and this is a perfect start." CalRTA Division 33 Vice President Sue Breyer presented the $100 Teacher Grant check to Tahquitz High School Principal Dr. Kari McGowan at a recent staff meeting, then matched that $100 check with a crisp $100 from Division 33, for a total of $200 to be used in Ms. Miller's classroom. Unfortunately, Ms. Miller was unable to attend the meeting to receive the funds in person.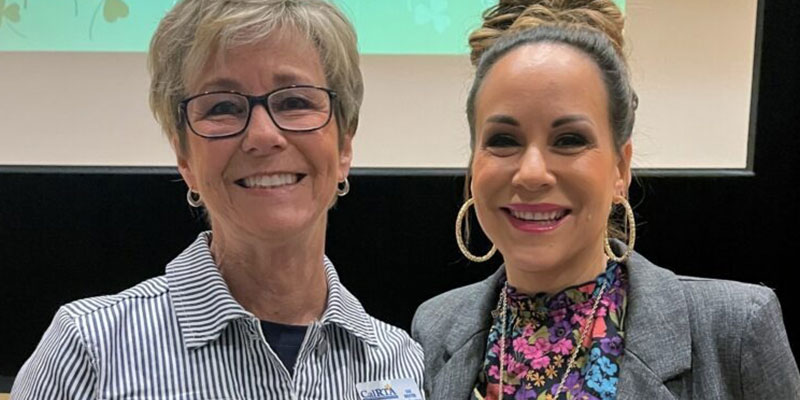 California Retired Teachers Association Division 33 supports public education by offering 11 $1000 scholarships each year to qualifying seniors in Hemet and San Jacinto, and 15 $100 "no strings attached" teacher grants for classroom use. For more information about CalRTA Division 33, you can access their website at div33.calrta.org then click on Scholarships & Grants to access application forms and information about recent grant and scholarship recipients.
Find your latest news here at the Hemet & San Jacinto Chronicle