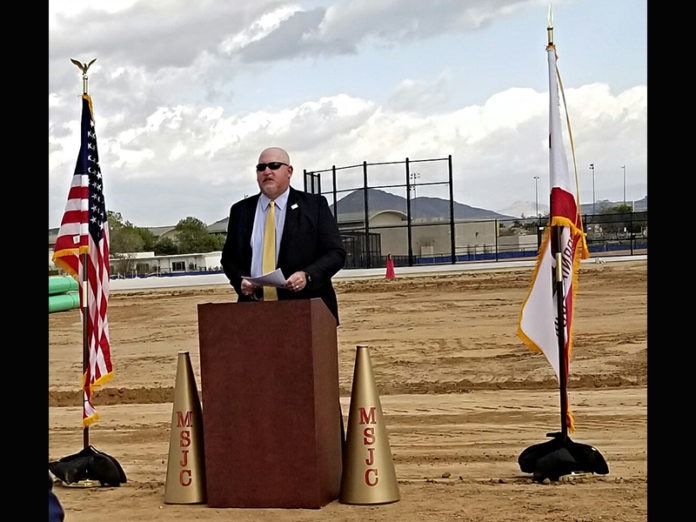 Mt. San Jacinto College and community leaders on March 23 ceremoniously broke ground on the $41 million MSJC Athletics & Kinesiology Complex at the Menifee Valley Campus. The project will feature a 5,000-seat stadium and field house, softball field, and sand volleyball courts. The site is scheduled to host games and other events as soon as Fall 2022.
"We've been looking forward to this project for years, so this groundbreaking is truly momentous for us and the community," said Dr. Roger Schultz, MSJC Superintendent/President. "We're excited to host graduation and watch games in the stadium, but we also can't wait to host fundraisers and other events with our community partners. This is a game-changer."
A limited number of guests attended the groundbreaking, which was held outdoors to observe COVID-19 protocols. Guests included the current members of the MSJC Board of Trustees; Student Government Association President Brian Moreno; the MSJC executive cabinet team; and key members of the construction firm Balfour Beatty and architecture firm BakerNowicki Design Studio. All participants wore masks.
Board Chair Vicki Carpenter, who represents the Menifee area, was unable to attend, but said prior to the event: "I believe residents of Menifee would agree with me when I say we are all so excited for the stadium and all the opportunities it provides MSJC students, our student-athletes, and the members of our community. This stadium will be a jewel for MSJC and for the city of Menifee. I am proud of this historic groundbreaking."
Trustee Tom Ashley, clerk of the Board, told guests at the event that the new Athletics & Kinesiology Complex was made possible through several efforts, including discussion and compromise between MSJC board members and voter-approved funding sources. He said the stadium is centrally located within MSJC's 1,700-square-mile district boundaries.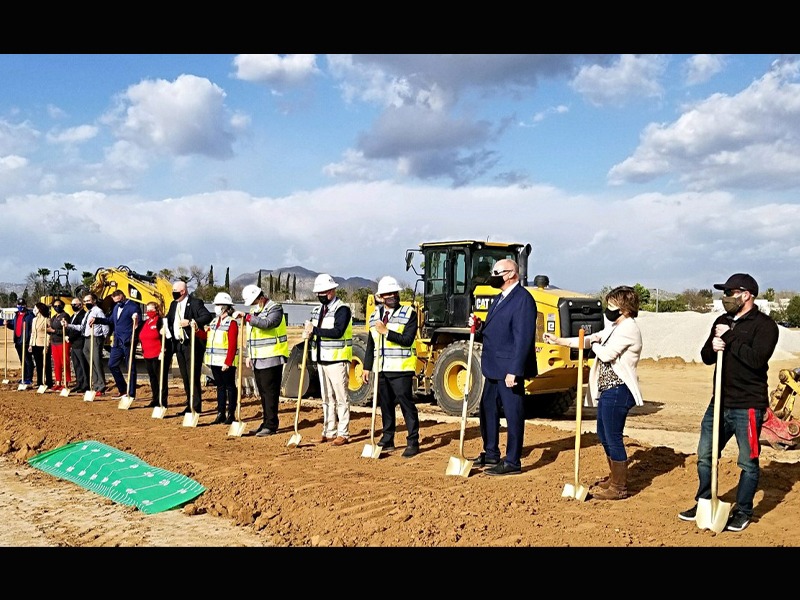 "I honestly believe everyone will come out for Saturday night football," Ashley said. "It is going to be a 'thing' along with concerts . . . and graduation. It's just so exciting, so let's get to work and build this thing."
The college district's 2014 voter-approved Measure AA, a $295 million facilities bond, is funding the construction of the stadium, which will include a field house; large classrooms and faculty offices; fitness/weight rooms, lockers, team rooms and a press box.
"As a former MSJC board member, I'm excited to see this great project start to take shape," said Menifee Mayor Bill Zimmerman. "As the city's current mayor, I am pleased that we have a strong collaborative relationship with Mt. San Jacinto College and I look forward to all of the exciting student and community events we'll team up on once the new stadium is complete."
Patrick Springer, MSJC Dean of Kinesiology and Athletics, said he is excited about what this new complex means for student-athletes as well as the programs and education it will provide MSJC students in general.
Measure AA also funded renovations of a Menifee Valley Campus building into a new Student Center; and — along with matching state funds — is funding the construction of Science Technology Engineering Math (STEM) buildings at the San Jacinto and Menifee Valley campuses in the next few years; and funded the purchase of the Temecula Valley Campus that will open to students in Fall 2021, among other improvements at each of the district's four campus locations.
MSJC • Contributed
Find your latest news here at the Hemet & San Jacinto Chronicle