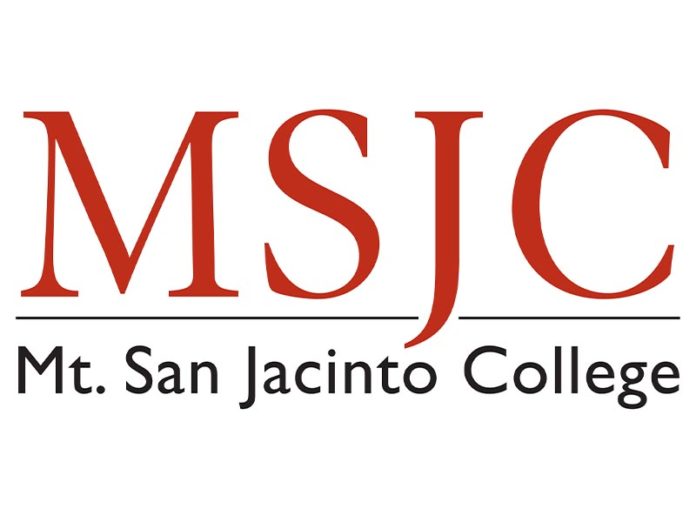 The COVID-19 pandemic has affected everyone in one way or another – and, in some cases, many ways.

Mt. San Jacinto College (MSJC) has continued providing students instruction but had to cancel all of its face-to-face events.
However, the MSJC Foundation has good news for MSJC students, faculty and staff. We may not be able to attend a concert in a large or quaint venue right now, but thanks to very generous sponsors, we can still enjoy some stellar performances in our new virtual concert series featuring five great acts from various musical genres.
The free hourlong concerts would not be possible without MSJC Foundation sponsors Pepsi; CW Driver; Keenan; Image Source; Dominion Trust; So Cal Gas; and California Coast Credit Union.
The MSJC (Stay-At-Home) Concert Series launches today, May 29, with Jimmie Allen, a breakthrough country music artist slated to play the Stagecoach Country Music Festival in Indio in October.
Up-and-coming country music artist Matt Stell, a former college basketball player best known for "Prayed for You," will perform Wednesday, June 10.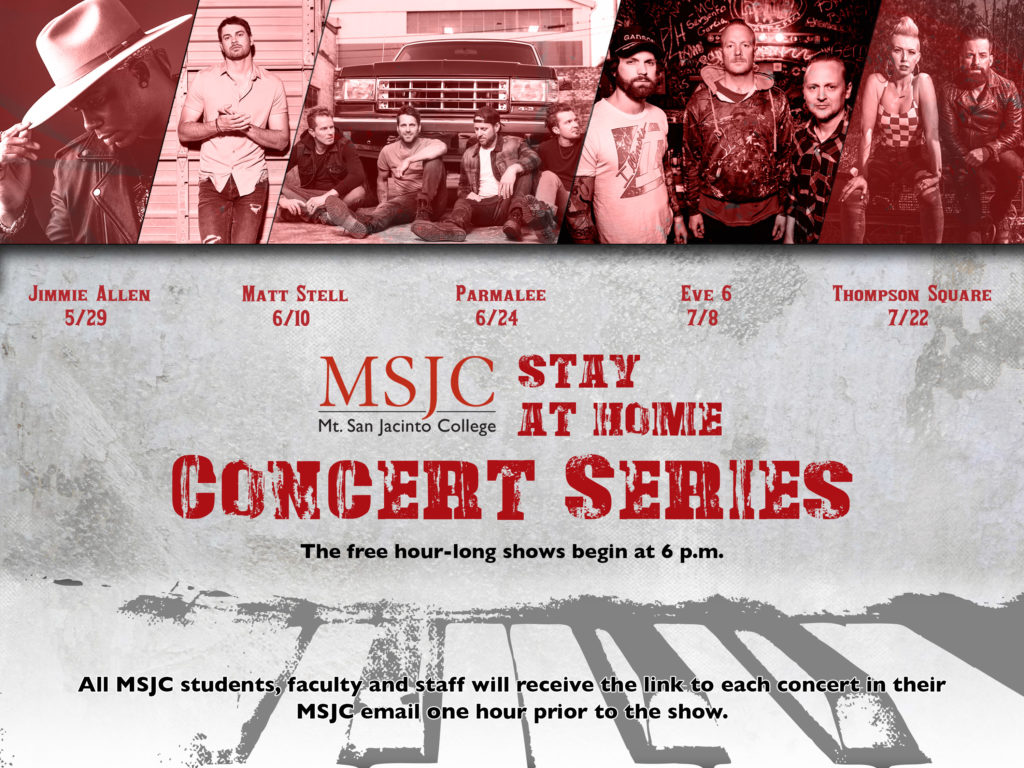 Platinum-selling Parmalee, a 2016 Academy of Country Music (ACM) "New Vocal Duo/Group of the Year" nominee, jams on Wednesday, June 24. The band was slated to play the Menifee Music & Arts Festival on the MSJC Menifee Valley Campus this year until its cancelation.
Eve 6, which scored several hits in the '90s such as "Inside Out," takes the "stage" Wednesday, July 8.
Thompson Square, the Grammy-nominated country music duo who headlined the Menifee Music & Arts Festival in 2019, will entertain us again on Wednesday, July 22. The multi-platinum-selling husband and wife have earned "Vocal Duo of the Year" honors from both the ACM and Country Music Association (CMA) awards.
The MSJC (Stay-At-Home) Concert Series benefits the MSJC Foundation's Pledge for Success, a basic-needs initiative that supports MSJC students with emergency funding and food, books and supplies, professional clothing, and essential hygienic kits throughout the year. The Pledge is needed now more than ever as we work to provide the resources our students need at this time. Learn more about it at www.msjc.edu/pledgeforsuccess
Each concert will be streamed live on YouTube for MSJC students, faculty and staff.
Mt. San Jacinto College serves about 27,000 students – about two-thirds of which are on financial aid – over a 1,700-square-mile area.
On May 21, Mt. San Jacinto College (MSJC) awarded a record-breaking 3,554 degrees and certificates to 1,958 graduates during its virtual graduation ceremony.
Have a wonderful day and please follow MSJC on social media — Facebook, Instagram, Twitter and TikTok.