Soboba Band of Luiseño Indians | Contributed
Although Noli Indian School students returned to classrooms on the Soboba Reservation on August 3, they waited to share their firsthand experiences until August 25 when their family members were invited to visit the campus for a back-to-school night event.
Meeting teachers and staff to hear about upcoming activities, expectations and study/learning plans was the goal. Even with just a few weeks of getting acquainted, teachers were able and willing to share what they have learned about each of the 91 enrolled students in grades six through 12.
Principal Donovan Post has been at the helm for the past 25 years and has seen many changes. As a member of the Soboba Band of Luiseño Indians, he recognizes the unique opportunities that can be realized at Noli. Culture classes and activities have long been a mainstay and integral part of the campus climate. However, this year many of these classes have been integrated into the college admission requirements of high school A-G courses for the first time.
Alongside other visual arts classes specific to the elective (G) subject area, such as photography, sculpture and painting, offerings of Indigenous California Native Basket Weaving, Native American Art, Native American Beadwork and Native American Art Through Material Culture are available.
Noli's Culture Department Coordinator/Instructor Tashina Miranda Ornelas said, "Through Culture we can create a future of many beneficial opportunities for our families, communities and friends."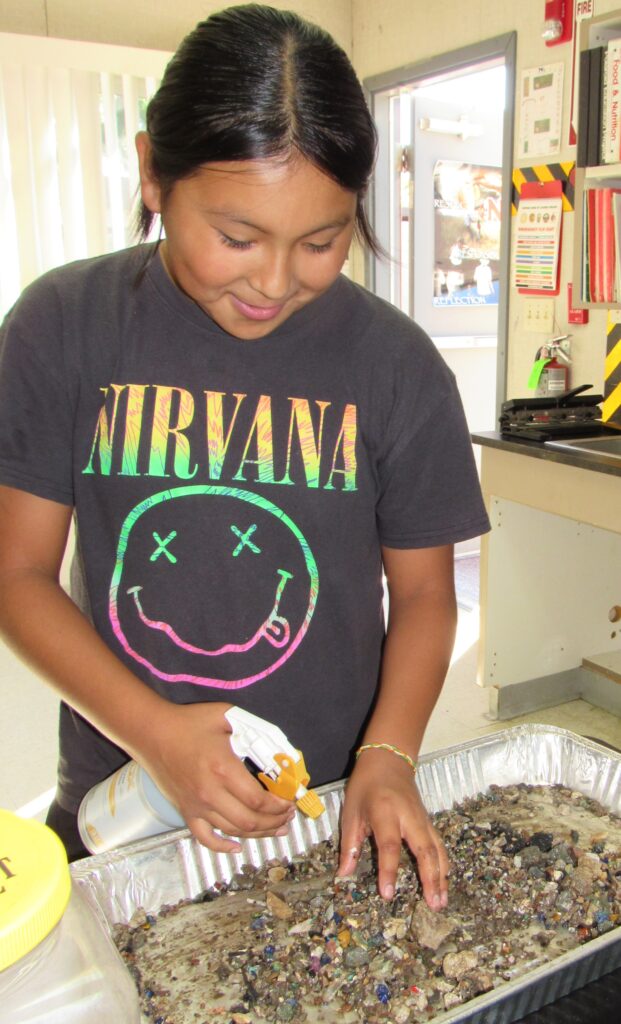 She has lived in the San Jacinto Valley her entire life and is Luiseño and Mountain Cahuilla. She earned her bachelor's degree in Native Studies with a minor in Religious Studies from the University of California, Riverside and has been teaching in the Culture Department at Noli for about 18 years. Miranda Ornelas lives in Los Coyotes with her husband Chris and their eight children, three of whom currently attend Noli.
As part of her back-to-school presentation, she shared the numerous hands-on classroom projects planned in addition to the importance of activities that regularly take place off campus.
These include gathering traditional and non-traditional plant resources, as well as cleaning and processing these resources. Weaving and beading are part of the social/traditional activities done outdoors to promote mental and spiritual health and wellness. Students are also encouraged to recreate traditional structures of Southern California Native Peoples using traditional/non-traditional methods.
English teacher Dr. Temika Morris-Washington is new to the school but has been in education for the past 18 years and brings a vast experience she feels will be relatable to her students.
She shared with parents and other visitors what will be emphasized in the multiple grade levels she is teaching to prepare them to do well in high school and beyond. Along with reading and writing, speaking will be included, with their first opportunity coming when asked to give classroom presentations next month. Morris-Washington said 40% of their grades will come from classwork which will often consist of cultural themes.
Parents and other family members eager to support their students were encouraged to help them study at home and to establish a work ethic of consistency by being present and making a solid effort in class every day. "Studying should be a habit and not only be done when they are expecting a test or a quiz," she told visitors.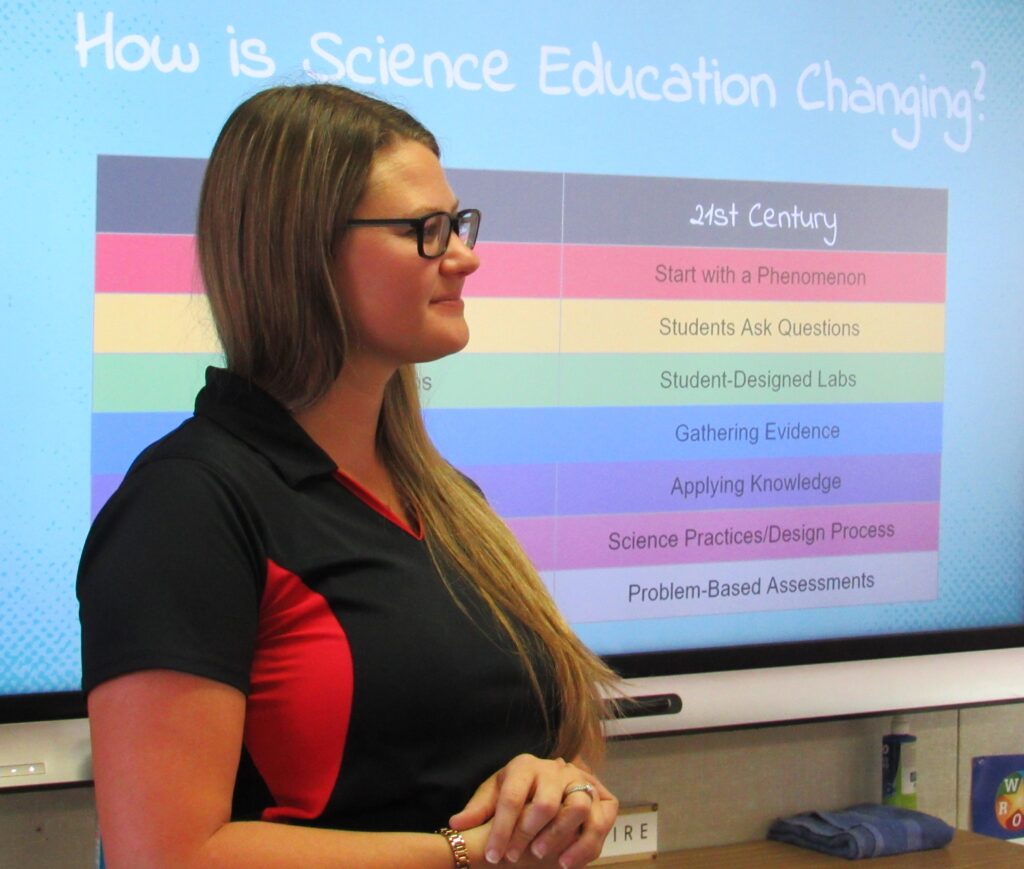 Morris-Washington has already created and started to fill a Shout-Out Wall for students who academically "bring the fire." She also intends to make positive phone calls at least once a week to share how students are shining, as a way to build relationships with families. "I want to continue to encourage and acknowledge all my students," she said. "School is not easy, but I know they can do it."
Ever since she played the role of a teacher to her stuffed teddy bears as a young child, Morris-Washington knew she wanted to be an educator. When she was a sophomore in high school, she was adopted and raised by her English teacher and sharing a love of Shakespeare and others led her to embrace the subject.
She hopes her students will see her as an opportunity to learn about different cultures and share similarities. "I tell them that I'm proud to be African American just like they are proud to be Native American. But our home culture is different from our Indigenous culture," she said. "We've all experienced loss and I intend to share my stories with them. I feel that makes me human and safe to learn from."
She also believes that by utilizing a liberatory education system, using evidence-based educational practices while treating differences and children's experiences outside school as assets, will strengthen the learning process.
Academic Coordinator Elizabeth LaCella has been at Noli for the past 15 years as has Attendance Clerk Amelia "Millie" Arres and Reading teacher Jonathan Ruiz. She said staff spent the summer preparing for the new school year by working on goal setting, cross-curricular writing and more.
Science teacher Sabrina Sobel-Smith, who offers Biology and Oceanography, recently attended a training workshop that she thoroughly enjoyed and will incorporate into her classes this year. Located in Bozeman, Montana and Yellowstone National Park, the Buffalo Nations Landmark Teacher Workshop was presented by the National Endowment for the Humanities, Fort Peck Community College and Ecology Project International.
"I was in Montana for a week, and we went into the park for two full days," she said. "The main focus of the workshop was on the history of the Indigenous tribes in the area and surrounding states as well as their relationship/connection to the buffalo. There was also a science focus on the ecology of the buffalo, such as their importance as a keystone species, the ecosystem connections, and the interspecies relationships that the buffalo have. We had the opportunity to learn from Tribal members representing several different local Tribes to hear how buffalo have impacted their lives, their resiliency and goal of food sovereignty for their Tribes."
For more information, www.buffalonationslandmarks.org/overview.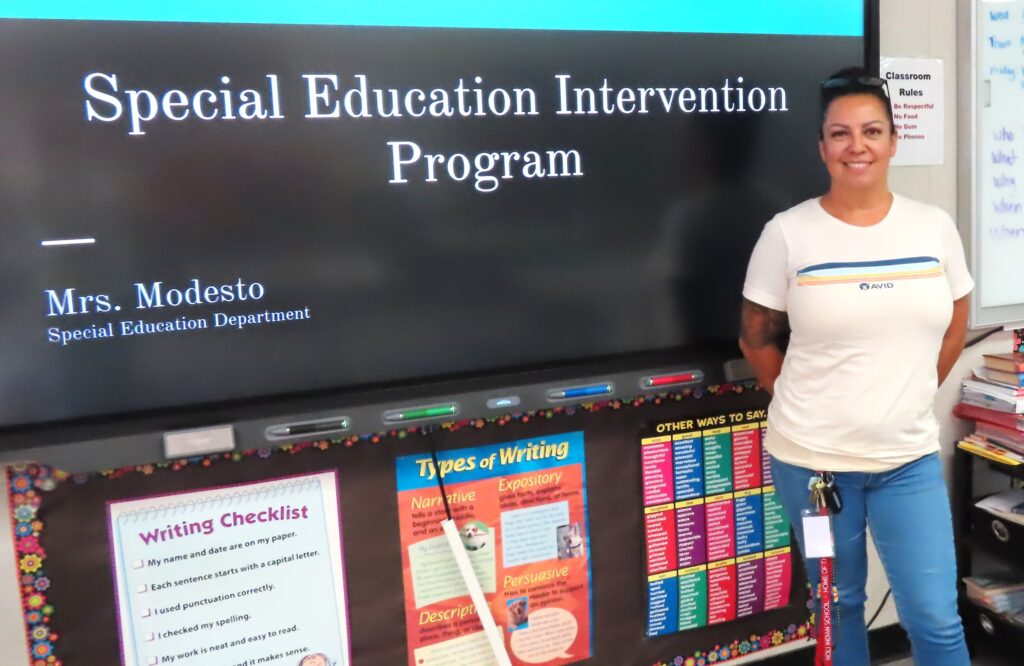 At her back-to-school night presentation, Sobel-Smith shared her educational philosophy on teaching the subject of science. She uses phenomenon-based teaching and provides authentic learning experiences to foster curiosity. She plans to motivate and inspire students through labs, debates, discussions, cooperative learning projects and creativity, always encouraging them to ask why and how.
In her fourth year at the school, Sobel-Smith said teaching all grade levels allows her to see her students' growth through the years which she finds most rewarding. She added that providing authentic, real-world teaching allows them to apply what they learn to something new.
Special Education teacher/coordinator Sonia Modesto oversees the Special Education Intervention Program with the help of education techs who float through campus when and where they are needed. Monitored by the Bureau of Indian Education, the program follows standard special education guidelines and emphasizes results driven accountability. Its mission statement reads, "We will provide an opportunity for our students to engage in preparing for future educational and life endeavors in an environment that promotes students becoming active participants in their learning and progress."
Spending time on reading comprehension and fluency, math and writing are regular parts of each class but also helping students identify their learning style is key. Focusing on metacognition helps them become aware and understand their own thought processes, which can lead to success in all subjects.
"They need to learn how they learn in order to become lifelong learners," Modesto said. "We are encouraging them to keep going until they find where they fit."
All of the students receive special education instruction based on their Individualized Educational Plan to ensure all their needs are met. Modesto, who has been at Noli for almost 10 years, said, "This year it's about re-teaching, pre-teaching and being goal focused. We want to close any gaps they have, based on their IEP needs."
Jay Dagostino begins his 13th year of teaching science at Noli. Geology has been added to the lineup of his classes that also include biology, chemistry and middle school agriculture. Inside his classroom, outfitted with new desks this year, he set up a hands-on activity of "mining" through natural rocks and dirt to locate hidden "gems." It is an activity that students have already been doing in geology class in preparation for September's field trip to the Oceanview Mines near Pala for a mine tour and tourmaline dig.
"We have a dynamic staff, and we are starting the year off with a more bonded campus," LaCella said. "Our football coach implemented a staff night for the football team where staff members sponsor a football player and wear their jersey number during the game. He is also working on a family-themed night. We look forward to more family involvement in all our activities and special events."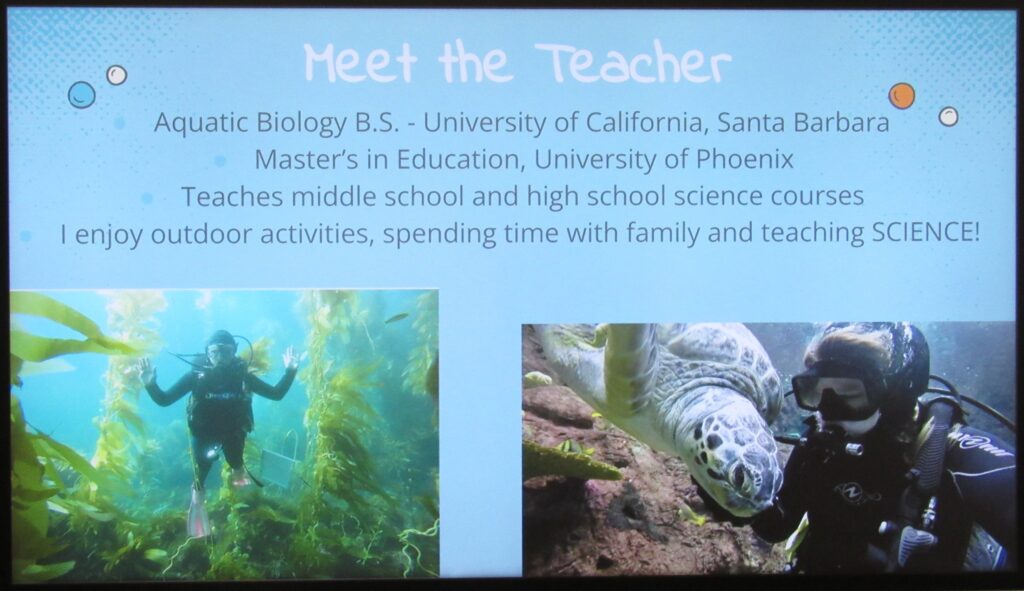 Find your latest news here at the Hemet & San Jacinto Chronicle