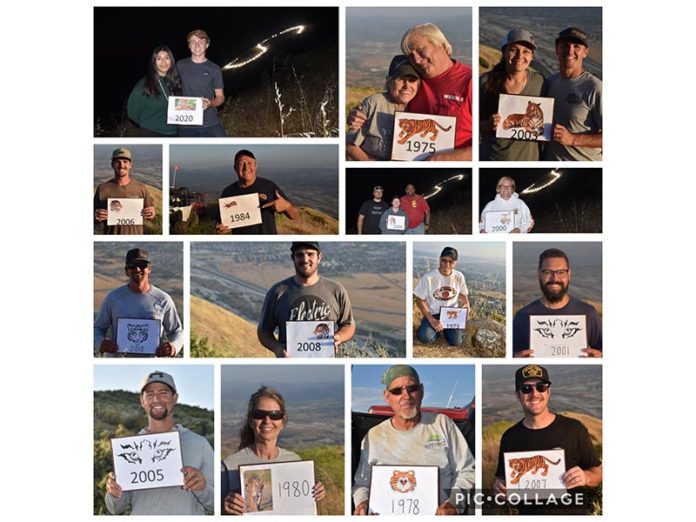 (Virtual Graduation)
Throughout nearly the entire country, high school graduations were very different this year under the response to the COVID-19 pandemic. However, San Jacinto High School's long-standing tradition of the "S" on North Mountain illuminating for 15 to 30 minutes at the close of commencement was still made possible by a group of alumni insisting that the tradition not miss a beat.
"After surveying our students and parents on ceremony alternatives, we supported their desire to have a virtual graduation video released on June 4 at 7:30 p.m., the original scheduled day and time for the Class of 2020 commencement," shared Principal Courtney Hall. "When the alumni agreed to light up the 'S' at the close of the video for us to live-stream, it really gave an extra touch in making it a real, although partial, graduation," she noted.
For many years, Mike Ward and his family have taken the lead in organizing a group to make the eight hour journey up North Mountain and set up a generator and lights on the boulders. The Ward family has been involved in lighting the "S" since the early 1970s, two times a year – SJHS's homecoming football game and graduation. It was extra special this year since a member of the Ward family, Mark Ward, is a graduate of the Class of 2020 and helped light up his own graduation celebration.
Special permission to cross the terrain that belongs to the Soboba Band of Luiseno Indians and the State Department of Fish and Wildlife area is required, and the trip up the steep portion of the San Jacinto Mountain range includes some tricky maneuvering on a single-lane dirt road.
"My father, Jerry Peebles, always talks about San Jacinto High's 'greatest graduating class' – the class of 1973," said Autumn Peebles Clark, SJHS Class of 1996. "He was ecstatic to join the Wards and other alumni for this year's symbolic lighting, and ensure the Class of 2020 had at least this graduation tradition that's been in place since the 1930s," she explained.
This year's lighting team by SJHS graduating class: 1973 Jerry Peebles; 1975 Joan and Mike Ward; 1978 Cor Schouten; 1980 Kim Schouten; 1984 John Ward, 2000 Kimberly Jones; 2001 Ronnie Mendoza; 2003 Nicole and Brad Ward; 2004 Mike and Lisa Venable, Michael Placencia; 2005 Brian Schouten; 2006 Robert Byers; 2007 Ryan Oakley; 2008 Jason Venable; 2010 Mike Oostdam; 2020 Celeste Garcia and Mark Ward.
-Dawn Lawrence
Find your latest news here at the Hemet & San Jacinto Chronicle
Search: Virtual Graduation