(Pumas Take Over Dog Pound)
Chaparral Starts Fast On Opening Day
Friday night lights are upon us and the smell of the turf is as refreshing as a cold glass of ice tea on one of these hot days. Chaparral High School made the trip down to Hemet to take on the Bulldogs in their house on August 23rd. The game started off with both teams getting defensive stops and forcing punts. Hemet tried to get tricky with their punt formation and converted the first down by allowing the punter to scramble to the outside of the field; however, the play was quickly called back because one too many players were on the line of scrimmage, this time Chaparral was prepared for the trickery and shut it down. This is when the momentum on the field shifted in Chaparrals' favor, they started to run the ball hard and beat down Hemet's defensive front. Chaparral was the first to score in this matchup and wouldn't let off the gas. By half time the score was 0-14 in favor of the visiting team from Temecula.
Chaparral scored another two touchdowns in the second half and pulled all of their starters out of the game, the score was 0-28 and Chaparral decided it was a good time to put in their second and third-string players. As the game started to come down to the end Hemet's Max Moore pulled off a couple of great runs and was able to cash in a touchdown breaking multiple tackles on his way to the end zone. Asaiah Aguilar (a four-year varsity soccer player who is kicking for the football team in his senior year) converted the PAT (point after touchdown) allowing Hemet to put seven points on the board. The game finished with a score of 7-28. Coach Gregovich encouraged his team after the game telling them that this is only the beginning and that they will be alright. Hemet graduated a lot of players last year and had to convert a wide receiver to play quarterback this season. As well as that their offensive line is a brand new unit full of underclassmen and their leading rusher graduated last year too, so the offense needs to be fine-tuned before that are clicking on all cylinders.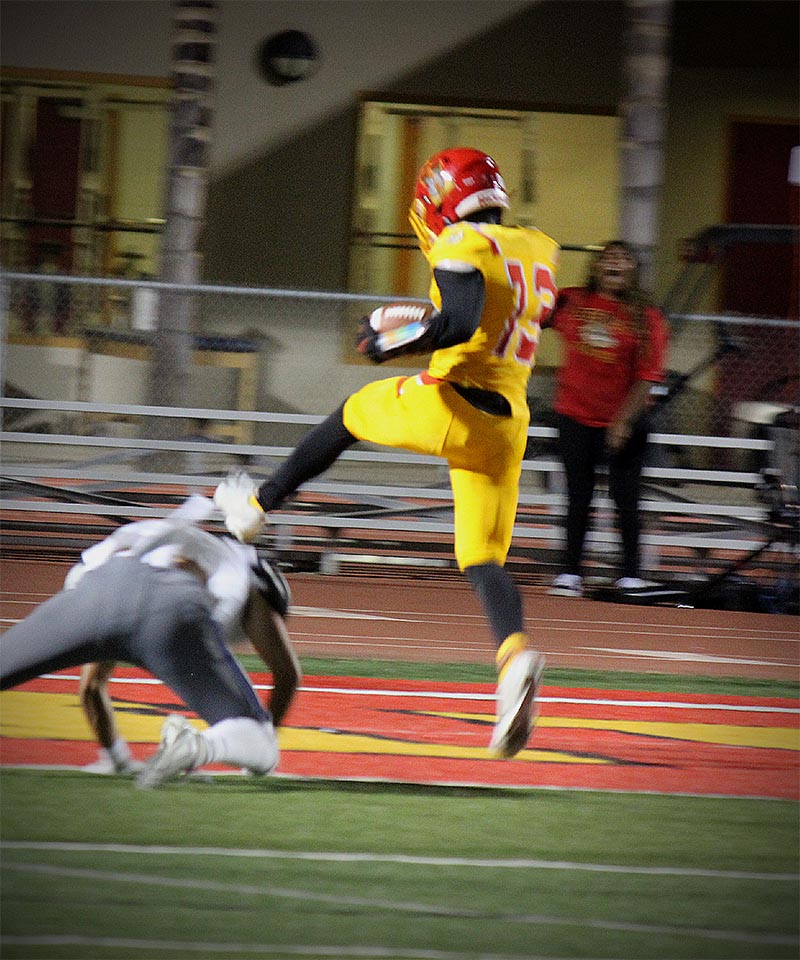 Player of the Game goes to Chaparrals Running Back Matthew Majel (#15.) Matthew started the game with three runs in a row and answered the bell every time his coach called his name. He has an old school style of running the football even though he is a smaller back. He runs hard downhill and bounces through contact. He reminded me of a young LaDainian Tomlinson the way he bounced off of contact and kept running. After the game, Matthew Majel said, (I'm just glad I could come in and help my team win in a role that I'm not used to playing, I couldn't have asked for a better first game as a starting running back. My team did a great job of blocking for me, and without them, I wouldn't have been able to play the way I did.) Matthew Majel put over 100 yards and two touchdowns in the back to start his season. It's rumored that Chaparral has a transfer running back who is set to start once his waiting period is over, but if Matthew keeps playing like that he will put up a fight for the full-time starting position.
In other Mountain Pass League games, San Jacinto dominated Great Oak's 30-6, Tahquitz lost to Vista Del Lago 31-17, West-Valley beat Shadow Hills 40-37, Beaumont beat Palm Desert 14-37 and Citrus Hills didn't play this week. For pictures of the game follow Author Kyle Rae Headlee on Facebook.
Find your latest news here at the Hemet & San Jacinto Chronicle
Search: Pumas Take Over Dog Pound