(Round two begins)
Big games for the two local teams.
Round two of the playoffs start this week. There are only two teams standing in the Mountain Pass League. In our first game of the week Kaiser (out of Fontana) will take on San Jacinto. Kaiser comes into the game with a perfect regular season record of 10-0. They won their first round matchup last week against Redondo Union 16-3. Although Kaiser's record looks impressive as well as their margin of victory, there is something to be said of their opponent's and strength of schedule. They haven't quite matched to another school with the same quality athletes that SJ has on their team. Kajiya Hollawayne (QB for SJ) is only a Junior and already has multiple D-1 offers. Other players that should be getting attention from colleges on the San Jacinto roster are; Sheldon Newton, Kameron Rocha, Juan Denny Jr, Antoine Sullivan, Damonce Williams, Keith Hunter, LJ Vaifanua. Kelvin Davis, and Nathan Ortiz. All of these players possess the ability to change the game at any given moment. Kaiser's game is based on running the ball…their quarterback Trey Tribble is the leading rusher. They run a lot of RPO (Run-Pass Option) and Option Read, in their play book. Their passing game is very minimum Tribble only threw for 19 more yards (1163) than he rushed (1144) for the season. He has thrown 10 touchdowns and 4 interceptions on the year. Tribble is also the team leader in rushing touchdowns (13).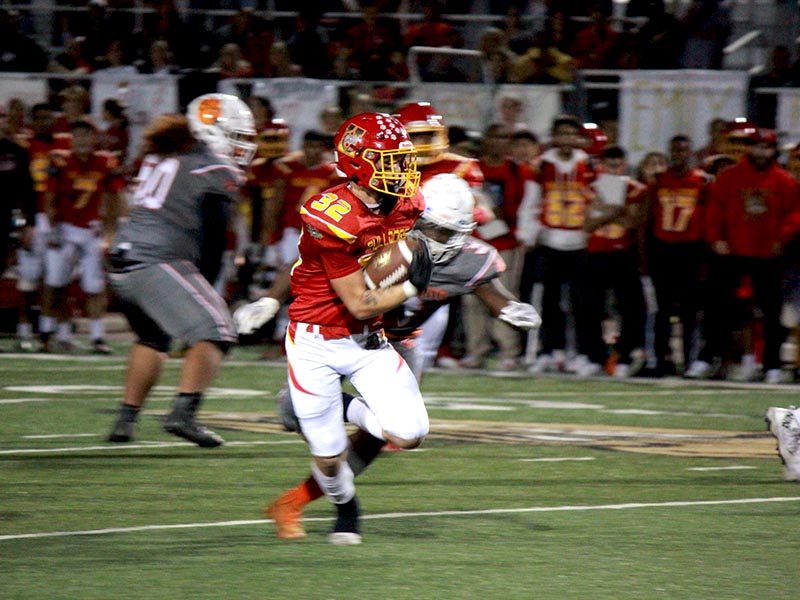 Compare this to San Jacinto's Kajiya Hollawayne who has twice as many passing yards and touchdowns against much tougher opponents. Hollawayne has 200 less rushing yards than Tribble, but has the same amount (13)of rushing touchdowns. Both teams possess the capability to score quickly. I expect this matchup to be tough for both offenses. We will see which team is able to impose their will against the other in order to advance into the next round.

Hemet will be welcoming El Rancho into the Dog Pound this week. This will be a tough matchup for Hemet. El Rancho is ranked in the top 200 (188) while Hemet is ranked 262. The good thing for Hemet is that the two schools will be competing with each other on their best sides of the ball. El Rancho's game is through the air. Hemet's strength? Pass Defense. Two of their defensive backs made the Hemet & San Jacinto Chronicle All-Valley team (Bradley Fye & Frankie Castillo): that doesn't mean you can forget about the always exciting Jeremiah Graves. Graves has over 1500 passing yards and over 500 rushing yards on the season. He can get the job done when he needs too. His number one receiver, Ethan Leonard (over 800 yards and 10 touchdowns) will be ready to control the game.

Both teams are playing at home this week so go out and support them as they make bids to be CIF champions. Games start at 7:00 and tickets are $10.
Find your latest news here at the Hemet & San Jacinto Chronicle
Search: Round two begins