Reporting Deputy: Anthony Pelato
File # I231680066
Details:
On June 17, 2023, at 7:51 p.m., deputies from the San Jacinto Sheriff's Station responded to the area of State Street and Ramona Expressway, San Jacinto, for a report of a carjacking that just occurred. A resident called 911 to report he had just been carjacked at gunpoint by a man who arranged to purchase his car, which was listed for sale on Craigslist. The victim met the buyer and allowed him to take a test drive to the shopping center at State Street and Ramona Expressway. When the test drive was completed, the suspect brandished a gun and ordered the victim to get out of the car. The suspect fled the area in the victim's car. Hemet-San Jacinto Sheriff's detectives assumed the investigation and later identified the suspect as Samuel James Wilson, a 24-year-old white male resident of Cherry Valley. An arrest warrant was issued for Wilson, and on June 19, 2023, Los Angeles County deputies assigned to the Lakewood station arrested Wilson in the stolen car.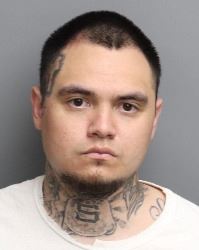 Wilson was later booked at the Riverside County jail for carjacking, using a firearm in the commission of a felony, committing a felony while out of bail, and violation of his probation terms.
Anyone with information on this case is encouraged to call Lead Investigator Ruben Martinez at the Hemet Sheriff's Station by calling (951) 791-3400.
For media inquiries regarding this incident please contact the Media Information Bureau.
Find your latest news here at the Hemet & San Jacinto Chronicle