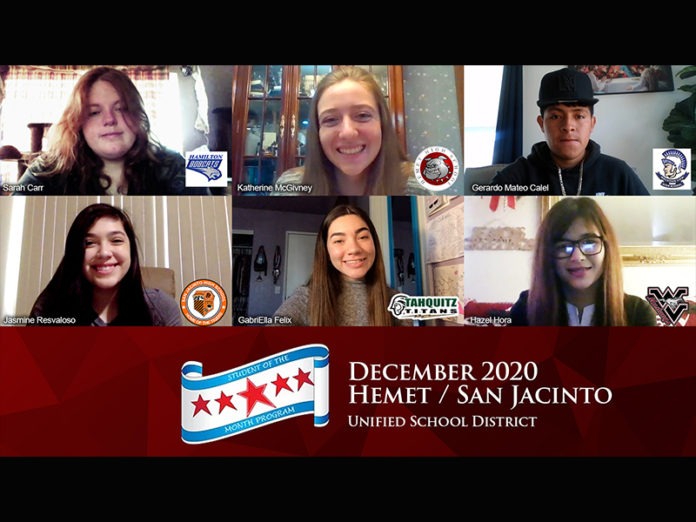 The Hemet/San Jacinto Student of the Month program recently recognized six local high school seniors for demonstrating character, integrity, love of learning, involvement in school activities, athletics and community service. Students were nominated by teachers or other school personnel for making a difference in their home, school and community. Due to the COVID-19 pandemic's limitations for public gatherings, the event was held virtually on Dec. 10. More than 50 participants logged into the Zoom meeting where students shared their stories and sponsors and administrators offered their support. Program founder and meeting hostess Karena Zermeno also represented one of the sponsors, Altura Credit Union.
Backpacks filled with gifts, a plaque, certificates of recognition and much more were donated by the program's sponsors and will be delivered to each recipient. The students were given the opportunity to thank their families and school staff who have supported them and helped them plan their future life goals. December's students of the month from Hemet Unified School District schools were Sarah Carr, GabriElla Felix, Hazal Hora and Katherine McGivney. San Jacinto Unified students were Gerardo Mateo Calel and Jasmine Resvaloso.
The overwhelming message of this month's event was one of hope and not just because of the holiday season. In his opening prayer, San Jacinto Assembly of God Pastor Jeff Johnson encouraged everyone to look toward hope despite the unusual year we have shared and pointed out that the students' stories embody hope for a promising future. Hamilton High's Sarah Carr was singled out for her extra efforts during the pandemic and transition to online learning.
She was nominated by teacher Mary Kleinvachter who said that when many students shut down or cut back, Sarah continued to stay active with academics and community service. GabriElla Felix of Tahquitz High School was chosen because she has been a shining student and is always involved. She recently participated in a district training on student engagement for educators and was the only student to present. Although her family has suffered some financial struggles, GabriElla has set her sights on becoming a forensic scientist or math teacher after graduating from UC, San Diego. "She has been an inspiration to me and others around us," her dad Miguel Felix said. West Valley High School Principal Shannyn Cahoon shared an enlightening message to keep in mind during these challenging times before she introduced her school's choice this month: Hazel Hora. She said it is important to keep in mind all the things that have not been cancelled during these trying times and they include this event, love, imagination, music and hope.
Hazel impressed her science teacher Sean Mathews by forming a UC application workshop for her peers. She wants to pursue the field of bioengineering to eventually work on research that will find cures for many diseases. She said she learned an important life lesson as a member of her school's competitive marching band: "Be better than yesterday." "Nothing is ever impossible with grit," Hazel said. Katherine McGivney was Hemet High School's choice for December and Principal Emily Shaw worked with her family to make it a surprise for her. "This is the most resilient graduating class we will ever see, and Katherine has fulfilled many roles and has worn many hats," Shaw said.
Nominating counselor Maureen Fernandes said Katherine is very goal oriented and challenges herself with every opportunity yet is willing to help others with a smile on her face. "We've lost a lot of close family members, but the losses taught me to really appreciate things in life which is why I like to give back," the 18-year-old said. Gerardo Mateo Calel of Mountain View High School gave his acceptance speech in Spanish although he has never used the fact that English is not his first language as an excuse not to excel. He came to America from Guatemala by himself so he could go to school and then start working to help support his family back home.
He is planning to attend trade school after graduation so he can have a successful career in the trucking industry. Jasmine Resvaloso was nominated as San Jacinto High School's student of the month by counselor Erika Gardner. After the loss of her father and her mother suffering a stroke when she was young, Jasmine said the only way she could continue to make everyone proud was to do her best in school and not let her personal life get her down. She has been accepted to three colleges so far. "I plan to major in Political Science and then go to law school to pursue family law," Jasmine said. "I want to help out and I'm always willing to put others before myself."
HUSD superintendent Christi Barrett thanked the students for their willingness to be transparent in sharing their stories with everyone and reminded them of the district's commitment and love for all students. "In the midst of this holiday season that has a variety of meanings for people, we need to remind ourselves of the gifts we have in life; we are truly blessed," Barrett said. Sally Myers of BMW Management Inc., who founded the Student of the Month program in Temecula and mentored Zermeno to start the Hemet/San Jacinto chapter, sent a heartfelt message for all the program's sponsors and volunteers to thank them for their passion. "It's with great pleasure that I wish each of you a Merry Christmas!" she wrote. "I know this is a challenging season for everyone, but I'm delighted that our wonderful Student of the Month Program has continued and has stayed true to its founding Mission Statement."
Myers said the program will continue to be a "beacon of hope, a light on the hill and a program where kids are the center of attention and loved upon." Information, www.studentofthemonth.net
-Diane A. Rhodes
Find your latest news here at the Hemet & San Jacinto Chronicle