(San Jacinto Wrestler)
Arturo Ojeda Jr  Your 2x CIF Champion
Arturo Ojeda Jr is a name you should be used to reading by now. He has been making headlines all year long, starting with his excellent play on the football field and continuing it through wrestling season. Ojeda has been lights out when performing on wrestling mats this season. He has really come into his own his senior year and wants to leave nothing on the table. Although he was the best offensive lineman in the league this year and helped to lead his Tiger to a deep playoff run, he didn't really get the respect he felt he deserved from scouts. The potential to play at the next level is a huge dream to Ojeda, all that built up emotion from football season has led him to become a wrecking ball in the wrestling scene. When he comes into the gym, his opponents begin to sweat, the aura of the gym is filled with fear. It's almost like the boogeyman has entered the room and everyone is scared to look under the bed.
Ojeda destroyed the competition at CIF's earning the right to call himself the back to back CIF champion, but it wasn't without drama. Earlier in the season, Ojeda suffered his first and only loss against Centennial Heavyweight, Issac Lopez. The loss was controversial, as Ojeda pinned himself. When the CIF matchups were announced, Ojeda took notice of Issac Lopez's position and quickly realized he was on the other side of the bracket. Ojeda circled his name and went on a rampage, doing whatever he could to earn his chance at retribution. Ojeda was determined to prove to everyone watching that he should have beat him the first time. He wasn't going to waste his chance this time. So he controlled the match from the first whistle until the last whistle that signaled his victory as Ojeda pinned his opponent.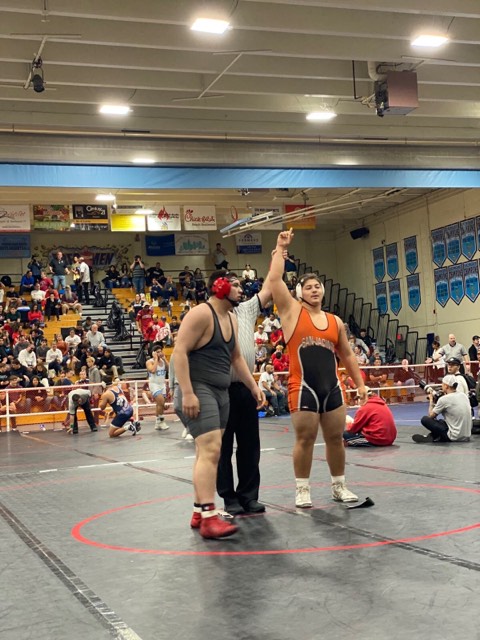 Next up for Ojeda is Masters, he will have tough competition at Masters, including a potential matchup against up and coming Heavyweight Karson Martin. Ojeda is embracing it, "I hope I face him." It would be a chance to give the fans the matchup they where wrongfully robbed of earlier in the season. The two boys have mutual respect for each other, but that all goes out the window when the whistle blows. As soon as Masters finishes, Ojeda will turn his attention to State. Ojeda wants to be the first heavyweight wrestler to win State for the Tigers. At the State tournament, Ojeda will be matched up against the best wrestlers all around California. These guys are the best of the best. Only time will tell if he has what it takes to make his dream come true.
Find your latest news here at the Hemet & San Jacinto Chronicle
Search: San Jacinto Wrestler