(Girls Run The Gym)
Move Over Boys, These Girls are Making A Name For Themselves Now!
The girl's basketball team at San Jacinto Valley Academy is quickly making a name for themselves around Southern California, dominating day in and day out. Right now, they have a 15-1 overall record and are looking like the favorites to secure the "Chip" this season. They have some tough opponents ahead of them, but they have what it takes to go the whole way. The team is coming fresh off a victory against La Puente 58-45, next up is Santa Paula is ranked 504 in the state while San Jacinto Valley Academy is ranked 433. On paper, the San Jacinto Valley Academy girls should win this game. As long as they keep playing the way they have that's gotten them this far.
Jheisymae Artagame is only a sophomore but is having an amazing season. Artagame transferred from San Jacinto High School and was forced to sit out the first half of the season. So when she got the chance to start playing, she wasted no time. Artagame is averaging: 21 points, 4 rebounds, and 5 steals per game. She has a quick release and has a really high basketball IQ.
Krislyn Mozga is also a beast in her own right, averaging 11 points per game, 5 assists, 6 rebounds, and 6 steals. She is also only a sophomore. Kalia Anady is having quite the season; she is putting up double 7's. Seven points a game and seven rebounds. Rayann Dudley grabs about seven rebounds a game as well.
In true Mamba fashion, the leading scorer for the Wolves is wearing #24, and she wears it with pride. Princess Mccauley is putting up 22 points and 10 rebounds per game. She is, Misses Double-Double and plays with a type of tenacity that has proven to be unmatched this season. Mccauley is only a Freshman and is already building a reputation around Southern California for being an elite scorer and ball handler.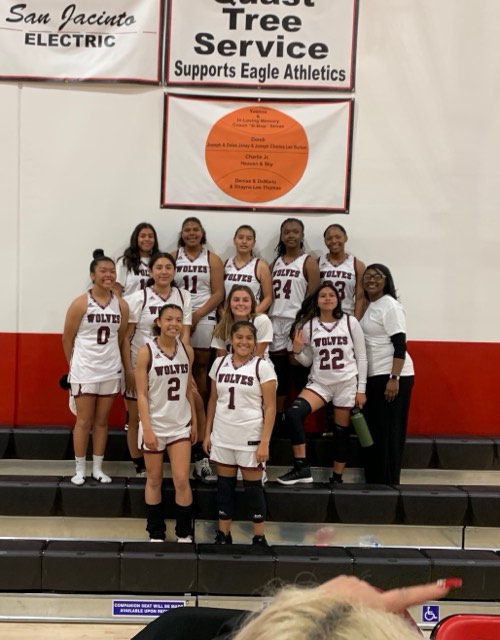 The crazy thing about this team is: it is loaded with underclassmen; in fact, there is only one junior and no seniors on the roster. Get used to hearing these lady's names now, because they are only coming up and there are four more years left of their reign. Each one of these girl's styles of play is different than the others, but they all fit together like a well-oiled machine that has been operating as one for many years.
Coach Shanequa Mccauley and staff have done an amazing job with this team and their future is bright. Stay tuned for updates on the San Jacinto Valley Academy girl's basketball team as they continue to tear through the CIF playoffs in 2020.
Find your latest news here at the Hemet & San Jacinto Chronicle
Search: Girls Run The Gym