(Soboba Connects Its Community)
A social gathering for "Bringing Our People Together" was held at the Soboba Sports Complex on March 9 from 6 to 8 p.m. Tribal Council members provided the main dish of chili meat and about 130 tribal members brought their favorite side dishes to share.
The evening of good food and fun included Bingo games for prizes. Younger children played Bingo in another area of the gymnasium with the help of Parks and Recreation employees Lawrence Oguinn and Avellaka Arviso. Older kids were kept busy with video games and arts and crafts with the help of Soboba Youth Council members.
Soboba Foundation Vice President Dondi Silvas recalled a time in the 1970s when tribal members would get together for "Dime a Dip" where they paid ten cents for each scoop of food and then hung out and visited with each other.
"This event is all about getting the community involved like that again," she said.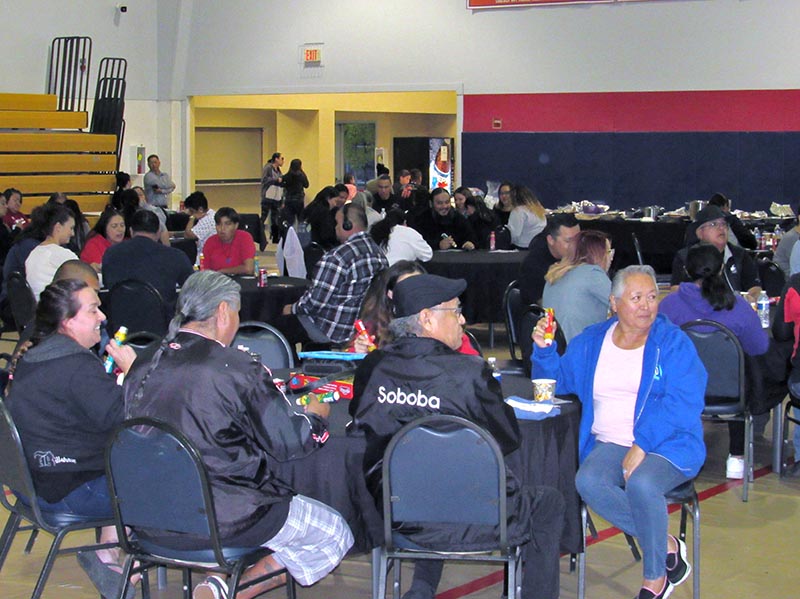 Tribal Council Vice Chairman Isaiah Vivanco said this was the first of many social gatherings being planned for the purpose of celebrating culture, friendship, family and connections. He said Tribal Council members started discussing things that could be done collectively to achieve that positive goal.
"We want to get everyone out to have some food and fun and bring the community back together as one," he said. "There is so much going on in the valley, but at the same time, we need to bring our people together and enjoy each other."
Soboba Parks and Recreation Department held its third annual Community Health Fair on March 11 and the turnout was impressive with more than 40 vendors offering information on fitness and wellness along with products to help everyone stay physically, mentally and financially strong. Noli Indian School students attending small groups were among about 175 visitors who came and went throughout the event.
Daniel Mazza, a fitness specialist with Riverside-San Bernardino County Indian Health Inc., shared information on diabetes prevention. RSBCIHI has a comprehensive Diabetes Program that offers case management, education classes, nutrition and fitness visits as well as personal training and group exercise classes.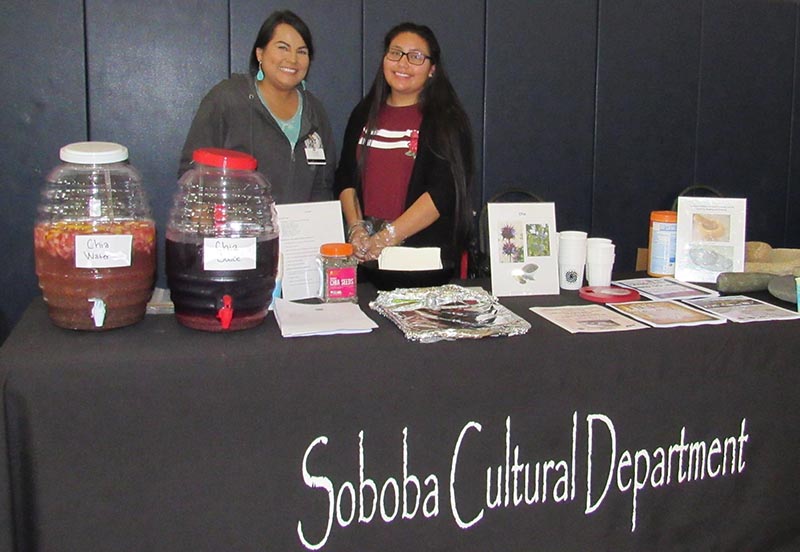 Members of the Soboba Fire Department shared safety tips with visitors to their table and offered coloring books about fire safety to the youngest ones. They also hosted a push-up contest for about 15 competitors with their own Glenn Lindsey taking the first-place prize for doing the most at 82. A close second was Fire Captain Jacob Briones with 80.
Dental Assistant Liz Martinez of RSBCIHI's Soboba Dental said she enjoys attending community events to help promote happy, healthy gums and teeth to all age groups and provided free tooth care kits to all.
Jessica Valdez and Larissa Lugo from the Soboba Cultural Department offered drinks and candy samples made with chia seeds and a handout to show the nutritional value and benefits of the superfood, along with recipes that incorporate them.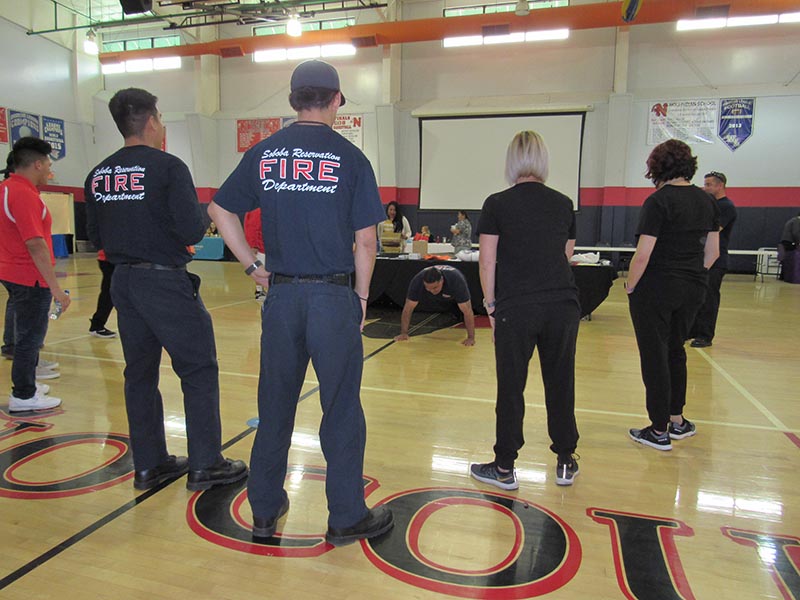 Guests were treated to a healthy lunch of grilled chicken, infused rice and steamed broccoli.
Find your latest news here at the Hemet & San Jacinto Chronicle
Search: Soboba Connects Its Community