Soboba Band of Luiseño Indians | Contributed
Soboba Tribal Preschool students arrived at the Soboba Sports Complex parking lot by bus to make their way through the row of displays full of friendly faces and lots of candy at a Trunk-or-Treat event on Halloween, Oct. 31. The children had drive-through events the past two years due to pandemic cautionary measures, so they were happy to be able to show off their costumes in person this time around.
The parking lot was lined on two sides with trunks/tables set up by Soboba departments and Tribal member families who welcomed the youngsters during the early morning event. Later that night, the kids would be trick-or-treating around the Soboba Indian Reservation at houses that were designated on a map as being available to visit.
One of those expecting about 200 kids that evening was Marian Chacon, who offered candy to the preschoolers while dressed as a friendly witch. She planned to visit St. Jude Mission School that afternoon to give out candy to the children there as well.
"There are so many good costumes, I can't pick just one favorite," she said about the parade of preschoolers dressed as superheroes, cartoon characters and princesses, to name a few. Some of the parents also wore costumes as they walked their children through the various stations.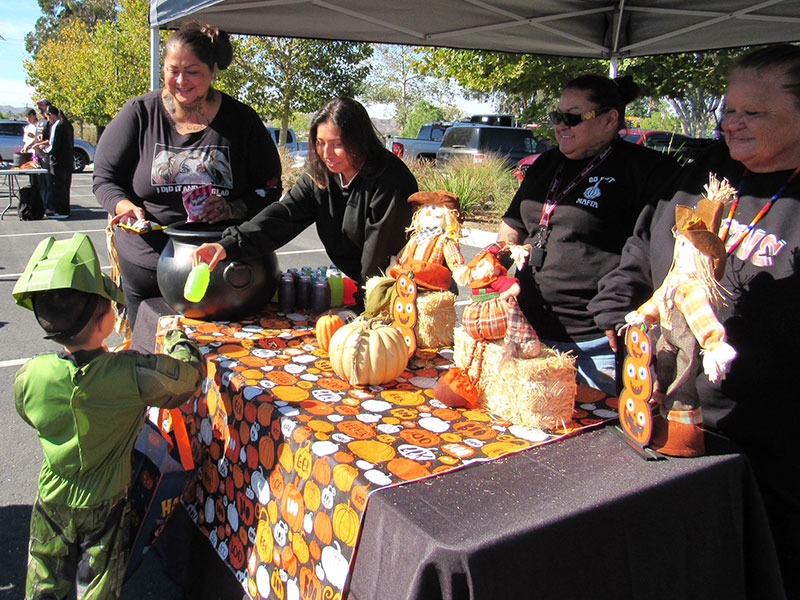 The first stop to greet youngsters when they got off the bus was a salute to Disney's "Encanto" animated movie musical. Designed and decorated by Soboba's executive offices, Soboba Tribal Council and the Soboba Foundation, it featured a colorful display and some candy-givers dressed in character.
Human Resources shared a video-game theme with employees dressed as the Mario Bros. and Family Services offered a colorful display that reminded everyone to be kind. Family Services Director Alicia Golchuk said they wanted to provide messages of positivity and kindness, not just candy.
Alice Helms, 90, is the Tribe's eldest elder and she was happy to interact with the costumed children as they stopped at the Elders' station that celebrated all things Spiderman.
"I was a preschool teacher for 26 years, so I like to see the little ones come through here," Helms said. She taught for the HeadStart program and helped start the Soboba Tribal Preschool by assisting them to get all the items she knew they needed based on her many years of experience.
Cultural Resource Department personnel created a graveyard scene and two representatives from Public Works were happy to take time out of their busy schedules to treat the kids. Antonia Briones-Venegas and the rest of the Frybread Kitchen crew were handing out lots of sweet goodies and Noli Indian School science teacher Jay Dagostino, wearing a zombie Obama mask, worked with the ASB, Early Childhood Development and AVID students to set up a candy booth.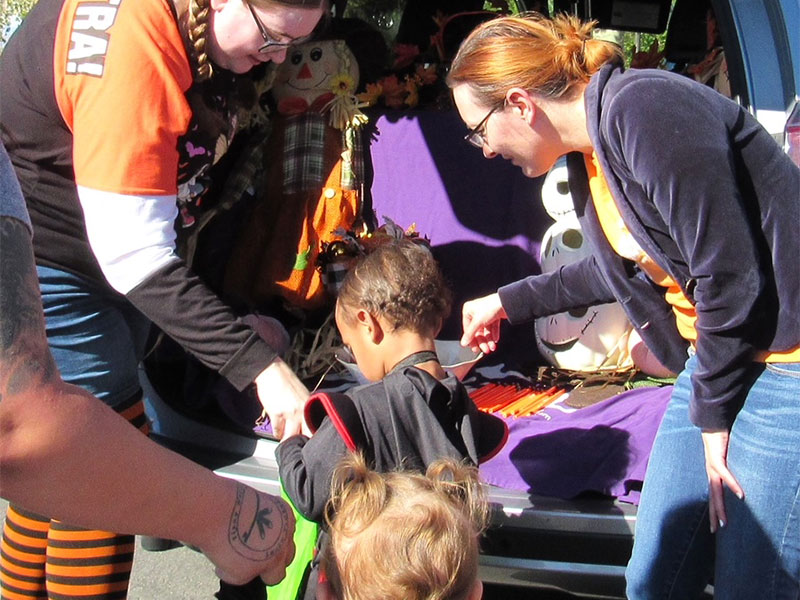 Sylvan Learning has provided afterschool tutoring through the Soboba TANF program since 2016 but was operating a treat-filled trunk for the first time. Angela Palmer and Allison Krickl were delighted to meet some of Soboba's youngest students at the event.
Individual families set up their trunks opposite the departmental displays and alongside Marian Chacon were members of the Gabe Garcia family. Krysti Castello said about her family's participation, "Both of my babies are in the preschool, so I signed up." Carrie Garcia, representing the Garcia/Swan families, wanted to share in the holiday spirit as part of the community. Her daughter is a pre-kindergarten student at the school. She said the Soboba Basketweaving group also helped at her station, for which she was grateful.
"We participate every year," John Briones, sporting a Batman theme, said of his family's involvement and the Lindsey family hosted a "haunted fire station" theme as a nod to Glenn Lindsey, who works for the Soboba Fire Department. There were also firefighters there, handing out treats from their candy-filled helmets.
Adona Salgado, who owns and operates Se'ish Design flower company, said her grandchildren attend the preschool so she wanted to be part of the fun event. All five of her grandchildren are under the age of five so her Charlie Brown "Great Pumpkin" display was quite appropriate. The Placencia family was among the Tribal members that treated the kids while letting little ones dress up for the day. Among them was eight-month-old Talla, who was dressed as Little Red Riding Hood.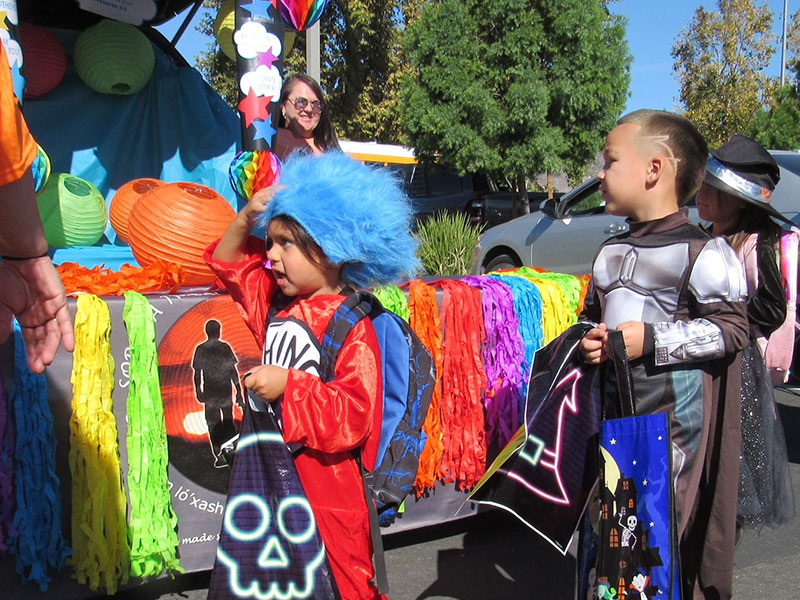 Also offering a Trunk-or-Treat experience were members of the Department of Public Safety who were joined by members of the Riverside County Sheriff's Department, wearing their work clothes so no costumes were needed.
There were several other Tribal members and departments who contributed to the fun and excitement for preschoolers and their siblings, who left with full containers of treats after about 45 minutes. All children, with their parents in tow, were encouraged to say thank you at each stop if they eagerly tried to move onto the next station.
Find your latest news here at the Hemet & San Jacinto Chronicle