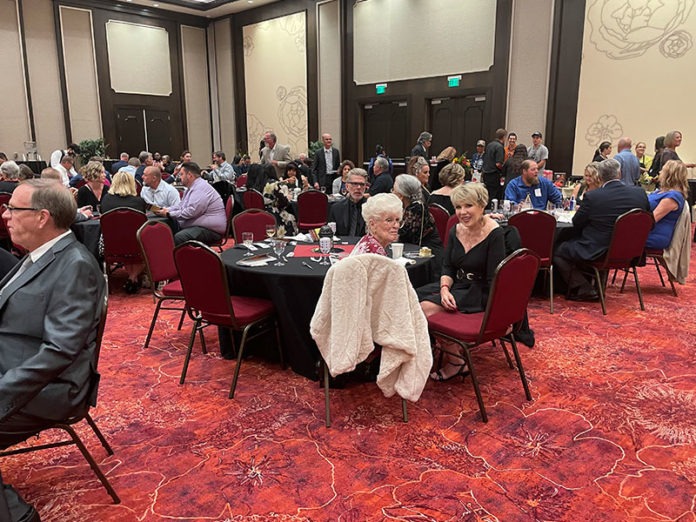 Rusty Strait | Senior Reporter
In every city or town with 100,000 population or less, there is always one big event of the year that makes its citizens feel like they are somebody. In the Hemet/San Jacinto Valley, it takes place in November. It happened this past Saturday night at the Soboba Casino in their monstrous event room – packed wall to wall with locals, many of whom were wrapped in their finery and the family jewels. Autumn Elegance is like an inauguration. It is where the elite meet to dine and show off their finery, where the restaurants and the wineries show off their wares, Lawyers and doctors commiserate with each other, pick up new clients, make new friends and renew old friendships from a year ago and beyond.
The band alternated between swing and rock and roll—business professionals and their wives sharing the dance floor with teenagers and their dates.
It is an actual socializing event. The guests meander around the floor. The wine tables were very popular with long lines stretching out in all directions. One thing that is rare nowadays at large events where fermented drinks flow like a mountain waterfall; there were no brawls, loud drunks or unruly party-goers.
Between six and nine PM, the place was like a college alumni reunion. There were no security guards hovering over the room occupied by hundreds of happy individuals as they welcomed the approach to the holiday season.
In the big cities, they have gigantic balls and enormous parades to welcome in the season. In rural areas of the country, you can find hoe-downs and square dances in barns where the seats are bales of hay with horses and cows in nearby stalls. They had those in West Virginia, where I grew up.
The San Jacinto Valley has the flavor of suburban and rural life with a touch of the larger urban atmosphere.
Our Autumn Elegance is so American you can almost see some of the Founding Fathers with their ladies waltzing across the floors. Makes you proud to be living in a free country. It gives us the opportunity to appreciate what we have and with elections at our doorstep, it makes us hope we can keep it that way.
If you missed it this year, maybe you'll find your way to it next time. When folks talk about their peaceful life in days gone by, they could well be reliving those feelings. It was Autumn and it was Elegant. Just sayin'.
Rustystrait@gmail.com
Find your latest news here at the Hemet & San Jacinto Chronicle