Soboba Band of Luiseño Indians | Contributed
The annual celebration of education excellence was held July 23 at the Soboba Casino Resort Event Center where the Soboba Tribal Council presented its Academic Achievement Awards Ceremony. Sixty-six students were recognized for outstanding performance during the 2022-2023 school year.
More than 500 guests were on hand to support the success of the Tribal youth, whose hard work and dedication led to some amazing accomplishments. A welcome from Soboba Tribal Council Chairman Isaiah Vivanco began with an introduction of other council members Vice Chairwoman Geneva Mojado, Secretary Monica Herrera, Treasurer Daniel Valdez and Sergeant at Arms Michael Bentiste.
"We also want to acknowledge all the Elders and family members that are here supporting the success of our Tribal youth and more importantly, we are here to celebrate the achievements they have made," Vivanco said. "Achievement can be defined as something accomplished with special effort. Soboba youths have proven that hard work and dedication can result in amazing accomplishments for our people. We owe it to them to provide them with the tools to succeed. Today we thank you and celebrate your achievements."
A blessing was followed by a performance from the Inter-Tribal Bird Singers and Dancers before the buffet-style lunch was made available. Throughout the ceremony, raffle prizes were randomly awarded to all students. After a video presentation that highlighted each student, recipients were called up by specific categories by Soboba Tribal Executive Officer Steven Estrada who served as emcee.
Those students earning Silver Outstanding Achievement with a Grade Point Average of 3.0-3.4 each received a trophy and certificate. They are Brave Alvarez, Ava Arenas, Jeffrey Arres, Mkilawish Arres, Emily Pauline Arrietta, Moyla Arviso, Lokelani Basquez, Victoria Maria Boiso, Nokaamay Briones, Mahryah Carmelo, Zachary Te'met Guacheno, Marco Hernandez, Lavina Lopez, Gemma Mazza, Ronald Morillo III, Wayne Nelson, Danny Placencia, Kimani Resvaloso-Sanchez, Agustin Luca Salgado, Rudy V. Sanchez, Leandro Silvas IV and Daniel Valdez Jr.
Students obtaining Gold Superior Achievement for a GPA of 3.5-3.9 were each presented with a trophy and certificate. They are Jaden Carmelo, Mariah Castillo, Raelina Castillo, Selaya Helms, Kylie Herrera, Duke Marruffo Lara, Aimee Organ, Adam Post, Sophia Resvaloso, Alayna Resvaloso-Wood, Jade Reyes, Shawna Rivera, Raya Salgado, Jason Valenzuella, Bella Vallejo and Bella Ward.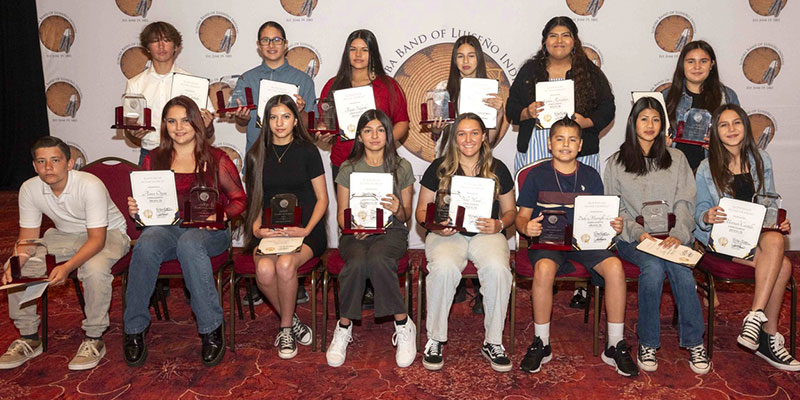 Platinum Academic Excellence honors were presented to students with a GPA of 4.0 and above, along with a trophy and certificate. They are Ava Cozart, April Garcia, Alana Kashersky, Aureny Manzanilla, Avellaka Manzanilla, Luisa Rivera, Lorraine A. Salgado and Ginger Velazquez.
Several of these students shared more about their academic and extracurricular activities. Ava, 16, has been on the Hemet High School varsity volleyball team since her freshman year. She also served as ASB Junior Class Treasurer and Yearbook Co-Chief Editor. She plans on earning her college degree in history after she graduates from high school to possibly pursue a career as an archaeologist or high school history teacher.
"I was able to watch my sister go through her schooling and seeing her get good grades motivated me to try and get to the same level and higher," Ava said. "My parents also push and expect me to have good grades which made me the student I am. On a regular basis I use whatever free time I have in any classes to complete my work so it doesn't feel like I have to do too much when I get home."
What she likes best about school and learning is the opportunity it gives her to shape her own future.
Aureny, 15, said her favorite subject is math and she also found time to play volleyball. "To help get to the level I am at, I paid attention to the teacher while talking and did my work right away instead of holding it off," she said. "The best part about school is learning. I love to learn about anything and everything because it's truly fun and interesting."
Avellaka plans to enlist in the Navy and then pursue a career as an EMT or something similar when she has completed her military service. She plays volleyball, does beading in her spare time and her favorite subject is history. "The thing I like best about learning is it's a whole different perspective; learning is not just black and white, there's so much more to it," Avellaka, 17, said. "The things I did on a regular basis to reach this level was to do my work on time and not let it pile up."
Luisa's favorite subject is Spanish and credits her teachers with helping her stay on task. She was involved with AVID, ASB, Beading Club and plays volleyball and softball. She is part of the WE LEAD summer work program as well. "I like that I get to be with my friends at school and learn new stuff every week," Luisa, 17, said. "I want to become a teacher and work for Soboba."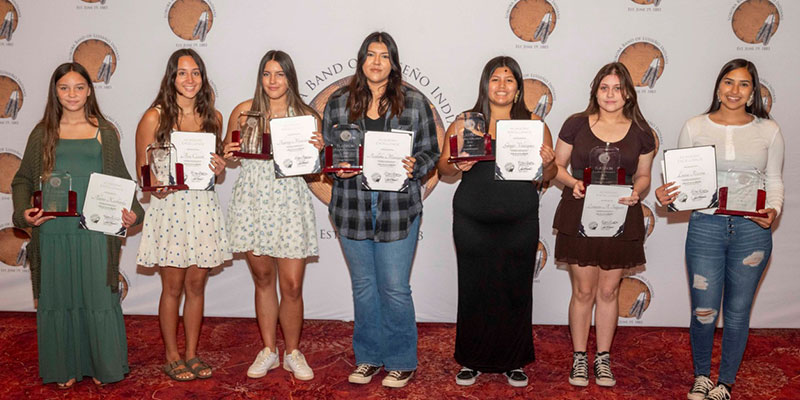 Lorraine said she studies and pays attention in class as much as she can. "I want to get into a good college, so that motivates me to work hard to maintain a high GPA," she said. The 16-year-old plays tennis and lacrosse and is involved in FFA. "I enjoy having a busy schedule because it prepares me for college and my life after school. I also like getting to go on field trips with people I am close with," she said. "I would like to become a dental hygienist and work for Riverside San Bernardino County Indian Health Services, Inc."
Ginger said paying attention in class and making sure all her work is done on time has contributed to her academic success. She played volleyball and was part of the concert band at Monte Vista Middle School and will be joining the marching band as a high school freshman at San Jacinto High School. History is her favorite subject and she's already thinking ahead to becoming a criminal defense lawyer someday. "My favorite part of school is hanging out with friends and learning new information and interesting facts," Ginger, 14, said.
The next category was then introduced by Estrada. "At this time, we would like to recognize the following recipients for successfully completing all the requirements and receiving a high school diploma which will allow them to further their educational goals," he said.
Each student received a certificate, an olla, a beaded lanyard and a Pendleton blanket. Graduates are Leila Arres, Su'la Arviso, Iyana Briones, John Briones, James Gonzales, Lorenzo Hernandez, Poowish Eli Morillo, So'a Nelson, Emma Ushla Organ, Ciara Ramos, Isabella Resvaloso, Nashashuk Resvaloso, Francisca Rivera, Soowut Rodriguez and Jocie Yepa.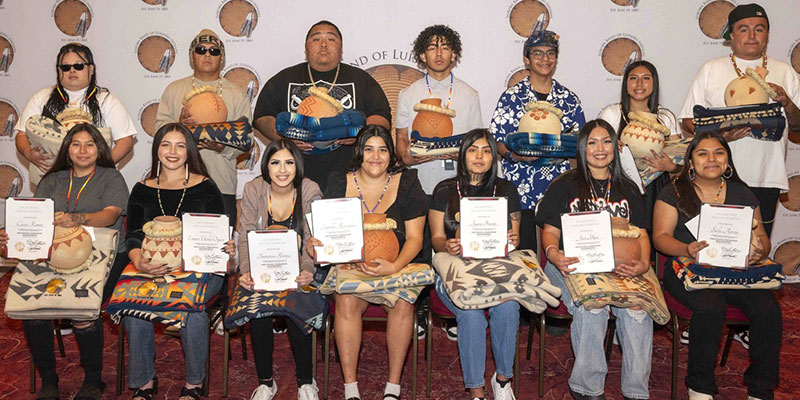 Estrada called the final group to the stage area to be recognized for successfully earning a college degree or certificate in their chosen field of study. Each received a certificate of achievement, an olla and a beaded lanyard.
Sherrina Herrera graduated from Dean College in Massachusetts where she obtained her Bachelor's Degree in Science-Criminal Justice/Homeland Security with a minor in Psychology. She attended on a basketball scholarship and was also involved in The National Society for Leadership and Success while there. She plans to obtain her Master's degree with the goal of joining the Army and serve in the criminal investigation division.
"What was interesting for me about criminal justice was learning different things about how it can help connect with my future plans and how I can pursue many different options when it comes to a career path and seeing how it would tie in together," she said.
Herrera said she had a great experience at the college. "It helped me grow as a person to overcome many different challenges and especially when being away from home for the first time ever. It was a great choice because I got to experience a different culture and scenery that showed me how much things can be different. The one experience I can say I love the most was the snow because it was beautiful scenery."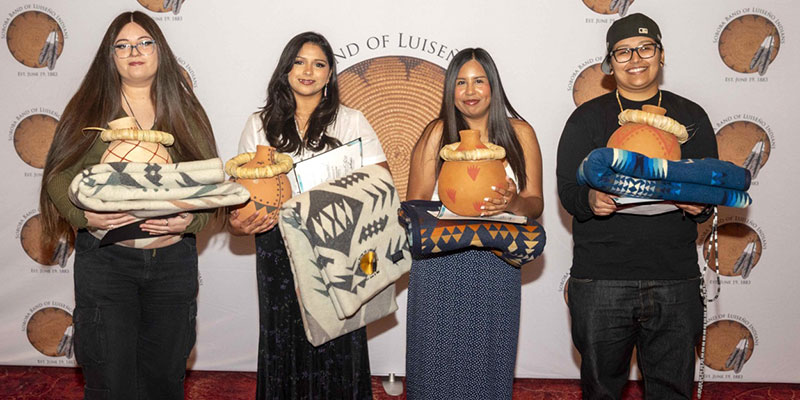 Raven Peterson graduated from UCLA where she obtained her Master's in American Indian Studies. She was on the board of the American Indian Graduate Student Association as the Native American Graves Protection and Repatriation Act representative while also being a virtual mentor for Indigenous scholars. Her future goal is to attend law school and she is currently exploring different ones.
"My interest in law started with criminal law. Growing up in Soboba I witnessed how law enforcement and the criminal justice system would treat my family and fellow Tribal members based solely on where we're from, rather than whether or not we were actually guilty," the Hemet High School graduate said. "It was always my goal to be able to help my people, whether that be people from Soboba or Native people in general. I decided to get my M.A. in American Indian Studies so that I could be more knowledgeable about my people and use that knowledge to my advantage when I do start working as a lawyer. As I continued my journey through higher education, my interests also grew in Tribal law and environmental law. I'm still deciding which direction to go, but once I start law school I'll be able to explore my options and choose the path that I am most passionate about."
Celena Pimentel completed courses and earned her Cosmetology license from Paul Mitchell The School Temecula. She enjoys hairstyling and was involved in The Makeup Academy. With this training, her goal is to open her own salon in the future.
Jasmine Romero graduated from California Baptist University where she obtained her Bachelor's Degree in Early Childhood Studies with a concentration in Early Childhood Intervention. She was also involved in the Boys & Girls Club. Her future education goal is to get her teaching credential as well as a Master's degree in Social Work. Her career goal is to be a full-time kindergarten teacher or teach special education. She currently works in a preschool classroom at The Growing Place.
Romero said, "I decided in college that teaching was the career that I wanted to go into because I wanted to teach children in a way they can grow into kind, healthy, respectable and loving adults. I want to make a difference in assisting in the development of those who will go on to construct the world and improve it for us, them and the generations to follow."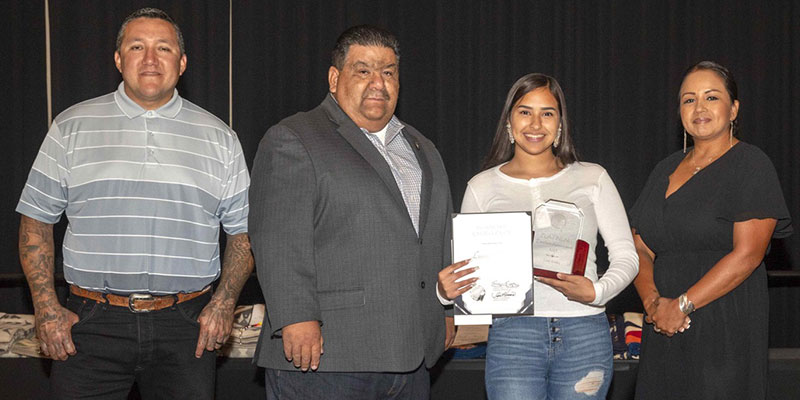 She loves working with children overall and said she wants to take on the challenges that come with ensuring special education students have their educational needs met.
"I knew teaching was my calling because I wanted to meet the needs of all the students and have a better understanding of the children," Romero said. "Creating lessons where children should be exposed to things that are appealing to the eye is important; it should inspire engagement and interest. Selecting materials that validate and empower children from all racial, ethnic and social backgrounds is also important."
Rose Soza Gonzalez graduated from Arizona State University with her Bachelor's Degree of Arts in Filmmaking Practices. She was a member of the National Honor Society. She plans to continue her education for a Master's in Fine Arts and strive towards a career goal of being a photographer for the NBA and also work as a freelance screenwriter.
"Growing up, college was always a goal for me, especially being a first-generation student," Soza Gonzalez said. "I always knew that I was going to get my degree in something creative. Photography was my first introduction to film and beyond. I got my first camera on my 15th birthday and started taking pictures right away. I struggled in school from an early age, therefore, being creative was an outlet for me to express myself and show my knowledge in a different way."
She said that writing didn't become a strength for her until college and now it has become a great passion of hers, having grown her writing in all forms while continuing to grow her screenwriting skills with hopes that she can someday have a published film or show.
Since graduation, Soza Gonzalez has been working at a nonprofit organization that serves adults who have intellectual disabilities. She is their social media content creator/still photographer. She has fallen in love with working in social media and with the organization and knows it's a good steppingstone to the film industry.
In closing, members of the Tribal Council reiterated the importance of recognizing the accomplishments of all the Tribal youth that were honored at the ceremony. "The support given by the Tribe will help to ensure their success in the future," they said. "Thank you all for taking the time to show your individual support. Good luck to our recent graduates as they begin the next step of their lives. And lastly, good luck to the middle and high school students who will be returning to school this fall. We hope to see you all again next year to celebrate your accomplishments."
Find your latest news here at the Hemet & San Jacinto Chronicle