Stonewall Institute
A conviction for driving under the influence or DUI carries several penalties in all states and Washington. D.C. On top of hefty fines, possible jail time, suspension of driving privileges, and probation, DUI offenders are often required to attend alcohol education classes, commonly referred to as DUI school.
DUI classes—which are typically a condition of probation—are designed to, among other things, teach offenders about the dangers of driving under the influence.
They also focus on spreading awareness about the legal and personal consequences that come with a DUI conviction. Those who attend these classes will also have an opportunity to learn how to avoid drinking and driving and prevent another DUI arrest and conviction, which would bring on more severe consequences.
But what if you ignore the order to sign up for DUI classes? What will happen if you sign up for an alcohol education program, but fail to attend the required number of classes?
Whichever of the two you decide to do, you will still have to face certain consequences.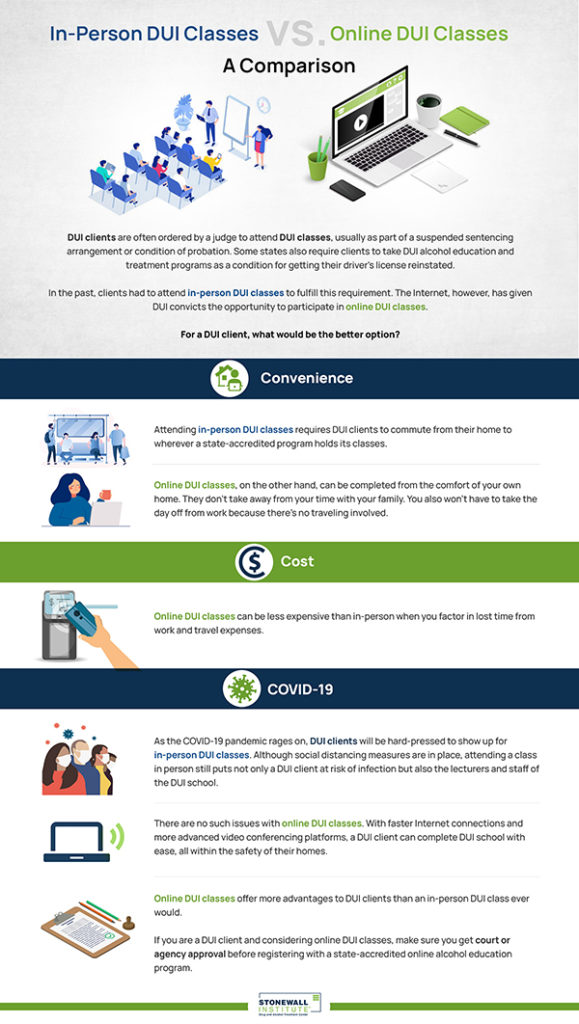 Keep in mind that attending mandatory DUI classes is a condition of your probation. Failing to attend or complete DUI classes constitutes a violation of your probation. Once the judge gets wind of your violation, he or she will probably issue a bench warrant for your arrest. If your original sentence already includes jail time, the likelihood the judge will make it longer is high.
You can also expect your state's Department of Motor Vehicles (DMV) to extend the suspension period of your driver's license if you do not take or complete your DUI classes.
Missing DUI classes is simply not worth the trouble, so make sure you attend them. In any case, if your state allows them, you can sign up for an online DUI class. To find out how different they can be from in-person DUI classes, check out the infographic below.
-Lauren Kunis
Find your latest news here at the Hemet & San Jacinto Chronicle