Fun in the sun
Travis Schlepp | Contributed
As Southern California braces for another sweltering heat wave, many people are looking to beat the heat at their local water park.
There's no shortage of fun water park offerings in Southern California, but if you only have the time or budget for one, this list is for you.
Here are the top five water parks in Southern California, according to reviews and ratings from Tripadvisor and Yelp.
Knott's Soak City – Buena Park
First up is Knott's Soak City, renowned for its impressive selection of water slides, expansive wave pools and enjoyable family attractions. This waterpark in Orange County offers visitors an adrenaline rush from the park's various flumes, as well as the chance to cool off in the parks vibrant and all-ages water play areas. Some of its most well-known attractions include Pacific Spin, Old Man Falls and Malibu Run. It's also home to the massive wave pool, Surf Lagoon. Soak City opens every day at 10 a.m. and typically closes at 6 p.m. Sunday through Friday, and 7 p.m. on Saturdays. Daily tickets start at $50. Knott's announced earlier this year that Soak City would remain open through all of September, as forecaster predict hotter-than-average temperatures this summer and into fall.
Raging Waters – San Dimas
One of the largest water parks in California, Raging Waters is a sprawling park featuring numerous water slides, wave pools and a lazy river. Raging Waters features several notable slides, including DropOut, Neptune's Fury and Amazon Adventure. Splash Island, an interactive water playground specially designed for younger visitors, features shallow pools, mini slides, water cannons and other water play structures. Daily tickets cost about $45 when purchased online in advance of your visit, and the park also offers seasonal passes. Raging Waters celebrated its 40th anniversary last month.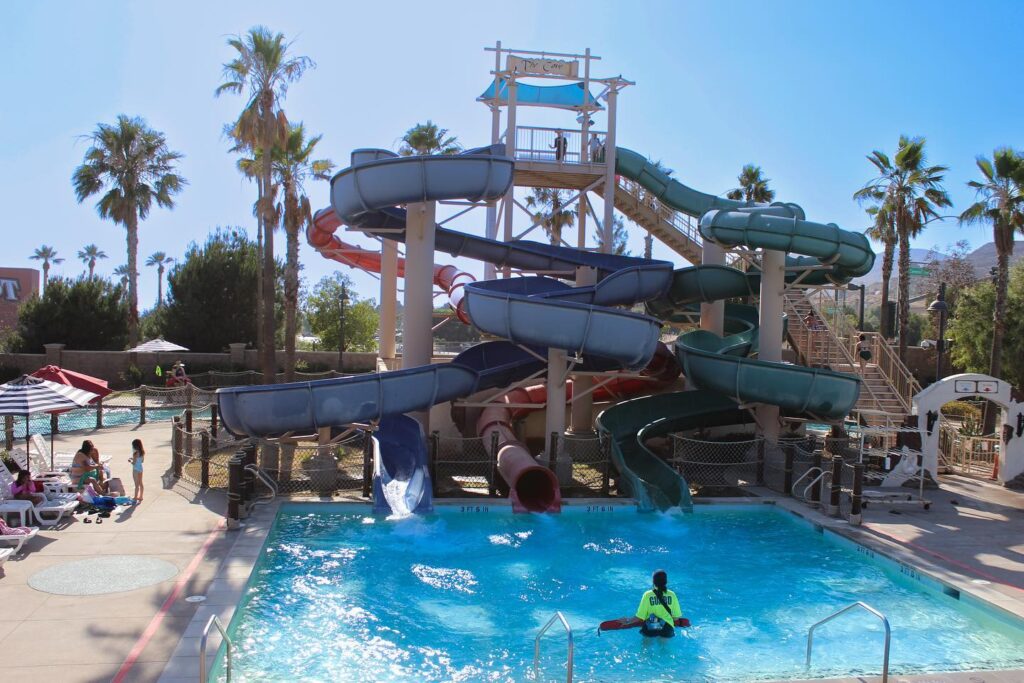 Six Flags Hurricane Harbor – Valencia
Located next to Six Flags Magic Mountain in the Santa Clarita Valley, this water park features thrilling slides, wave pools and interactive water play areas. While it offers attractions for all ages, thrill-seekers flock to high-speed slides like Tornado, Bonzai Pipelines and Taboo Tower. Low-key park visitors can enjoy a lazy river or relaxing in or near the wave pool. Family-friendly rides and activities can be found in the park's various splash zones and play areas. Daily tickets start at $60 each, with season pass discounts. Parks hours are typically 10:30 a.m. to 7:30 p.m. Sunday through Friday and 10:30 a.m. to 8 p.m. on Saturdays.
Sesame Place – Chula Vista
Opened in 2022 in the former site of Aquatica San Diego, Sesame Place offers much of the same amenities of its predecessor with a family-friendly theme. Named for the characters from the beloved "Sesame Street" series, Sesame Place is part of the SeaWorld San Diego complex and offers both water attractions and "dry attractions." Its most popular thrill slides include Ernie's Twisty Turny Tunnels (formerly Woohoo Falls), Cookie's Monster Mixer (formerly Tassie's Twisters) and Bert's Topsy Turvy Tunnels (formerly Kiwi Curl), plus multiple wave pools named after Sesame Street characters. Like other parks on the list, Sesame Place features a lazy river called Big Bird's Rambling River for visitors who want to chill on the water and catch some rays. Unlike other parks on the list, Sesame Place also offers character meets and an interactive replica of the famous "Sesame Street" set. The park is also the first theme park in the world to open as a certified autism center by the International Board of Credentialing and Continuing Education Standards. Single-day tickets start at around $62 with discounts for bundling a visit to SeaWorld.
The Cove Waterpark – Riverside
A more small-scale water park compared to the others on this list, the Cove Waterpark offers small town amenities like birthday party packages and swimming classes, but it also has a handful of exciting slides for those looking for a thrill on a budget. Multiple winding tube slides overlook a large pool, and the park boasts a wave pool for body boarding. Visitors have also praised its family-friendly splash areas and at only $25 per day, it's the cheapest water park to crack the list.
Honorable mentions
Other water parks that deserve an honorable mention include Drytown Water Park in Palmdale, DropZone Waterpark in Perris and Splash! at the La Mirada Regional Aquatics Center. Splash Kingdom in Redlands and Wet'n'Wild in Palm Springs were both highly rated, but have sadly pulled the proverbial plug in recent years. Wild Rivers, one of California's newest water parks located in Irvine, held its grand opening in May.
Find your latest news here at the Hemet & San Jacinto Chronicle