(Titans Hold Off Mustangs)
Bulldogs Make History, Tigers Assert Themselves In Division
In our first game this week we take you to Titan Stadium, where the Tahquitz Titans hosted their cross town rivals the West Valley Mustangs. Tahquitz and West Valley have been rivals since Tahquitz opened in 2007, forcing a very promising group of football players to split up.
In 2006 the West Valley Freshman Football team had an impressive 8-2 record, blowing out their opponents on a regular basis. Half of the team was relocated to Tahquitz and the other half remained at West Valley. Players from that Freshman team went on to receive scholarships, earn all-league honors, and play in many CIF games, but for different schools.
Both teams had to work off a lot of nerves in the beginning of the game. Tahquitz scored a defensive touchdown from a failed hand off attempt. The score quickly was 7-0. Tahquitz wouldn't let up either. Their offense looked electric, making quick well-timed throws. Tahquitz also found success when running the ball against West Valley. At the start of the fourth quarter Tahquitz was leading 24-6.
That's when West Valley seemed to wake up.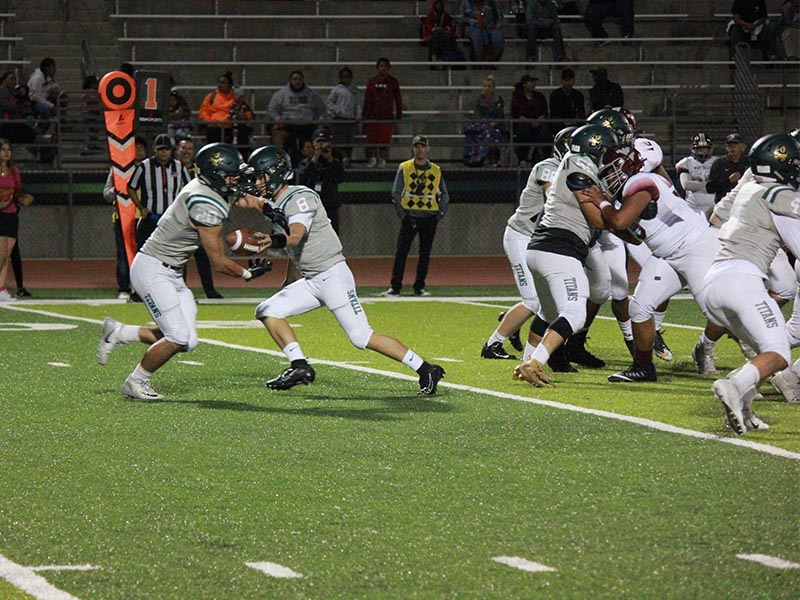 They started playing the way their offense is designed to play: quick slants to their wide receivers and bubble screens to their speed guys. West Valley was able to get back into the game at 24-20. Their defense made an incredible stand and got the ball back. With only 8 seconds left in the game and across mid-field they had time for just one play. West Valley's quarterback launched the football all the way to the endzone, in a sea of Titans and Mustangs players. The Tahquitz Titans came up with the ball and secured the "dub."
(Titans Hold Off Mustangs)
The Bulldogs welcomed Citrus Hill into their house. Citrus Hill is renowned as the team to beat in the league. Citrus Hill is ranked in a higher division and historically has dominated contenders. The last time they lost was in 2010 against Beaumont High School. Citrus came into the game with a 44-0 win streak against league opponents. Hemet embraced the underdog role and welcomed their opponents with attitude. The game was a defensive battle and Hemet showed that they are no one's doormat.
In the fourth quarter the score was 7-7.  The game was filled with huge hits, trash talk, and aggression. Hemet would keep their composure and the offense would march down the field with less than two minutes to play. The ball was in the red zone, but it was fourth down. Coach Gregovich had a decision to make: go for it or trust his first year senior kicker Asaiah Aguilar (Asaiah is a soccer standout for Hemet High). Coach Gregovich decided he would put the game in the leg of his kicker. Asaiah Aguilar drilled the game winner and made history that night: Hemet never beat Citrus before last Friday. Now we are left to wonder: did David slay Goliath, or did they just awaken a sleeping giant?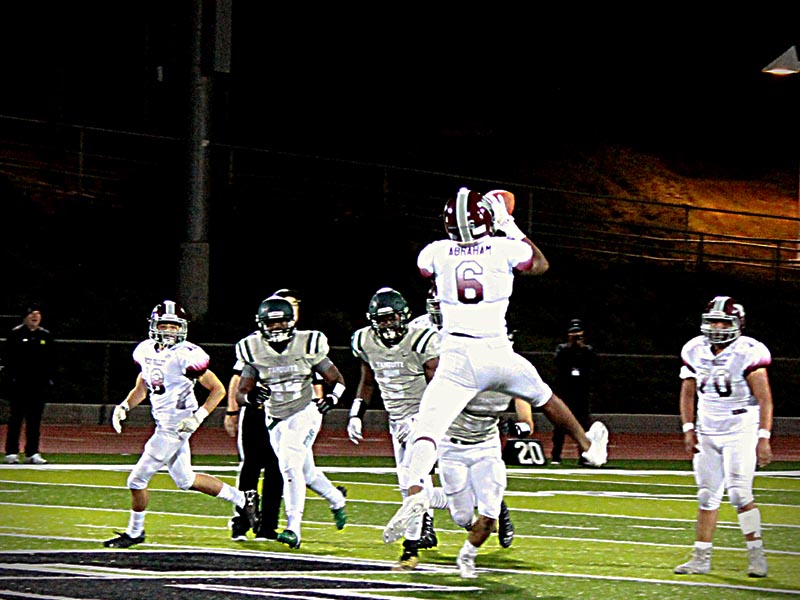 Beaumont thought they were the team to beat in the league, averaging of 40 points a game in the first five games of the season. However, all of their first five opponents were ranked much lower than them in the Maxpreps California Rankings, (478, 910, 1007, 732, 809.). Beaumont was feeling confident with their 5-0 record coming into Friday night. San Jacinto had quite a different story this season: coming into Friday night they had record 3-2 record and played some very difficult opponents in the first half of their season.  
San Jacinto's opponents were respectively ranked 253, 97, 301, 133, and 145. San Jacinto also averaged 21 points per game, but they have also been playing with a handicap: senior receiver Antoine Sullivan has been sitting out. Having Antoine really lets Coach Galliano open up his play book.  It also gives receivers Damonce Williams and Kameron Rocha a break since Antoine is a deep threat on every play. Opponents can't ignore him and they have to know where he is at all times.
Beaumont was talking a lot of trash before this game, which really put San Jacinto in a good mental space. One player told me, "they are 5-0 but who have they played? A bunch of nobodies?" San Jacinto wanted to travel to Beaumont and prove just that. San Jacinto would win the game 45-21, led by Kajiya Hollawayne's 301 passing yards, 3 passing touchdowns, 80 rushing yards, and 1 rushing touchdown. Juan Denny's 157 rushing yards and 2 rushing touchdowns. Antoine Sullivan's 148 receiving yards and 2 touchdowns.
This week was a very fun week of league play with some surprising outcomes.
Find your latest news here at the Hemet & San Jacinto Chronicle
Search: Titans Hold Off Mustangs