(Valley stunned by death)
A loss of any kind at any time, is hard to take. A loss of the life of a beloved community leader is even harder to take. Losing two such leaders…both healthy just days before their deaths, and losing them in the closing days of the holiday season is almost unbearable, but that's what our valley is facing with the loss of Phil Brigandi, historian for Hemet, San Jacinto and Orange County and also, the loss of Steve Covington, owner of the Downtown Deli, and holder of several seats on several local boards, including a seat on the Ramona Bowl Board of Directors.
Phil Brigandi was historian for the Ramona bowl and the Orange County Historical Society, along with historian for San Jacinto at one time. Brigandi wrote about Orange County for more than four decades, but always came back to discuss the Ramona Bowl board and to help out, whenever he was needed. Lori Van Arsdale, past President of the Ramona Pageant was shocked at the passing of both men. "Phil was historian here at the Bowl, full-time, for 13 years, plus 17 years during the "Ramona" season…and he could reel off statistics and information like no one else. He was an amazing young man who came to work here at a very young age and always came back over the years to help in anyway he could. He's done so much for the valley…as a historian and also as a friend of so many. This is just such a loss, not only of life, but of a valuable resource. And Steve was just such a visionary. It's just so shocking."
Van Arsdale remembered how Phil Brigandi stepped in and helped save a very special film: the 1928 version of Ramona, a silent film starring Dolores Del Rio which was found in Prague, Czech Republic. "Phil was instrumental in helping to restore the English subtitles for the film. The Library of Congress' Moving Image Curator Rob Stone and Phil were there on March 29, 2014 at UCLA to view the restored version. I was very honored to have been a part of that evening. It was very special and Phil played a big role in that happening."
One person who echoed Ms. Van Arsdale's thoughts was Dorothy Bailey Vosburg-Wood, who played Ramona in the pageant a record 11 years. "Phil was such an absolute treasure. He was one of the best men who ever had anything to do with the bowl. I was blessed to be able to star in the pageant for 11 years starting in 1951. I took several years off for childbirth and then last appeared in 1971. Phil was just a very very special friend of mine. We will never replace such a loss: he was an intimate friend and so very very knowledgeable. It's a loss to the entire valley."
Anne Jennings, Founding Curator of the Hemet view museum said that she, "… knew Phil from almost the time that he came to town up at the Ramona Bowl when he was not too long out of school. Monique Peterson who was in charge of the gift shop and museum basically brought Phil to town to make sense out of our archive and museum, and he stayed for a while, in many capacities. He wrote columns for the Hemet news and for the old Chronicle. He was also for a few years, curator of the San Jacinto Museum."
(Valley stunned by death)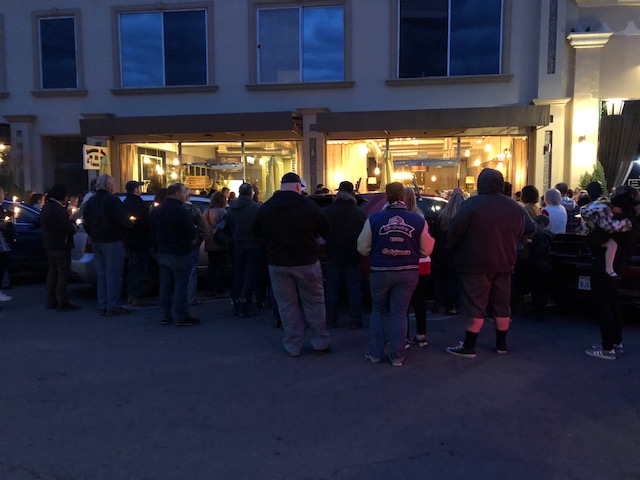 (Valley stunned by death)
Ms. Jennings said she got to know Brigandi well over the years because of his insatiable curiosity and the fact that he always looked up anyone who might have any historical information. "Phil always looked up the old-timers in town including my husband Bill Jennings. My husband Bill wrote for the newspaper and was also founder of the museum. My husband wrote for the Press-Enterprise back when it was a real powerful paper. Phil also did work for the museum but didn't actually work for them. He was just that kind of giving individual. In 2015 Rich and Steve Lech produced and published a book of my husband's columns called, "On my side," which is published by The Hemet Museum."
Ms. Jennings said that Brigandi's kindness, caring and sense of humor was always at hand. "Rich had a larger-than-life personality. My husband Bill used to run the "Peg-leg Smith Liars Contest" out of the Anza-Borrego State Park. It was a group of people who could spin the wildest yarns. It was started before World War II. My husband Bill revived it in the 60s and when he could no longer do it…Phil stepped right in and took over. He was just a very very special young man."
Darlene Ramirez, Office Manager at The Hemet Museum said she was in shock to hear of the passing of both men. "I know of Rich Brigandi's impact here in this valley, so I know how important he was, and Steve Covington and I were good friends. He looked to me as a source of advice and we always had very good talks. I'm just in shock. He just did so much for this community. We had talked on Messenger not too long before he went into the hospital, and I told him to slow down and take it easy, but he wanted so much to succeed. He had a heart of gold and he never let up. I will miss him and miss our talks terribly."
A vigil was held at 5pm this past Sunday outside of Covington's "Downtown Deli," and Harvard Street was nearly blocked off due to the amount of people. The crowd of mourners listened to speeches by Steve's family, by past Ramona Bowl Pageant President Lori Van Arsdale and by former San Jacinto Mayor Russ Utz who said simply, "Hopefully this will bring this town together and teach us that we have to love one another."
After the speeches were finished, and just as those of us who knew him knew he would have wanted, the Downtown Deli opened for business in Steve's honor. A friend said, "We're going to open as Steve would have wanted and we will have regular hours, closing at seven tonight." For those who knew him, it was the way Steve would have wanted it to be. "He was such a driven person, but my God how decent. You always knew where he stood, and where you stood with him. It's such a terrible loss," said a mourner who wished to remain anonymous.
Friends of Steve Covington's, Kathy and Gary Hakala said they had seen Steve just days before he was hospitalized. "He said he needed to slow down because he was feeling tired. He said his body needed to rest, and now…this."
(Valley stunned by death)
Steve Covington's friend and past Ramona Pageant President Lori Van Arsdale echoed the thoughts of many people at the vigil. "Steve had such as enthusiasm for the Downtown area and for his Deli. I've known Simon Chu (local real estate developer and close friend of Steve Covington's) for many years, and what I have always appreciated is that Simon had a lot of tremendous ideas, and Steve, with his creativity, helped bring those to life with his renderings. He really was a visionary. We on the board were so looking forward to his applying his creativity to our upcoming projects. It's just such a horrible shock and loss for the board, for the Downtown Deli, for his family…and the entire city."
A somber, respectful but upbeat crowd gave Steve Covington the kind of memorial he would have wanted: people talked, laughed, children ran around the tables giggling, and some even waited tables. For those of us who were lucky enough to know this powerful, driven but very kind young man…there will be a permanent hole in the heart of this city.
A memorial service for Steve Covington will be held this Saturday, December 28 at 10am at The Ramona Bowl. A public memorial service will be held at 11am on January 29 for Brigandi at the Fairhaven Memorial Park and Mortuary in Santa Ana. The Orange County Historical Society is also planning a tribute to Brigandi and a Hemet tribute is in the works and will be announced as soon as possible. Brigandi is survived by two younger brothers, Stephen and Chris and their families. Steve Covington is survived by wife Karen Covington, his mother Diana Covington-Hruska, and his grandfather and grandmother, Tom and Sally Covington.
Find your latest news here at the Hemet & San Jacinto Chronicle
Search: Valley stunned by death