(Competition is Heating up)
Who are the Mid-Season MVP's for both Boys & Girls Division?
With one month of play down, let's take a look at the standings in Mountain Pass League Basketball for both Boys & Girls.
In the Boys division, Citrus Hill has found themselves on top with a 6-4 record. Beaumont is right behind them with a 7-5 record. West Valley is in third place, their record 5-8. Behind them is San Jacinto High: they have 3 wins and 6 losses on the season so far. Hemet is sitting with a 3-7 record. Tahquitz is in the back of the division with a 0-11 record.
None of these records matter at the moment until league play begins. Coincidentally, transfer penalties will also make a difference for San Jacinto and West Valley when league play is active. Both schools will gain great basketball players. Antoine Sullivan (SJHS) will join his team and Adrian Ludwig (WV) will as well. Both players should help their school bank in some more wins before CIF playoffs start. Losing both Roman Swizek (Chaparral) and Adrian Ludwig (West Valley) really hurt Hemet this year. Their team is just lacking the defensive presence that those players brought, not to mention Roman's shot creation/mid-range game.
(Competition is Heating up)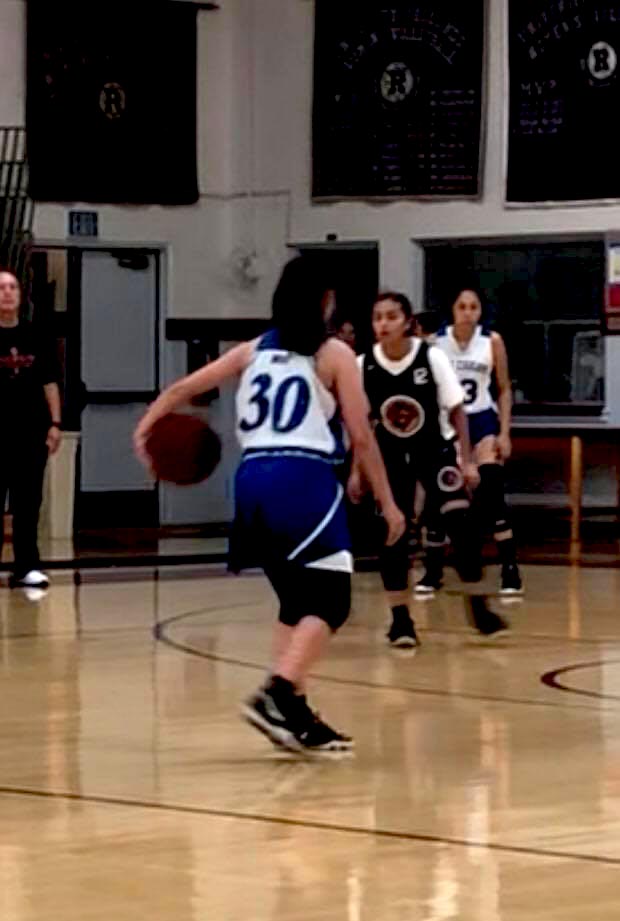 West Valley's Elijah Edwards is currently leading the league in points-scored at 171: he is averaging 21.7 per game. Elijah is a 6'5" swing player, who naturally stretches the court. He is comfortable playing below the rim and beyond the arc. Elijah Edwards is the center of West Valley's offense running the pick n roll game and just naturally creating shots. Edwards is barely starting his Sophomore season and appears steps ahead of the rest of the league. He is a walking double-double and really just needs to work on his post defense/perimeter defense in order to show colleges that he has what it takes to play at the next level. Right now, Elijah Edwards has earned his spot as the HSJ Chronicle Mid-Season MVP for the Mountain Pass League Boys Division. 

In the Mountain Pass League girls Division, Hemet High has the lead with an 8-5 record. Citrus Hill is right behind Hemet with a 5-4 record. West Valley is holding down the third spot, putting down a respectable 6-5 record. Beaumont has a 5-10 record. San Jacinto has 3 wins and 7 losses.  Just as in the boy's division, Tahquitz is in the last place with a 2-9 record. Beaumont's Jada Long is the league-leading scorer banking in 120 points on the season so far (averaging 15 points per game) she is also the league leader in steals (24 total) averaging 3 a game. Jada Long is only a freshman but is torching defenses all around the Inland Empire. Schools have to be getting nervous knowing that they are going to have to deal with this girl a ton over the next three years. The girl's division is certainly tighter then the boys and anything could happen over the next month. Right now our Mid-Season MVP award for the Mountain Pass League Girls Division has to go to Jada who is dominating the courts as a freshman.
Find your latest news here at the Hemet & San Jacinto Chronicle
Search: Competition is Heating up