(vehicle pet-friendly)
Greetings From The Hemet Car Guy,
As this year's Chairman of the Chamber, I attend a lot ribbon-cuttings. My wife Bambi loves our dogs and grand dogs. Yes, they are like family to all of us. The Wednesday before Halloween, the "Small Animal Care Center" in San Jacinto had their grand-opening ribbon-cutting. We were happy to attend, not only for the new business in our valley, but for additional care options for our dogs…especially for the new puppy she just saved.
Besides cleaning up after them, these are things that I've learned to live with: When were sitting on the couch, it's perfectly acceptable for the dog, even one that weighs upwards of 100lbs, to jump up and carve out a nest for himself between the two of you.
I've seen literally thousands of pictures of her dog via Facebook, and lots of texts that say "OMG look what Drew just did!"
When she is talking to the dog, I'm referred to as "daddy."
Nothing is cuter than catching the two of them taking a nap together.
I can't get mad at the pup for tearing up his bed, he's just a pup
According to her, The Car Guy needs to write about "Vehicles for Dogs."
So here is the "dog car" article:
When it comes to cars for dog owners, there's no question that some vehicles are simply better than others. Whether you're setting out on a long road trip or running out for a quick in-town errand, you want to be able to transport your furry friend as safely, conveniently and comfortably as possible.
When shopping for a new set of wheels, you may have many considerations, but carting your canine properly should be one of them. There are a number of desired features that can help make your vehicle choice a more pet-friendly one:
A rear lift gate allows your dog to jump in and out of the car easily; it also makes for more convenient loading in/loading out of pet carriers, crates and kennels.
Fold-flat seats create a spacious area for your dog to sit while keeping the actual surface of the seats clean from hair or scratches.
An airy cabin is especially beneficial for large dogs to stretch out.
Rear cargo-attachment ringlets help keep carriers and crates from sliding around.
A containment barrier/divider keeps your dog from jumping up to the front seat while the car is in motion.
A low ride height helps dogs — especially older ones — get in and out with ease.
Rear climate control keeps your dog cool and comfortable in transit no matter what the weather is like.
A sunroof brings fresh air and sunlight so you can keep your dog from hanging its head out of the window.
Underfloor storage gets your things out of the way so your dog can ride more comfortably.
These features will enhance comfort and convenience. Since driving around with your dog has its risks, safe transport should be at the top of your mind.
Some states require owners to crate or tether animals while in motion; other states, such as Connecticut, have general distracted-driving laws that can be applied to animal-related incidents. New Jersey categorizes an improperly restrained pet as a disorderly-conduct offense. Penalties for violations vary by state, but ultimately, common sense should prevail.
In other words, it may be fun for your dog to ride on your lap on the highway, but it's clearly not the best idea.
Oh yes we are getting him shots and getting him neutered.
From crossovers to minivans to wagons, there are many well-suited cars for dog owners.
VIP Autos here in Hemet has a good selection of pet friendly vehicles.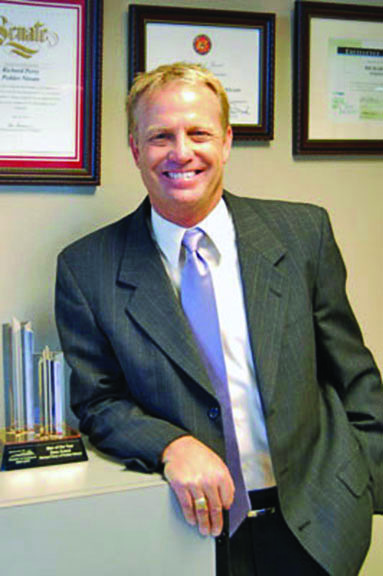 Good driving from,
The Hemet Car Guy
For more information go to www.hemetcarguy.info
Find your latest news here at the Hemet & San Jacinto Chronicle
Search: vehicle pet-friendly