(Wrestling Runs)
Two Hometown Kids, Dominating The Southern-California Wrestling Scene
Wrestling has been a big deal in the valley for many many years. Many athletes have spent time on the wrestling mats ether as training for other sports or just because they love it so much. Local wrestling programs have produced professional mixed martial artists (Jared Vanderaa and Alberto Romo) a numerous amount of college wrestlers and coaches. Coaches like Officer Nacua and Ed Mendivil have been involved in the wrestling scene for years and have positively impacted many lives. Throughout the years many wrestlers have come and gone throughout the San Jacinto Valley, but two of the most promising prospects ever are wrestling right now.

Arturo Ojeda Jr (San Jacinto High School) is returning for his senior season. Ojeda earned himself an impressive resume last season winning in County, League, and CIF. Ojeda finished his Junior season with an impressive 34-6 record and won five tournaments. He is an imposing wrestler and prides himself on his grit and tenacity. In the fall, Arturo spends his time on the football field, but his passion is on the mat. He hopes to return to San Jacinto later in life and become a wrestling coach. Coming into his senior season, Ojeda is ranked as the 11th heavyweight in the state. His first tournament this year was the Rim of the World Invitational last weekend. Ojeda was just one of a great many heavyweights, but he was listed as the favorite coming into the tournament. Ojeda pinned all five of his opponents and dominated the whole tournament. Ojeda is back in action this weekend at Citrus Hills High School for his next tournament.
Karson Martin, who grew up in the valley and attended River Springs Charter School, is now a student at Chaparral High School. Karson's roots run deep in San Jacinto. Both his older sister and brother graduated from San Jacinto High School and his mom was the principal there for many years. Martin also just finished his football season and is now ready for what the mat has to offer him. Martin was set up to have a breakout season last year. Unfortunately, his season was cut short by a devastating injury suffered in the practice room: Martin suffered a snapped tibia and ankle, ultimately ending his season before it ever got started. However, Martin is back for his junior season and is ready to make up for the lost time.
(Wrestling Runs)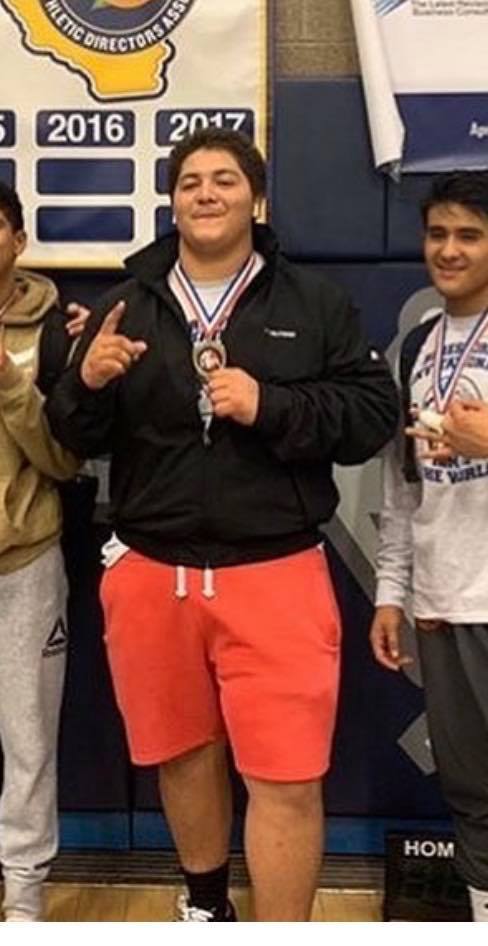 This past weekend Martin entered the La Costa Canyon Hamada Classic tournament as an underdog. He was un-ranked and wasn't expected to win. This is largely due to him not being able to wrestle last season.
Martin shot out the gate like a raging bull who was tired of being caged. He quickly pinned his first opponent and continued the momentum through the tournament finishing as the champion. Many of the other wrestlers/coaches were stunned, but Karson Martin knew he had what it took and wanted to take the opportunity to show everyone what he is about. These two young men both have what it takes to put the valley on the map as a wrestling powerhouse. Both boys are positioned to make deep runs in the CIF's and can potentially win the state championship. Good luck boys! The Inland Empire Sports Connection/Hemet San Jacinto Chronicle will be watching. 
Find your latest news here at the Hemet & San Jacinto Chronicle
Search: Wrestling Runs