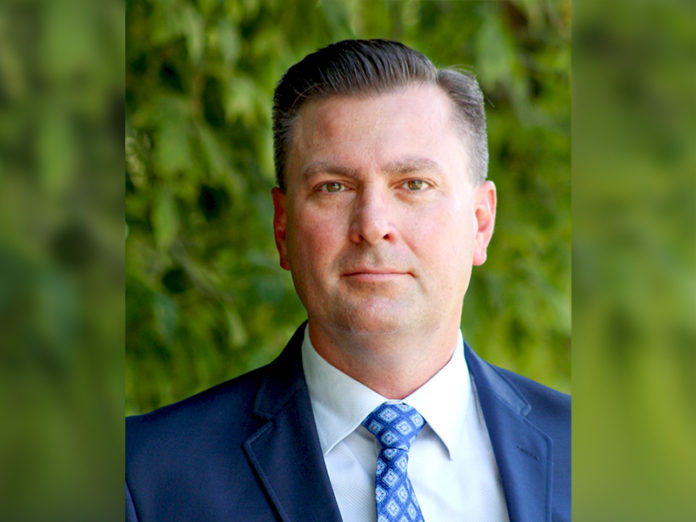 Andrew Kotyuk, currently serving his third term as mayor of San Jacinto, has set his out to reach higher office. He is the Republican candidate for the 42nd Assembly District seat currently held by Chad Mayes, former Republican now declaring himself an independent. I recently did a Q & A with Kotyuk in his Hemet business office.
Q: Why do you feel qualified to run for this office?
A: I am a product of this Valley. I was born and raised here, raised my family here and went to school in both Hemet and San Jacinto. Quite obviously, I've been the voice of the Valley for a very long time. One of the big things I've fought for is coming to fruition – The Mid-County Parkway.
Q: Do you think that would be a good place to relocate Highway 74, removing it from busy Florida Avenue?
A: We had the route 66 bust-up happen to us. When the 10, 60 and 215 were built nobody cared about the 74 or 79 anymore, so the San Jacinto Valley got by-passed for 40 years after that. During the past ten years I don't know a soul that doesn't have a positive word to say about what've done in San Jacinto.
Q: As you know, there has been a lot of negative comments about the new Florida Avenue median. Do you think the Hemet City Council made a mistake in not taking over responsibility for Highway 74?
A: I blame Chad Mayes for that. His was the vote that secured a very big bill for Governor Jerry Brown. He could basically have asked the governor for anything he wanted. There is still horse-trading in California. So what did he get for his efforts? A swimming pool for his home town. Brown needed 7 Republican votes. Mayes delivered them. He could have asked or traded for anything he wanted, but he did not. He could have stopped the median. Brown would have obliged him, but in six years, he has done nothing for people in the San Jacinto Valley.
Q: What do you see as major problems in the 42nd Assembly District.
A: I think jobs are a big issue with COVID-19 and all. We weren't prepared with emergency supplies for a pandemic of that size. I would definitely arbitrate for better emergency supplies. We all know there is going to be an earthquake or a similar emergency. So jobs, emergency preparedness and public safety must be at the ready. A lot of people complain about ex-felons and parolees who come here. It is because we are a lower income area and also the fact that all parolees have to be released 50 miles away from their gang territory.
Q: Is that why we have so many of them?
A: Yes. It is an unknown fact. And homelessness, of course. We have a real problem here with the homeless. I would do much as I have done in San Jacinto. I'm good at creating jobs. As a small businessman, I've done that for a long time. I'm also good at bringing prosperity to a community, as can be seen by my ten years in San Jacinto. People say that I am a Republican. Forget that. This race isn't about Democrat or Republican or Independent. It is about someone who hears the voices of the community and represents everybody, which I do and have always done. Chad Mayes has done nothing to represent us. He's backed by all special interests. Look at his donations. They all come from some big corporation like Chevron. He's been everything to no one. Who is he? Even he doesn't seem to know. It is a time for a change a time to be represented by someone who lives in and cares about this community. All my campaign money comes from the local community and small businesses because I do what I say I will do. It is not about a party race for me. It is representing the local people. They are the ones who will like me. Party doesn't matter. I'm only beholding to the people who like and will vote for me based on my record of getting things done and keeping my word.
Q: There is a lack of manufacturing in the Valley. Can you do anything about that?
A: Most big companies want easy access – on and off-ramps. They don't want to drive their big trucks through the city streets to reach their factories. We are currently working on bringing a manufacturer to San Jacinto which will be responsible for 200 plus new jobs. As an assemblyman, I will do my part to introduce manufacturers to the Valley. In Sacramento, I will be talking to people, advocating for our Valley and that's not being done now.
Q: Selling the Valley's advantages?
A: That's right. This is a great place. The train, which I've advocated for over ten years, will be coming to the San Jacinto Valley. We've moved up to the number one spot in the county. A study is currently being conducted. Think of us. We have an airport, a hospital, a college and Soboba with its new hotel and casino. I want to take my success in San Jacinto to the entire district. I care so much for this Valley and the good people here. I can bring this Valley to people's attention at the state level. People know me here and I will make our Valley known to others. There isn't much I haven't represented: On the Charter School Board, San Jacinto City Council, Boy Scouts, United Way, Ramona Bowl.
Q: What else about yourself?
A: I grew up in a broken home, a blue-collar family. I started working at age nine and moved out on my own when I was 16. I went to work at Pizza Hut. Then went up to Alaska out of high school, where I worked on the Bering Strait in the salmon industry for two years before enlisting in the military. I am as tough as brass knuckles.
Q: I'm sure you have your enemies.
A: Any business guy or political aspirant is going to have enemies. I speak out and at times people don't like that. I remember when I first became involved with politics, I got harassed because I helped found and support the arts in the Valley. A Republican wasn't supposed to do that. It is about the Valley, about life, and that's a quality the Valley has always had and needed.
Q: How about education? The State spends more than any other state on education? Does it get its money's worth?
A: Locally, we are economically deprived in a lot of areas. Many kids don't have computers or internet, which doesn't serve them well trying to learn at home. The State of California is rated as one of the worst in the nation when it comes to education. That is a well-known fact. I certainly can take my background at the Charter School to the State and push for changes. When I first went to work at the San Jacinto Valley Academy, the graduation rate was really low. When I finished six years later, we had a 100% graduation rate. We were getting kids from every facet – whether their academics were high or low. I'm reminded of one Hispanic girl who graduated top of her class and was offered a full scholarship at Berkeley, but her parents weren't going to let her go. It was a traditional thing in the family that she graduate from high school and go to work. She was the first generation in her family to be accepted at college. We worked with the family all summer and by fall, they relented. Family traditions are hard to break in the Hispanic community, but she has been a shining example to her family and community as to what can happen when we work together for the betterment of all.
Q: How about trade schools? The high schools seem to have forgotten them.
A: The San Jacinto Community College offers them: Training for the wine industry, golf courses, automotive, nursing – The connection between these trade schools and business is an awesome way to supply labor for factories that could relocate here. A perfect marriage between education and business.
Q: How about affordable housing?
A: It keeps getting worse, not better, with so many taxes being applied to the building industry. Prop 15 will be on industrial and commercial buildings. It is actually a repeal of the original Prop 13. Everyone believes it will also apply to residential as well. It is an unaffordable proposition. Our electricity is unaffordable, too. I would challenge Edison to produce one single year when electricity costs didn't go up 6 to 8 percent in the past ten years, which means your electric bill has doubled in the past 7 or 8 years. No wonder ordinary people are vacating California at never before heard of numbers. Only the wealthy can afford to remain. That, coupled with the early release of prisoners who get their money from the State and are doing drugs and alcohol. That's a big part of the homeless on our streets. And then we have the mentally unstable that aren't being provided for. It is inhumane to see these people on the streets who will never get a job. Our Cal-Vet program was once the shining example. It has been stripped. It is nothing now. I believe I could take the lead in solving many of these bad situations being a veteran myself who cares what happens to veterans and their families. California has the money to rectify many of these problems. But it is just not being used the right way. You can only squeeze so much money from taxpayers until the cash runs dry. That's why so many people are moving to Texas and other states where taxation is way less on citizens.
rustystrait@gmail.com
Find your latest news here at the Hemet & San Jacinto Chronicle