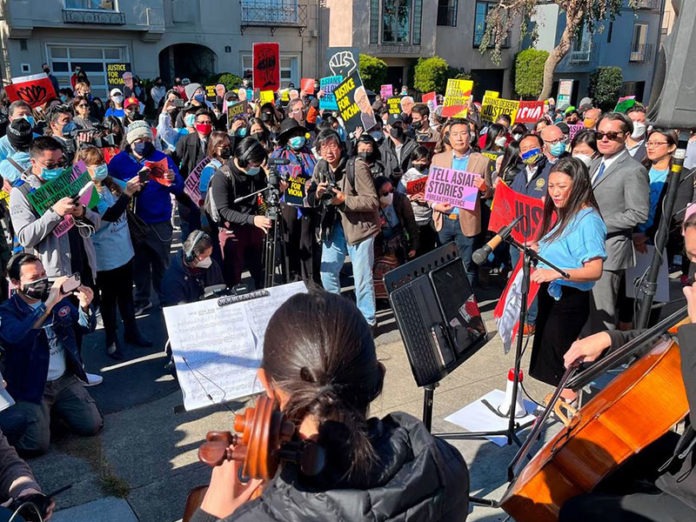 Sarah Mizes-Tan | Contributed
In response to the sharp rise in reported hate crimes across California, the state has created a Commission on the State of Hate to discuss community-driven solutions. The Commission, which includes representatives from the Asian American, African American, Native American, Latino, Jewish and LGBTQ communities, met for the first time on Thursday and heard updates on the state's long-promised hate crimes hotline, and how to address the fear of police, as expressed by a number of communities. 
"The steep rise in hate crimes and incidents come at a time where public confidence in our government and institutions is also at an all time low," said Assembly member Richard Bloom (D-Santa Monica). "Justice can seem evasive as extremists are emboldened by the reckless hate speech and dog whistling that comes from some of the most powerful places in society." 
Commission members will host four community forums each year to discuss the state of hate. They will also advise the Legislature and Governor's Office on policy recommendations for how to best address hate crimes. 
Commission members were also updated on the state's long-promised hate crimes hotline. 
"I was very excited to hear that this was a program but maybe two years ago there was an issue of staffing and capacity," Commissioner Cynthia Choi asked. She also inquired about language translation services for hate crimes reporting.
The state has said they've gotten renewed funding for the next three years to create the hate crimes hotline and that the hotline is now up and running. 
"We are going to demonstrate the ways in which this really can make an impact, it is such a smart investment in communities to do the work this way," said Becky Monroe, Deputy Director at the state's Civil Rights Department. 
Commissioners discussed ways to combat community fear of police. Some also stated a desire to be mindful of not over-criminalizing hate crimes, particularly in a way that would further incarcerate people of color. 
"We have a multiplicity of offenders, some are young, first time offenders," said Brian Levin, director of the Center for the Study of Hate and Extremism at California State University San Bernardino. "In New York City, 40 percent of arrestees for hate crimes in the first six months of the year were classified as emotionally disturbed persons. So we know in the same way homeless people or people who have mental conditions are warehoused carcerally, we wouldn't like to see that," he said.
The Commission is charged with putting out an annual report on the state of hate crimes in California, slated for release in July 2023. According to a recent report from the Attorney General's office, California saw a 32% increase in documented hate crimes between 2020 and 2021, with the most dramatic increase seen in the Asian American community. 
Find your latest news here at the Hemet & San Jacinto Chronicle