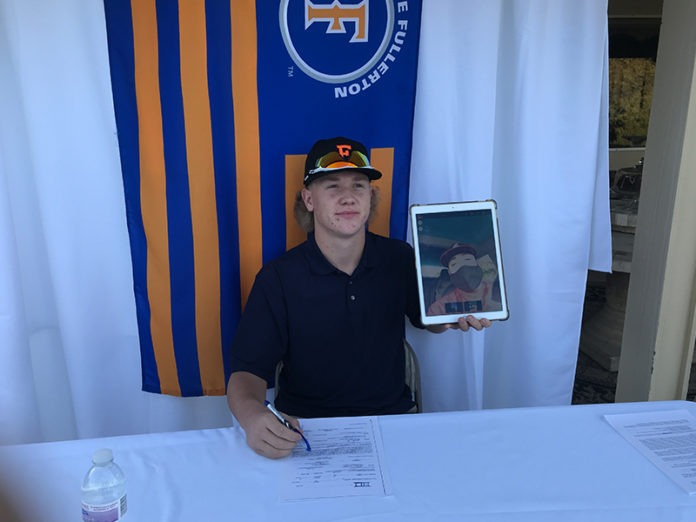 He's only 17, but his stats are those of a full-grown man. Gavin Meyer, the son of Roger and Karlee Meyer will not be 18 until June of next year, weighs 205 pounds and stands above most of his age group in that he is 6″-4″ in height.
I recently had the opportunity of interviewing the young man in the Garden of the family home in Hemet.
Q: When did he first take an interest in sports?
A: "My parents encouraged the four of us (his siblings) to show an interest in sports when we were very young. My father and mother are very athletic and felt that if we had any abilities, we should try from the bottom to develop anything that might be useful in the future."
Youthful was only the beginning. "As for myself, I started throwing the ball hard at a very young age." (About four or five, he says).
It began for Gavin Hemet Youth at a lot where his mother attended high school.
"We were home-schooled; from Hemet Youth and a short time with J Minor's Gold team, I sort of graduated to Valley Wide Sports. As a freshman, I was accepted at Tahquitz High School to play for their Junior Varsity Team. As a junior, when I was fourteen. The youngest in my class. When I became a sophomore, the school's seniors were leaving and the coach began to look for replacements. My ERA as a pitcher was 135, so I was transferred to the school's Varsity baseball team where I was a second rotation guy."
At that time, his pitching speed max was 82 MPH. He began to rapidly grow in weight and height and during this past summer off-season he's averaging 88 MPH. He has pitched at 92MPH. That is major league stuff. Remember, he is still not old enough to vote.
Q: Outside of Tahquitz, you have not played for other local teams. So when did you start pitching for a traveling team?
A: "During summer after my freshman year, I began playing with California Baseball Academy, which seemed to offer more of what I was seeking for a step to a higher level. I was with them for 2 years and then went to Performance Fitness Athlete. Until then, I had never over-exerted myself in training. That's when I started traveling a lot. Places like Las Vegas, Arizona, Georgia. I still play for them."
His PFA Coach, Edgar Garcia, has a connection to the Atlanta Braves. "He gave me an opportunity to play in their high school youth organization. I'm in my second year for them. They scout high schools in search of promising players of the future. All from different high schools around the country. They call us 'prospects.'
He's pitched in several of their games at San Manuel ballpark in San Bernardino. "Most recently, Edgar sent down to Florida to pitch with a Texas Club Team."
Q: How did you happen to get hooked up with Cal Fullerton State College in Fullerton, CA?
A: "One of their scouts came to watch me, thanks to Edgar. I got a call from their pitching coaches and asked if I would be interested in coming down for a campus visit. You can bet I would. So it was arranged and that's when I was offered a full athletic scholarship. I will be graduating high school next spring and in September I will be living and going to school in Fullerton."
His scholarship includes housing and food supplements and all the other goodies that come with a full school scholarship.
"I know," he says, "I am really blessed. In the meantime, I'm to max out this next year and get into better physical shape. Work on my pitching mechanics, keep up my health, eat the right foods, exercise and load up on vitamins and nutrients. Becoming stronger is my goal.
Q: Your mother tells me that you are always being pursued by girls. Do you have a steady girlfriend?
A: Not at all. There is plenty of time for that. Education and career is the only thing I'm dedicated to now."
I later spoke with his high school coach, Ron Savage. Here's his opinion of this multi-talented young man.
"The first thing I noticed about Gavin was his amazing sense of humility. I would later learn that was a family trait. He has parents that are totally dedicated to the future of their children. Gavin speaks respectfully and as I said, with real humility. He has that certain inner desire to succeed and has a world of confidence without any sense of taking his abilities in any haughtiness as some athletes might have. Everything about him is real and sincere."
Last winter, when the team was absolutely routed in their final game, Coach Savage addressed the team.
"We lost the game and I know that some of you are going to blame me. If anybody was to talk to me, just let me know and we'll sit down in my office and talk about it."
Gavin called. "Coach," he said, "You were right. Some of the guys did blame you. I don't. I just want to let you know we lost that game as a team. What I'd like to do is help you make things better so we can go forward as a great team next year."
How many athletes, young or old, would do that? Gavin is not only honorable and humble, but the one thing he is – the kind of young man that any parent would be proud to call, "My son."
Just sayin'.
rustystrait@gmail.com.
Find your latest news here at the Hemet & San Jacinto Chronicle