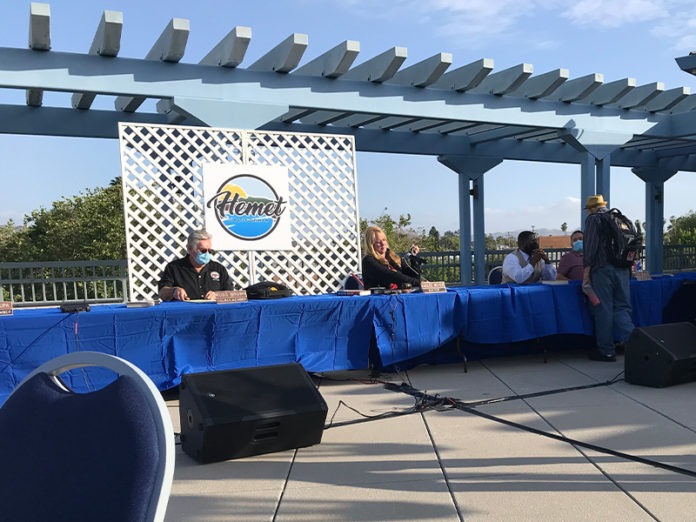 Late last week, the Hemet City Council held a session on the upper patio of the Hemet Public Library. What started out as a warm late afternoon ended up after dark like a night in Alaska. The wind gusts were harsh and bitter. One could applaud the brave souls that stayed until the end.
Publicized as Hemet Community Planning Meeting, it turned into old-timers and newcomers coming together with suggestions on how to make Hemet, if not heaven, a better community in which to live, raise your children, retire and eventually occupy the local cemetery.
The categories were as follows:
1. Community Engagement – To connect and participate in a constant dialogue between members of the community, city staff, and elected officials to promote togetherness and positivity.
2. Organized effectiveness – To identify the work needed inside the city organization to effectively provide services to the community and ensure financial stability.
3. Quality of Life – To ensure that Hemet is safe, clean, attractive, and comfortable for who live, work and visit our community.
4. Economic Opportunity – To ensure that Hemet is a hub with access to quality jobs, shopping options, and a varied and sustained tax base.
5. Partnership opportunities – To pursue partnerships that will increase the opportunities available to the community, including our businesses, unemployed and youth populations.
Almost unanimously, there was a hue and cry to reappoint Joe Males, the mayor pro-tem, since a lawsuit filed by someone supporting his opponent in November stating that he was not living in the district in which he ran. A judge ruled in their favor, although it was brought about by a technical error on the part of the City Clerk. Males is still on the council while it decides what to do. They have the option to call a new election, leave the seat vacant, seat his opponent or reappoint Males to the position he now occupies. The assembled citizens were not anxious to spend money to hold a new election, or seat his opponent and most stated positively that Joe Males was duly elected by the majority in his district and his seat should not be disturbed.
Males, the commandant of Post 53 of the Hemet American Legion, was well represented by legion members in attendance.
Commentary ran high about the misuse or non-use of Measure U money which was designated for public safety and includes upgrading the police department. One speaker alleged that the Hemet P. D. has only 70 officers, while Measure U was to fill the vacancies to bring it up to 90 officers on the ground. That issue roused the anger of those who endured the almost freezing wind that swept across the open upper patio.
Further, some felt that the police are burdened with too many duties that have nothing to do with police work and that social workers should be part of the police department to handle issues that are not necessarily crimes – especially the homeless and addicts that permeate the city.
Some thought it somewhat questionable that businesses would reach out to each other or assist new businesses, although most thought it was a good idea. Currently, most business people are struggling to recover from the pandemic.
Hemet's economic situation is sorely missing manufacturing. Even though the median age is now about 38.8 years instead of the old 65 plus, it continues to be a service and bedroom community. A recent study found the economy stifled because only about 17% of the working class actually work in Hemet. The 83% work and shop outside of the city. There is a big push to rectify that by wooing manufacturers into the valley by presenting the advantages they would have here.
However, some thought that the heavy crime rate in Hemet discourages new business more than any other reason. Consequently, the plea for more cops on the beat. Prostitution is openly practiced up and down Florida Avenue is obvious to anyone out after dark. Thugs roam the streets and folks, especially girls, women and older folks are afraid to go out after dark. Purse snatchings and assaults are common. Community watches were brought up; however, it was suggested by some that neighbors are often not neighborly because many do not trust anybody and keep their doors locked day and night.
The crux of the evening's argument was that there are good people in Hemet but they live in a certain amount of fear.
However, some were just as adamant that the city is a good place to live and that the City Council and City Manager should do a better job running the city. Seems like we hear that on a regular basis. It was obvious that those in attendance believe there is something wrong and were anxious to help in any way they can.
Maybe the current council can bring the city together again. They seem to be trying. However, there seems to be an element of unelected people with plenty of money and pull who have been behind the scenes for years who want it their way or no way. If town halls were held regularly to discuss issues, it would help. Often folks just want to vent because things move so slowly. Who can blame them? You?
Just sayin' rustystrait@gmail.com
Rusty Strait • Senior Reporter
Find your latest news here at the Hemet & San Jacinto Chronicle