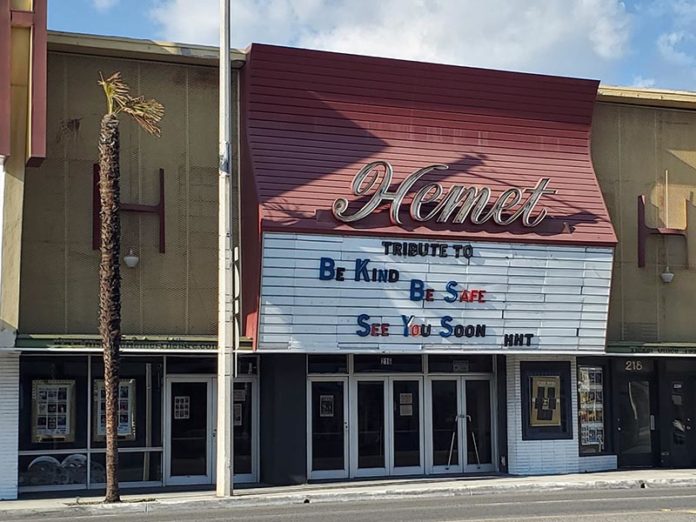 (HHT cancels tribute)
As we all stay home in response to the national health emergency, the staff of the Historic Hemet Theatre is working to make the most of the closure and still keep the Foundation solvent into the future. The last concert of Tribute Mania Season One was officially canceled this week. The Tribute to Abba featuring Abba Fab will be moved to November.
Season Two remains in limbo, scheduled to begin on May 2nd with a Tribute to Fleetwood Mac featuring Mirage. The ticket office remains closed for at least the next couple of weeks, following the guidelines of California officials. Renovation plans continue with a permit review scheduled with the City of Hemet by conference call.
Several key improvements including earthquake retrofit, heating & air upgrades and handicap facilities are included in the plans. Funding for the improvements are still needed, with a few grants possible. Meanwhile, a local artist is using the closure to complete some of the wall art needed to complete the lobby renovation.
The community can keep track of the situation on the HHT website: www.HistoricHemetTheatre.com
or the Facebook page, www.facebook.com/HistoricHemetTheatre.
Email subscribers will receive updates at the situation changes (enroll on the website). Call and leave a message for additional information, (951) 658-5950. Theatre supporters are encouraged to help the Foundation manage the financial strain of paying its bills.
Donations can be made on the HHT website.
Find your latest news here at the Hemet & San Jacinto Chronicle
Search: HHT cancels tribute