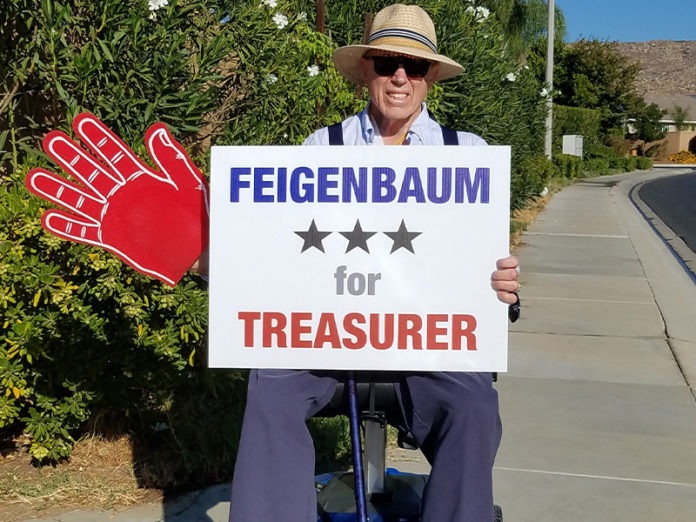 Being truthful and honest, and observing the rules of transparency, I must admit that I have known Howard for quite a few years – not politically – but as a member of a local writer's group that I founded in Hemet in the early 1980's. I knew him as a writer and poet. I've never heard him speak politically, so I have no bias in this interview.
Q. Why are you running for Hemet City Treasurer's position?
A. I have the knowledge and experience to do it. I've been in the financial industry for 40 years, 31 of those years as a registered principal. I've helped thousands of people to invest prudently, and that is with regard to suitability, risk and market conditions. A treasurer has to do that; has to know that. Otherwise, how can you help somebody properly invest? Also, I've been reporting to the regulatory agencies for 39 years. I am required to present a monthly balance sheet, income and expense statement. As a recorder, I am required to send in a quarterly report to the financial industry regulatory authorities. Once a year, I am required to submit an annual audit to the Securities and Exchange Commission. Every Treasurer must do these things. Also, investing for the city comes under another California Government Code that describes what can be used when investing in bonds. Just as in stock, there is a certain risk in bonds which can change interest rates. There is a relationship in the value of bonds and the direction of the interest rate. When interest rates go up, and you're holding bonds, the value goes down. If a bond has a higher interest rate, the value goes up. I follow the Federal Reserve. They set the interest rates. Also, my policy regarding investing, the Treasurer's first concern is safety, the second is liquidity because the city needs money to pay its bills. Third is interest rates. The reason I put that last is because it deserves to be. If the money's not safe, that presents a serious problem. So the interest rate is really the last consideration. You seek invest in bonds that are not compromised with too much risk.
Q. Are you a licensed broker?
A. Oh, yes.
Q. How do you feel the current Treasurer, who has termed out, has handled the money as a Treasurer?
A. I have nothing against her.
Q. What do you believe has been wrong with the outgoing City Treasurer?
A. Nothing.
Q. Do you think she has done a good job?
A. I do.
Q. Have you had any debates with your only opponent in this race?
A. No. I follow her comments. I know she goes to City Council meetings and has opinions. I don't want to go down that road because I have signed the County Regulation not to say anything negative about your opponent. I must stick with that. One of the things I have noticed, however, and this is an issue, is that I haven't seen her qualifications. I know she has an interest in what happens in this city and that's commendable. That's not the same as being qualified for city office. As I iterated to you before, I have the qualifications. So what is her experience? What is her knowledge? That is yet to be seen. That's my only comment on her.
Q. What changes would you make if you are elected?
A. I would like to see a more prominent place on the city website. We don't have that now, and I think it is important that we keep the status of the city's finance available for anyone to see. You know, a Treasurer is an elected official and doesn't really come under the influence of the City Council except as reporting to them. As an independent officer, I think I would have a duty to present a review of the finances of the city. The other thing I would do, we need to explore additional sources of revenue that the city might have, which would be of interest to the taxpayers and important to the city's revenue availability. That would be an important addition. Of course, I can't go out and spend money to find those resources; the council does that. But I can adhere to any practice that increases income to the city because in the long run, it tends to not only make the council look good, but provides more services to the taxpayers.
Q. The Treasurer's sole job as far as money goes, is to invest. Is that correct?
A. Yes. Check writing is not in the Treasurer's authority and duties. Only investing.
Q. How do you feel about the lack of a really good audit? According to your opponent, we have $90 million dollars just sitting around.
A. I certainly believe in transparency. I've undergone an annual audit for 31 years. It is required if you're in the business of financial services. Cities undergo annual audits as well.
Q. Pretty much like attorneys and their trust accounts.
A. Exactly. It is necessary.
Q. And what other changes would you like to see happen? If you don't pay attention, money can disappear and not be noticed, maybe until later on.
A. That's the purpose of the audit.
Q. Would you keep the Nunn Group as auditors?
A. I don't see anything wrong with the Nunn Group. I reviewed the 2019 audit and their opinion was that there was no material to disagree with.
Q. According to your opponent, the city pretty much agrees with whatever the Nunn group tells them and do not disclose items in detail.
A. Of course they do. I particularly asked the auditors about that and they contacted the city and the city published the auditors' response. I put it on the Hemet Policy's website. The auditors do send out letters to the banks and other financial institutions. That's what an auditor is supposed to do, to look at the statement the city has made about its financial condition.
Q. Then you would be a part of that?
A. The Treasurer is in charge of the fiduciary funds and that's obviously going to be audited, so it is not a problem. The auditors seem to be following rules and regulations required by the state.+
Q. The state audited the City of Hemet, but they are still working on that. There still is not a final report of their audit, according to one of the members of the City Council that I spoke to.
A. The state has an obligation to announce the financial condition of cities. As to Hemet, the problem is not enough revenue and the city has a lot of expenses. If you don't have enough to pay your bills, you have to change something. They have been a little slow to change that but now they're catching up. I think the city had a deficit of $12 million dollars. Now it is down to $2 million. So the city is moving in the right direction.
Q. What do you think of the new City Manager?
A. I really don't know him, but look forward to meeting him if I'm elected.
Q. You seem so well-qualified, it is difficult to ask questions at times. Have you ever been elected to an official city position before?
A. No. But I've served on the boards of the Diamond Valley Arts Council and the Hemet Library Foundation. I believe that serving your community in any capacity is a good thing to do. I hold a strong belief in public service and volunteering. That's part of the reason I am running for this office.
Q. Also, the primary reason I write for the Hemet/San Jacinto Chronicle. It keeps me involved in the community. You don't get rich writing for local newspapers but it keeps me involved.
A. The City Council is, in a sense, a volunteer organization.
Q. What do you think of the current City Council as composed?
A. I have no opinion and the reason is they're volunteers. They're doing their best.
Q. They do run for office, often in competitive races.
A. Yes, they do run for office but that's how they get into the office. That process is like making sausage. You don't want to see the process but you enjoy the results. They are just like other people but are a little more dedicated to serving the community. I admire everybody who runs for office.
Q. Do you believe in term limits?
A. I do.
Q. Like having too much power for too long?
A. That's right. Every office needs new blood to stimulate public policy. I also think it is helpful that new people come with a different point of view.
Q. How about oversight committees? The city hasn't had one until recently. Do you or do you not consider oversight committees to be an important method of keeping elected officials on their toes?
A. I don't really know. I'd have to think about that. I think there is enough oversight in one respect; an oversight committee cannot do what an auditor can do. Oversight committees voice opinions, whereas a declaration of actual evidence will tell you what happened. I think the Treasurer publishes an investment folio. As to what the City Council does is a matter of public record where the money is. So I just don't quite understand the necessity for an oversight committee.
Q. I've lived in this community for almost 40 years and I have no idea how the city spends its money, and most people I talk to don't know. Transparency is important.
A. It is, and there is transparency. If you go to the city website, they publish it. The warrants, the expenditures, the financial reports. Everything is there. You just have to be willing to go and look. Nobody's going to hand it to you on a silver platter. That's why I would like to see a Treasurer's page on the city website. So that people who aren't willing to search where those reports are, they can get all that information off the Treasurer's space on the city's website. If they click on that site, I'll tell them what they want to know.
Q. That's pretty transparent. How about accountability? I hear people saying all the time that there is no accountability in the Hemet City Council. What does that mean?
A. I have no idea. You may not agree with somebody's opinion. That's different from being accountable. Being accountable means that you stay within the limits of the law. The Treasurer also has to do that. The Treasurer is audited just like every other elected position that deals with public funds. Most complaints are a matter of opinion.
Q. Now I have a poser for you. Do you think the city should have invested in a take-over of Highway and not had the Florida Avenue median?
A. I don't really know about that. But I do know – I'm a driver – and before the median, people were crossing in the middle of the block.
Q. Nothing has changed. Now they get on the median and then continue across the street.
A. None of it is good but the median may dissuade some people from doing that. But going back to previous years, I have no opinion why the city chose as it did.
Q. If they did take it over with the costs of repairs involved, they would probably have had to issue bonds and that would involve the Treasurer.
A. Yes. That would be my job and I would have done that. But they chose not to.
Q. Businesses up and down Florida Avenue are closing their doors because of that median and some of them may never open again.
A. I would like to add something to that. Business is what makes Hemet exist and grow.
Q. Hemet is known for being a difficult place to open a business. Too many regulations. A friend of mine opened a business here in 1988 and was required to get 21 permits before they let him open the doors.
A. That's a lot of permits. I would be in favor of cutting back the number of permits, and being more business-friendly because businesses are what keeps the city afloat. I have noticed when new businesses come here, they settle in and seem to prosper.
Q. Did you know that 17% of Hemet workers have jobs in the community. The rest commute. That's a lot of commuting. We need manufacturing that will hire locals. We need businesses that will hire here and spend their money here.
A. I believe the city can do more to stimulate that.
Q. We used to have a guy the city hired to bring businesses here. He went to all the expos and business conventions to present the attributes and conveniences of the city, but he left quite a while back. We need some to do that now.
A. We should do that. I believe in promotion of new business for the city. As far as being Treasurer, I want to promote the city. I want more businesses to come here. I want it to be easier for them to come here. I want there to be growth, especially for younger people who are raising families. I'd like to see more jobs that hire local workers. I don't enjoy seeing so many having to commute to other cities to find work.
Q. One important thing I did not know until one of your supporters brought it up, is that you are a licensed broker.
A. Not only that, but I ran my own firm for 31 years.
Q. What kind of firm?
A. A securities firm and that's how I came to be a registered principal.
Q. What do you think your odds are in this election?
A. I have no idea. You can't really project the outcome in a political race. You put yourself out there, do the best you can and see how the vote turns out.
Q. Do you have endorsements?
A. Sure. Two members of the City Council have endorsed me, Mayor Russ Brown and Linda Krupa. The retiring Treasurer Judith Altman has endorsed me. Diane Mitchell and Peter Odecrans, both of whom have played an important role in the City of Hemet. Dr. Straub and his wife have endorsed me. Also, I have a good amount of support from people in this community.
Q. Good endorsements.
A. Very good endorsements and I'm proud of them all.
This reporter is not a prophet, but I would never doubt Howard's abilities. He is unusually curious about everything and a forthright observer of details. Details matter when it comes to a taxpayer's investment into the city treasurer. As he said, "Who knows.
Find your latest news here at the Hemet & San Jacinto Chronicle