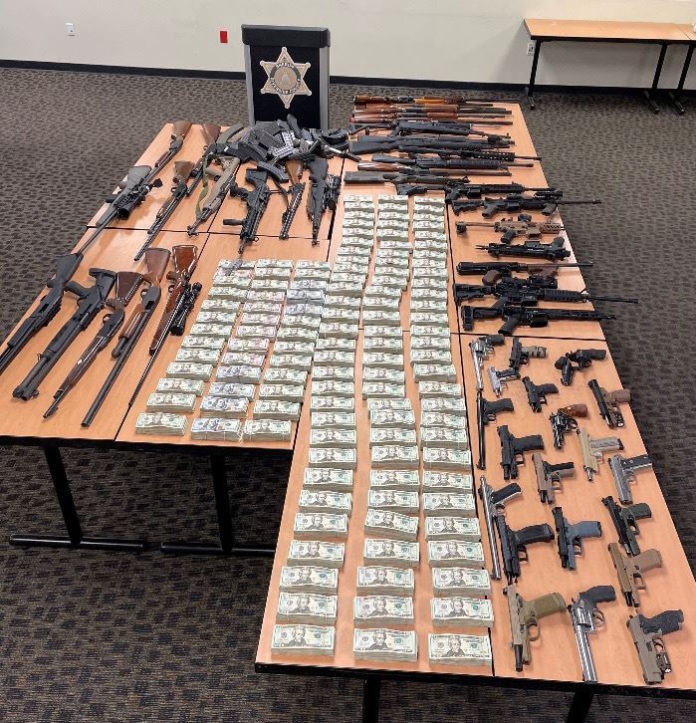 On Tuesday, February 16, 2021 investigators from the Riverside County Sheriff's Department's Marijuana Enforcement Team (MET) served a search warrant at an illegal marijuana cultivation operating at a private residence in the unincorporated area of Riverside County known as Sage. The search warrant was authored in response to citizen complaints about the residence.
Upon arrival, investigators located several outbuildings containing marijuana plants in various stages of growth. Additionally, investigators located a cannabis edibles manufacturing operation on the property. A further search of the property turned up a large cache of illegal weapons and over $700,000 in US Currency. Employees of the operations were detained, questioned, and later released. The investigation is ongoing.
Anyone with information regarding this investigation is encouraged to contact Investigator James Roy at 951-955-1700.
The goal of the Riverside County Sheriff's Department is to keep our citizens safe while also improving the quality of life for those residing within the community.  The illegal cultivation and sale of marijuana poses a great risk to neighboring residents.  These operations also negatively impact cannabis businesses legally operating within Riverside County. The Riverside County Sheriff's Department has a zero-tolerance policy for these offenses. If you suspect drug activity in your area, please contact your local Sheriff's Station.
Citizens may also submit a tip using the Sheriff's CrimeTips online form.
For media inquiries regarding this incident please contact the Media Information Bureau.
Find your latest news here at the Hemet & San Jacinto Chronicle