(L.E.A.D Graduates first class)
Sixth grade students at Noli Indian School on the Soboba Band of Luiseño Indians reservation had a graduation ceremony on Feb. 7. They aren't quite done with their classes for the academic school year, but they did successfully complete a 12-week long L.E.A.D. (Law Enforcement Against Drugs) program.
Bringing drug awareness to schools used to be accomplished with a widespread program called D.A.R.E. (Drug Abuse Resistance Education) that was launched in the Los Angeles area in 1983. It has since been discontinued but the need for such a program still exists.
Brian Herritt, Soboba's Department of Public Safety manager, said he was trained to direct the L.E.A.D. curriculum and was happy that tribal and school administration allowed him to bring it to the youths at Noli. Principal Donovan Post was approached during the summer to see if there was a way that DPS could get more involved with the school.
"I had an ulterior motive in having this program brought here," Post said. "All tribal members are products of our environment and as such some have preconceived misconceptions about law enforcement."
He addressed the students during their celebration explaining that he saw firsthand that the L.E.A.D. course taught them many important lessons, but he hoped it also helped build trust between them and law enforcement.
"That's what I love most about this program. It's not just helping you become better people; what I hope you get out of this is that you can trust those wearing a badge," he said.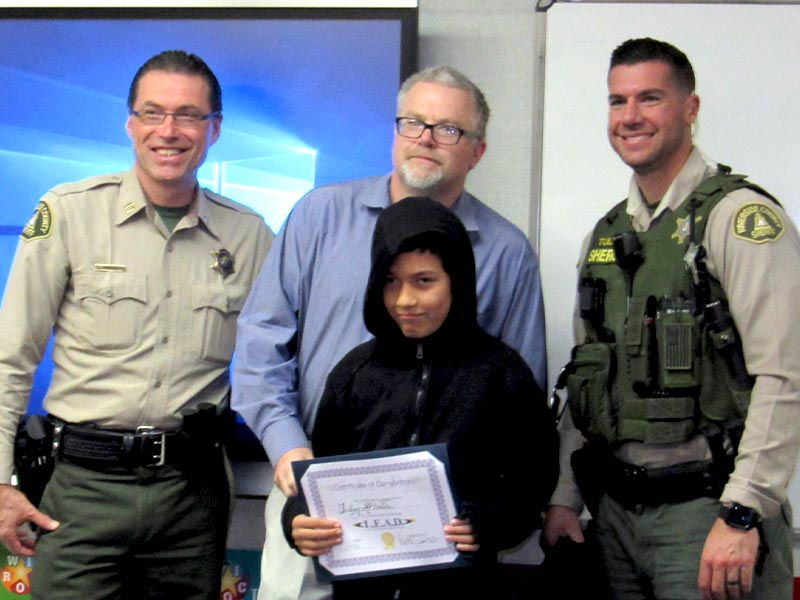 (L.E.A.D Graduates first class)
Canku Boniface, 11, said he learned a lot during the course including that drug use leads to making many poor decisions. "Getting messed up with drugs makes some of them drop out of school and they will do anything for drugs," he said. "This class told us about ways we can stay on the right path."
Herritt is a credentialed trainer for the L.E.A.D. program which teaches kids skills they need to have a positive view of self and be able to make good decisions while not giving into negative peer pressure with regards to alcohol, tobacco and drug use.
His department exists to provide public safety to the Soboba community. Their role is not law enforcement so it's important for them to maintain a good relationship with the local sheriff's department and why Riverside County Sheriff's Office Deputy Sheriff Trent Tully helped facilitate the class. As the officer assigned to the reservation, he interacts with the children whenever he can – not just during the class.
"I care for each and every one of these kids and I'm so proud of them," Tully said. "These past 12 weeks have definitely been a highlight of my career."
While drug awareness was a paramount issue during the course, it also stressed the importance of making positive decisions to avoid drug and alcohol abuse in the future.
Every Friday afternoon, the students met in the classroom where they also learn science and math from Molly Hickerson.
Sequoia Tahuka wanted to be involved with the class to be able to help others stay away from using drugs by making better decisions. Herritt said she was always the first one to raise her hand with the right answer during class.
"Brian had some pictures that showed what people looked like before they did meth and other drugs and what they looked like after and it was pretty shocking," said Sequoia, 12.
The L.E.A.D. program graduation party included pizza, hot wings, soda, root beer floats and cake for all students and family members who came to support them. The students received a certificate of completion and a backpack of goodies that included some school supplies.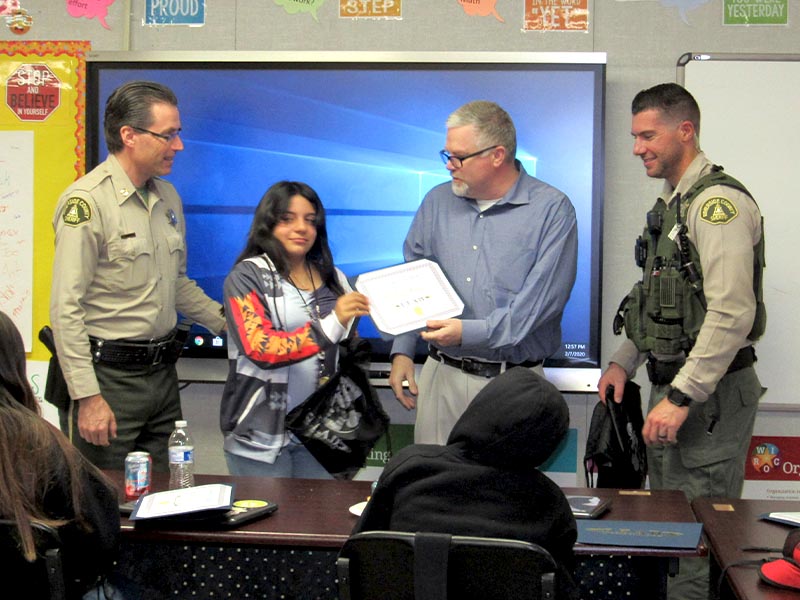 "Tully and I feel like we've established a strong relationship with everyone in this class," Herritt said. "I think the program was successful and my push is to keep it going. The feedback I've gotten from Principal Post and tribal members is that they are happy we're doing it."
Students who successfully completed the program are Julian Almada, Canku Boniface, Ava Brittian, Kylie Herrera, MaryHelen Hurtado, Audryna Lopez, Ferdencio Morreo, Sadie Pimentel, Leland Razon, Sophie Resvaloso, Shawn Rivera, Sequoia Tahuka and Abel Vallejo.
Herritt, who is credentialed to train the trainer, is pleased that Soboba is hosting his west coast L.E.A.D. training next month to assist others in implementing the program. A one-day instructor curricula training on March 24 will be offered for certified School Resource Officers or officers already teaching school-based prevention and all educators who are collaborating with a law enforcement agency to implement L.E.A.D. programs.
A week-long new instructor training course from March 23-27 will be available to officers who have never trained in a drug/violence prevention program. All trainings will be offered at the Soboba Springs Golf Course, 1020 Soboba Road in San Jacinto from 8 a.m. to 4 p.m.
To register, please visit https://leadrugs.org/training/west
For more information, visit www.leadrugs.org or call 609-259-2500.
Find your latest news here at the Hemet & San Jacinto Chronicle
Search: L.E.A.D Graduates first class