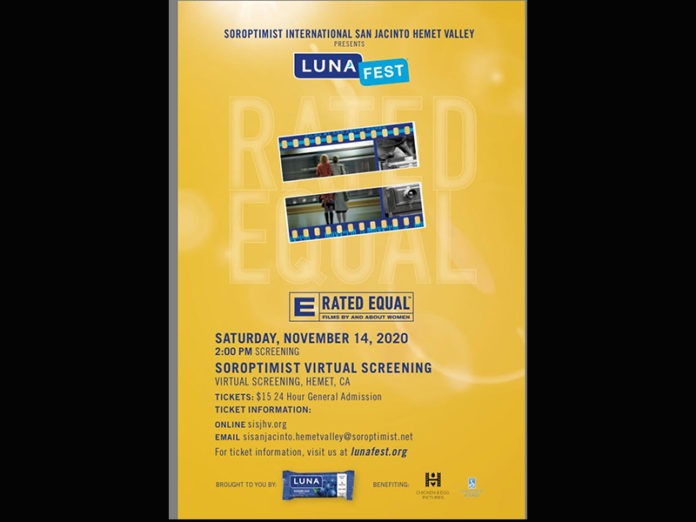 The 19th annual LUNAFEST, a national film festival that supports films by and about women, hosted by the Soroptimist Club of San Jacinto-Hemet Valley, will have a virtual screening this year due to the COVID-19 pandemic related restrictions on public gatherings.
Films, rated E (equal for all genders) and suitable for adults and teens 14 and older, will be screened on Nov. 14, starting at 2 p.m. Viewers will have a 24-hour window in which to enjoy the films in this flexible virtual format. Seven short films, with a total running time of 97 minutes, will be showcased. They are all designed to compel discussion, evoke laughter, tug at the heart strings and motivate viewers to make a difference in their community.
Tickets are $15 each and can be purchased by visiting lunafest.org. The screening is made possible through generous community sponsors such as Valerie Tichy of State Farm Insurance.
One hundred percent of the proceeds from this annual event support the local chapter's two main programs: Live Your Dream and Dream It, Be It.
Soroptimist's Live Your Dream (LYD) Awards program is a unique education grant for women who provide the primary financial support for their families. Live Your Dream Awards give women the resources they need to improve their education, skills and employment prospects.
Katherine Simpson was a LYD recipient in 2018 and is a single mother of three who has overcome much adversity to pursue her associate of science degree in diagnostic sonography. She chose this path after finding emotional and physical support from a passionate ultrasound technician who helped her through her third pregnancy that was hampered by Simpson's Stage 2b cervical cancer diagnosis. The LYD award has helped her fund the cost of her education, which she has almost completed.
The Hemet resident heard about the Soroptimist program from a CalWorks counselor at Mt. San Jacinto College where she was taking classes. She was encouraged to apply for the award and was happy to be chosen for it since it meant she didn't have to stress about rent and bills while she continued her education.
Simpson loved the powerful messages for and about women that were presented at last year's LUNAFEST and looks forward to this year's event. She takes every opportunity to tell other women to "never give up!"
"You're stronger than you think," she said. "Don't be afraid to ask questions or ask for help. Things change so rapidly – what's hard one minute might not be the next."
The Dream It, Be It (DIBI) program offers career support for girls, giving them the tools they need to achieve their educational and career goals, empowering them to break cycles of poverty, violence and abuse. Although all girls face barriers because of their gender, Soroptimist clubs prioritize working with girls who have additional obstacles including poverty, unstable home lives, living in foster care or teen motherhood. Prior to the COVID-19 pandemic halting in-person school attendance in March, club members would meet with girls on campus about every six weeks, sharing the Soroptimist copyrighted curriculum to help them find ways to become stronger and more self-reliant.
While attending the Hemet's Cal-SAFE (California School Age Families Education) program, Itzel Hilario learned about the program and enjoyed listening to the lectures and presentations Soroptimist clubs brought to her school.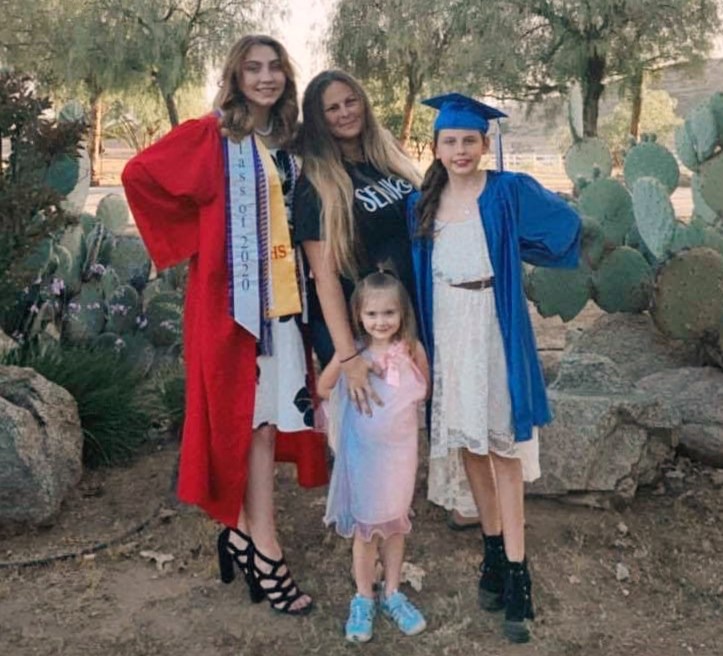 "The program was very inspiring, and they always had amazing lectures," she said. "The staff was very helpful and friendly. I always got excited when they would arrive at my school."
Hilario, who now lives in Azusa, said she was shocked when she learned she had received the DIBI award last year. She is using it to help pay for some college classes she'll be taking this winter at Citrus Community College as she pursues a business degree.
Now 18, Hilario has a three-year-old daughter, and uses every opportunity to share what she has learned through her experiences with other young women.
"Keep going and don't look back. You may lose people on your journey but it's for the better, because your happiness is what's important. Your mental health is important, and you matter," she said. "Life can get hard but in five years you'll look back and be surprised on how strong and brave you were and how it helped you get to the place you are at."
For more details, please visit www.sisjhv.org or https://www.lunafest.org/screenings/virtual-screening-hemet-ca-111420.
-Diane A. Rhodes
Find your latest news here at the Hemet & San Jacinto Chronicle