(Mt. San Jacinto College)
Dozens of Mt. San Jacinto College (MSJC) Adult Education students were recognized in a ceremony Wednesday evening for earning their GED at the college this semester.
Many of the 40-plus students who earned their GED this semester will transition into career certificate or associate degree programs at the college.
Andre' Matthews, who served as one of the two student speakers at the ceremony on the Menifee Valley Campus, dropped out of high school 23 years ago and was finally convinced – with his wife's encouragement – to earn his GED.
"When I got my final grades and learned that it was finally over, I cried like a newborn baby," Matthews told those in attendance. "No more feeling anxious at work, no more feeling like a quitter, no more feeling like I had to prove myself to anybody. … I can do anything I set my mind to and be confident in myself and my abilities."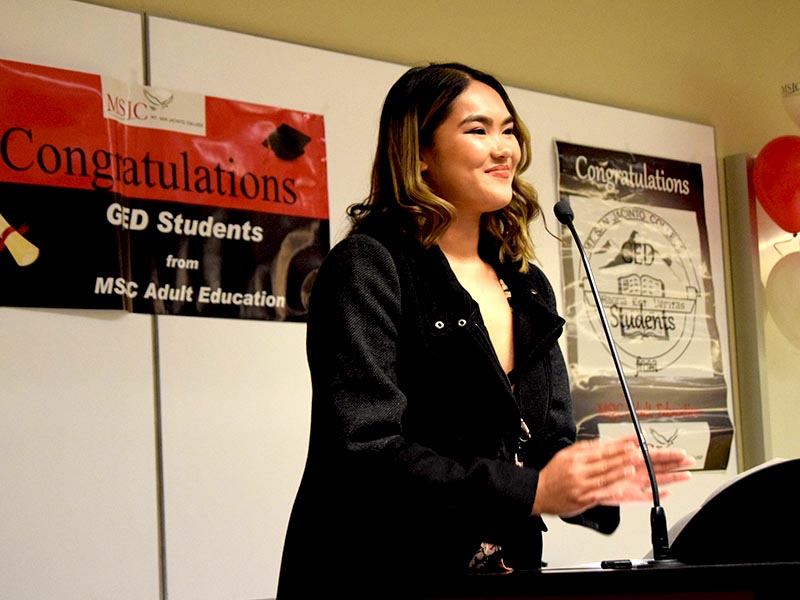 Matthews is now enrolled in seminary college and hopes to open his own church someday. He also hopes to inspire others with his success.
"I will use my story to push the next generations to get their high school diploma and encourage adults to go back and get their GED," he said. "If someone was to ask me 'What is the greatest thing you take out of obtaining your GED,' I would say, 'I'm now a finisher!' "
Ashley Celebrado also served as a student speaker at the ceremony.
"Every day is a struggle, moving forward, and reminding yourself that even the smallest of steps forward is a step in the right direction," Celebrado told her fellow GED earners. "That is why, no matter the reason that you might have had to put your education on hold, it does not define you. … What matters is being here, in this moment, ready to take on the world and life with a fresh start."
MSJC offers free high school equivalency (HSE) courses that prepare students to take the GED. For more information, visit www.msjc.edu/AdultEd.
"Earning a GED is a major achievement for our students," said Amy Campbell, MSJC Director of Adult Education. "This is a major milestone in each of our graduates' lives and they deserve this important celebration."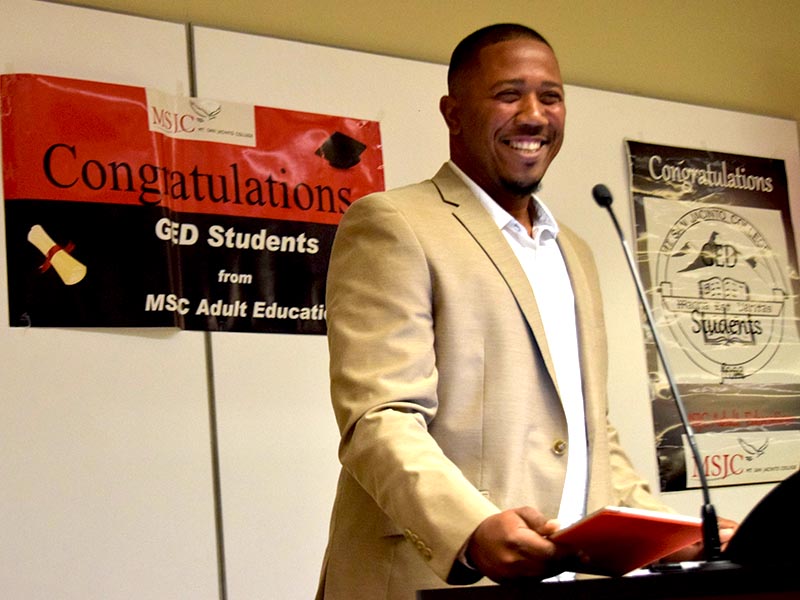 San Jacinto College serves about 27,000 students in a district covering 1,700 square miles from the San Gorgonio Pass to Temecula, with campuses in San Jacinto, Menifee, Banning and Temecula.

In May 2019, Mt. San Jacinto College awarded a record-breaking 3,338 degrees and certificates to 1,723 graduates.

Have a wonderful day and please follow MSJC on social media – Facebook, Instagram and Twitter. Learn more about the college at www.msjc.edu.
Find your latest news here at the Hemet & San Jacinto Chronicle
Search: Mt. San Jacinto College