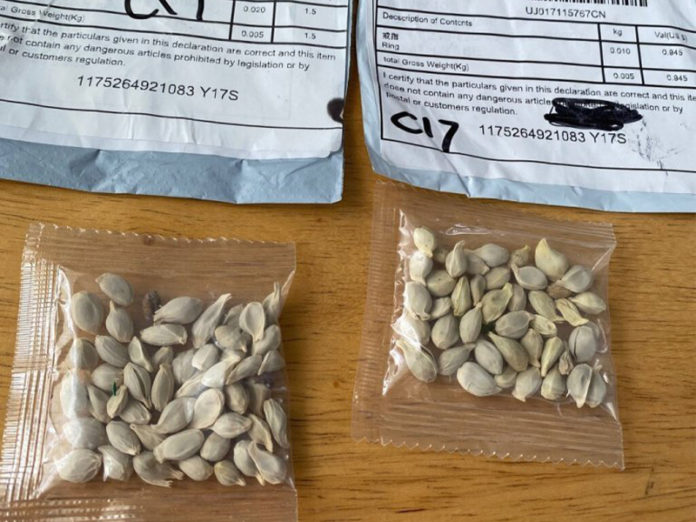 (Mysterious seed packets)
And now they are in Southern California
Mysterious, unsolicited packets of seeds possibly from China are arriving in some Southern California mailboxes, prompting state officials to urge recipients to refrain from planting them.
The California Department of Agriculture is aware of the packets and has been in contact with the U.S. Department of Agriculture to determine what action, if any, is necessary for shipments arriving in California, spokesman Steve Lyle said Monday.
Some officials have said the misleading labels were possibly meant to entice the recipients to open them, and Agriculture Commissioner Ryan Quarles on Tuesday said, "At this point in time, we don't have enough information to know if this is a hoax, a prank, an internet scam or an act of agricultural bio-terrorism."
Without specifying if the agencies involved in investigating the source of the unwanted shipments have determined what the seed packages actually contain, Gurrola this afternoon reported, "CDFA is communicating with the United States Department of Agriculture to determine any necessary actions for shipments received in California."
In the meantime, California Department of Agriculture recipients not to open, plant, or dispose of any unsolicited seed packets received, but to contact the SCDA immediately. Seed packets should not be opened, shipped or disposed of by residents to prevent potential dispersal of invasive species and/or quarantine pests. Unopened seed packets should be held by the resident or county official until further instructions are provided.
According to officials, invasive species can devastate the environment, displace or destroy native plants and insects, severely damage crops, and poison livestock. Taking steps to prevent their introduction is the most effective method of reducing both the risk of invasive species infestations and the cost to control and mitigate those infestations.
In a statement Tuesday, the USDA's Animal and Plant Health Inspection Service (APHIS) said, "The USDA is aware that people across the country have received suspicious, unsolicited packages of seed that appear to be coming from China", and reported that APHIS is working closely with federal and state partners, including Customs and Border Protection, to investigate.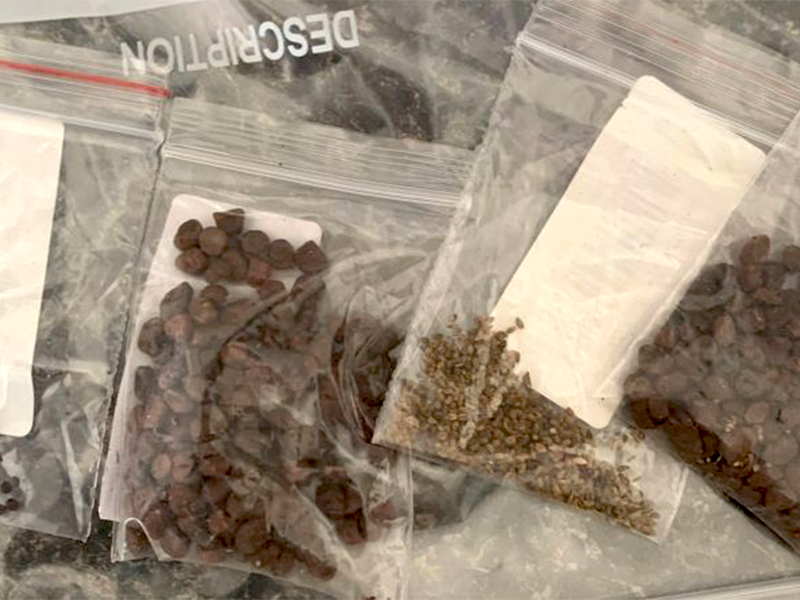 Also revealed Tuesday was that at that time, thousands of residents in nearly 30 states nationwide had received the unwanted packages and public notices about unsolicited shipments of seeds from China have been issued by agriculture officials in Washington State, Virginia, Kentucky, Colorado, Delaware, Georgia, Iowa, Maryland, Minnesota, Mississippi, Wyoming, Montana, Nebraska, Nevada, New Hampshire, North Carolina, South Carolina, North Dakota, Oklahoma, Tennessee, Texas, West Virginia, Florida, and Alabama.
That number has since risen to include California, Utah and Arizona, as well as other states.
Regarding the shipments being received by residents nationwide, Agriculture Commissioner Ryan Quarles has said, "We don't know what they are, and we cannot risk any harm whatsoever to agricultural production in the United States. We have the safest, most abundant food supply in the world and we need to keep it that way."
Seed packets or suspicious and unsolicited packages of any kind received from China should not be opened or tampered with, according to County officials; who said recipients should not handle or plant the seeds and should immediately contact the SCDA office for pick up.
Officials have also said that anyone who receives a packet of seeds "should store them safely in a place children and pets cannot access," and then email the USDA immediately at erich.l.glasgow@usda.gov.
Callers will need to provide their full names and phone numbers, pictures of the packaging, "and any other relevant information."
Suspected packets received in Riverside County can also be dropped off at the County of Riverside Agricultural Commissioner's Office ( office at 3403 10th Street, Suite 701).
Also, if you or someone you know did plant any of the unsolicited seeds, contact the Department of Agriculture for additional information and further instructions.
The County of Riverside Agricultural Commissioner's Office can be contacted at (951) 955-3045.
-HSJC Staff
Find your latest news here at the Hemet & San Jacinto Chronicle
Search: Mysterious seed packets