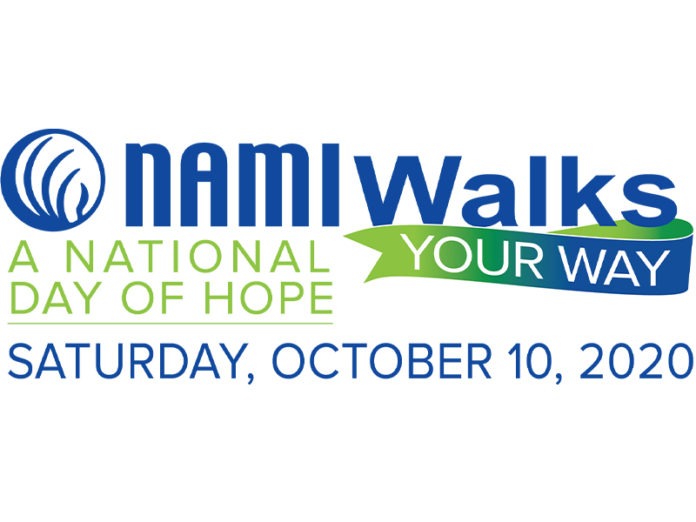 The coronavirus pandemic has changed many things in and around our communities. Not only have schools been forced into distance learning, but businesses and organizations must host meetings via Zoom or Webex to keep everyone informed and on task. A paramount adjustment has faced nonprofits that have had to find creative ways to continue to provide unity and support.
The National Alliance on Mental Illness (NAMI) had scheduled its 15th annual fundraising walk to be held at Diamond Valley Lake in Hemet on Oct. 24 with five affiliates involved in the event: NAMI Mt. San Jacinto, NAMI Temecula, NAMI Western Riverside, NAMI Inland Valley-San Bernardino and NAMI San Bernardino Area.
Brenda Scott, a NAMI member since 1999 and Executive Director of the NAMI Mt. San Jacinto member, is serving as the Inland Empire Walk Manager. She said the decision was made in August to change the walk to a virtual setting and a different date.
"The first date was October 24, but we changed it because this year October 10 is the National Day of Hope for Mental Health and it's also World Mental Health Day," Scott said. "We had to work with our national organization to learn how to do a virtual event. There was marketing material that had to be changed and we all had to learn how to market this differently. Most of our advertising has been on social media."
This year's theme of "NAMIWalks Your Way" refers to the fact that because the event is virtual, participants can do whatever they like: ride a bike, do yoga, cook, swim or anything else they like to do. A list of suggested ways to engage individually or with a team is offered at namiwalks.org.
"We will have a Facebook live event which will stay on our Facebook page at https://www.facebook.com/inlandempirewalk," Scott said. "We have hired someone to facilitate the event who has experience with this. He will also share his personal story while hosting the event."
Vernita Black is captain for this year's 14-member team Never Give Up Hope, which could also serve as a testimonial about her personal life. A disabled veteran who retired from the military after serving 21 years of combined service in the U.S. Air Force and the U.S. Navy, she said she encountered several medical situations that led to both physical and psychological wounds.
"Anxiety, depression, fear, PTSD and other psychological issues played an essential role in my invisible and visible wounds upon my exit from the military," said Black, of Hemet. "After leaving the military, I searched for help on all levels to continue to thrive for a fulfilled life."
She said attending a NAMI meeting in Riverside opened her eyes and saved her life.
"I will never forget the profound words, compassion and care that I received that day," Black said. "I was all in and wanted more. I liked the fact that the organization was dedicated, supportive and willing to help those with lived-in experiences brought on by mental illness."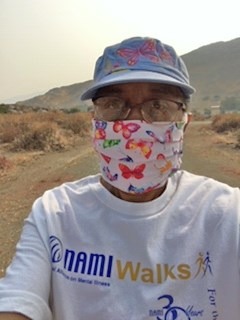 She became a member and continued to receive help towards her recovery. She became more involved and engaged in the overall healing process of mental illness. With her Doctorate degree in Education Counseling Psychology, she now provides help to others in need. She serves as board president of NAMI Western Riverside County and is passionate about serving as an advocate for mental illness. Black said NAMI inspired her to write a book titled "The Invisible Wounds of Stress: Inside and Out" to help others realize that understanding and managing stress is crucial for the overall healing process. Black said joining in the NAMI walk is important to her because mental health matters.
"It was not until I joined the walk that I realized how it helped me spiritually, physically and mentally," she said. "There are no limitations that can stop me from participating in this walk."
The walk itself is not the only virtual change for the local chapter according to Scott.
"Our support groups and classes have moved to a virtual platform so we are easy to access. We do weekly family support groups and have had numerous family education classes on Zoom this year," she said. "NAMI Family to Family is an eight-week virtual education class that is done now on Zoom. We have so many calls from families that need support in understanding their loved ones' mental health symptoms. Also, our family support groups in English and Spanish are very popular."
While NAMI chapters are normally busy assisting those in need, Scott said the COVID-19 pandemic has led to an exacerbation of pre-existing mental health issues for some members resulting in more calls seeking support.
"The classes and groups have been a lifesaver for families who experience these challenging questions on how to support their relatives. We have had a substantial increase in calls due to more mental health symptoms during the pandemic," Scott said. "We've seen lots of depression and anxiety and some cases of psychosis for people who are very traumatized by this pandemic and a changing world."
She said there has been a 50% increase in calls and a 100% increase in people seeking support groups. She said the family group is now held once a week rather than the previous twice a month meetings.
Scott said that anyone that wants to walk for mental health on Oct. 10 is welcome and anyone can access the event online. This is the year's biggest fundraiser for the group and hopes are to exceed the $35,000 raised from last year's walk. Scott added that she hopes that the virtual event gives more people an opportunity to learn about NAMI.
"We ask that they add the hashtag #NAMIWalksIE or #NAMIWalksInlandEmpire so we can find their social media posts," she said.
Information, 951-765-1850 or www.namiwalks.org/InlandEmpire
-Diane A. Rhodes
Find your latest news here at the Hemet & San Jacinto Chronicle