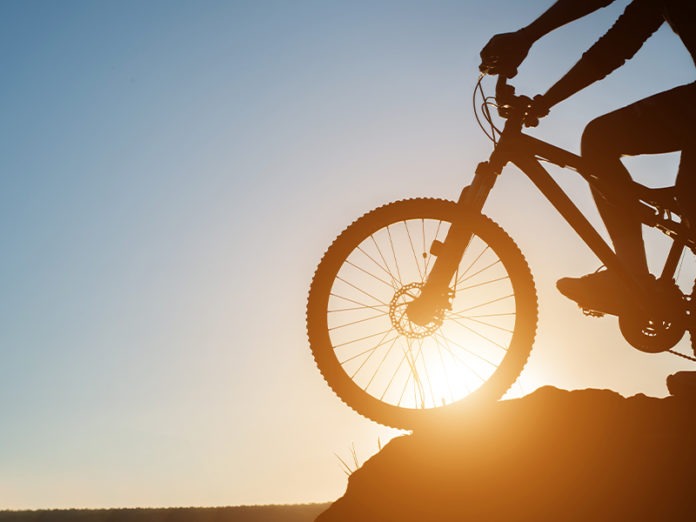 Bicycling in the Valley: Part III
To get to Pachea Trail, I cheat: I toss my bike into the back of the Tundra and drive to the end of San Jacinto Ave. From there it is a short ride to Pachea Trail, where San Jacinto dead-ends. First is to cross Stetson Ave., then follow the street DOWN! It's all fun and games at first, as I zoom by (by the by: this is much more fun than the other kind of 'zooming' going on nowadays). However, soon I reach and turn right on Legend Lane and the 'fun' begins.
It is mostly a 'stand up and pedal with all your might' ride, with almost no break at all, all the way to the top. You are dimly aware of the flocks of California quail, that the houses and the landscaping and the views are all very good, but that does not mean that you enjoy any of it, because pedaling requires all your energy and attention. Stage One is a straight up rise of about seven minutes, before turning left into Stage Two, a twisting, turning stand up and pedal continuation, before emerging at a slight leveling out of maybe thirty seconds, before beginning the last Stage Three, another stand up and pedal all the way to the end of the pavement, which ends at a dead end, overlooking the valley, as fenced dogs along the way bark at you excitedly. Today, a couple of beautiful Akitas accosted me—from behind a fence, having presumably little else to do all day. It's always and briefly fun, yet potentially dangerous to fly back down. The only thing that I can compare it to is riding down a long and large wave at Huntington Beach when I lived there.
At the top, where the road ends in a hill full of boulders, I have a full view of Diamond Valley Lake. Total time, for me (but maybe not for you): between fifteen and seventeen minutes. However . . . should you wish MORE exertion . . . turn around, resist the temptation to fly down back to the bottom and instead, slow down and go up the first right up ANOTHER HILL—it is called Peak St. It is ANOTHER stand up and pedal with all your might scenario! This one is another four or five minutes. The road ends at a private gate. Total time now: about twenty-one minutes.
Once, riding my Huffy ten speed (around 1994) I crashed—like all bicycle crashes, it was quite ugly. I had actually slowed down considerably to maybe ten or twelve miles per hour, as I approached the cross-street at the bottom. I didn't notice the sand. I lost control when I hit the sand and flew off, smacking my head on the street, rolling and sliding on the asphalt, right in front of an elderly, Canadian woman, who showed concern for me. "But you're all right? But you're all right, eh?" I was a mess. I had no idea. "I don't know", I said from the ground. "Let's see . . ." I got up and found that I could walk. The bicycle was fine! Those Huffy bicycles were tough! So, I rode home. Foolishly, I had not worn a shirt that day and so had slid on the asphalt without one. The result must have looked shocking because I noticed as I rode to my then home in Hemet, that cars would pass me, but the drivers and passengers were sticking out their heads and surveying me. As I rounded the last corner for home, a group of people looked at me. One said, "And he STILL got up!" Another torturous block and I was home. I entered the garage and put away the bicycle. As I walked in, heading for the bathroom, I shouted to my wife, "Don't look, honey!" She gasped when she saw me. I disrobed, turned on the shower, got in and nearly passed out from the pain. I found later that my head had struck the ground so hard that the collision had cracked my bike helmet to the length of two and a half inches all the way through. That would have been my head.
Should you require, as I do, a complete forty-five-minute workout, you may not go back home or to the truck. Instead, you make a right at the bottom and continue until you reach Pageant St., and make a right. Immediately it is time to stand up and pedal (of course!). This one takes an additional seven minutes to the top of the parking lot. Currently, it is 'closed'.. In reality it is not closed at all. I have seen workmen improving the parking lot, and the gate has been open, although 'closed' to traffic. The workers say nothing to me as I huff and puff my way past them and cross the lot to the top. Upon reaching the top I initially returned by way of the road leading down to Dartmouth St. However, as that required stopping at the locked gate and walking my bike (and breaking the momentum) around the post, I decided to return the way I came. It is as exhilarating and fun!
-Peter Putnam
Find your latest news here at the Hemet & San Jacinto Chronicle