After several months of building highly competitive paintball fields, the Soboba Flight Park's Backyard Paintball Park is making final preparations for their grand opening a few weeks from now. Paintballing is regionally popular, and the new park will attract enthusiasts from the San Jacinto Valley, Riverside and San Bernardino Counties, and other outlying areas. Located on Soboba Road, the park is less than three miles North of Soboba Casino and Resort in the City of San Jacinto.
Backyard Paintball Park will offer several mesh-netted themed courses inside the 10-acre complex which will include competitive military and bunker style courses. Rental marker packages, a pro-shop, snack bar, and other amenities will also be on site. Tournament and league play, private parties, and corporate team building events where your employees learn that "winning is a team sport" are also available.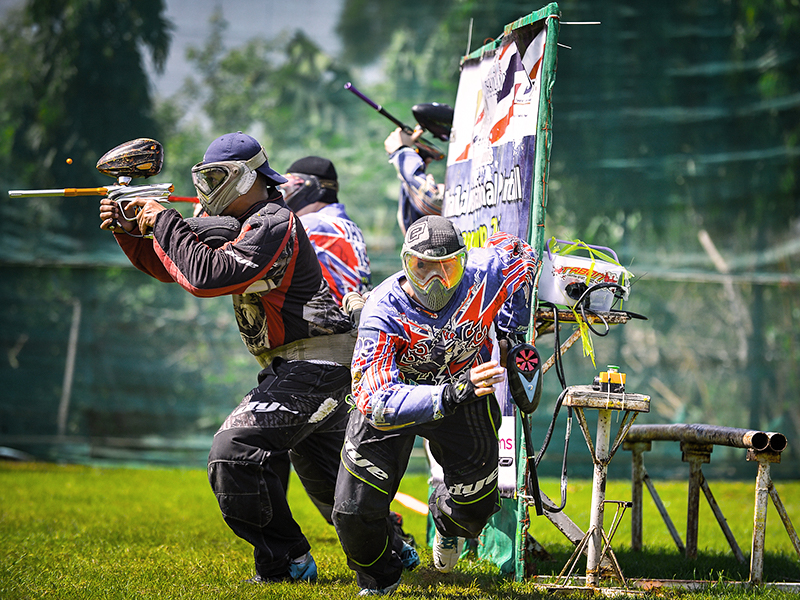 San Jacinto Mayor Russ Utz said, "I am having a hard time containing my enthusiasm for the opening of the Backyard Paintball Park, located next to the Soboba Flight Park. It is going to be yet another amazing amenity adding to our impressive portfolio of outdoor activities available in the San Jacinto Valley. The placement near the all-new Soboba Casino Resort Complex is a perfect fit, coupling lodging, entertainment, and a world-class 18 hole golf course." #GoSanJacinto
The Backyard Paintball Team is comprised of longtime Valley residents; the Hall Family. Park management includes Connie Hall, principal, son David Hall, operations manager, and daughter in law, Kayla Hall, finance manager. The Hall's have an extensive history of community service and event production in the San Jacinto Valley. David Hall, the course designer, and operations manager have over 20 years of paintball experience. This 2006 West Valley High School graduate spent his youth paintballing and working at Bryson Paintball in Downtown Hemet.
Ron Bryson, the owner of Bryson Paintball, remembers David's love for the sport by stating,
"David will no doubt be successful in this new endeavor. He has excellent people skills and an eye for quality paintballing".
---
The grand opening will be announced in the coming weeks. Additional information can be found at www.BackyardPaintBallPark.Com, and, Facebook at www.facebook.com/1backyardpaintball.