Details:
On April 13, 2021, The Colorado River Station Special Enforcement Team (SET), Investigations Bureau, along with the Riverside County Special Enforcement Bureau, performed a residential search warrant in the 600 block of N Eucalyptus Ave, in the City of Blythe.
Arrested at the residence were, Jose Valenzuela (age 36) and his girlfriend Sonseeahray Rodriguez (age 36), both residents of Blythe. It was discovered Rodriguez is a confirmed convicted felon.
During the service of the search warrant, an unregistered semi-automatic pistol, a non-California complaint unregistered .223 rifle with a high capacity magazine, and multiple rounds of ammunition were located. Evidence was also located which coincided with unauthorized firearm sales. Both Valenzuela and Rodriguez were arrested without incident and booked into the Blythe Jail for the following charges: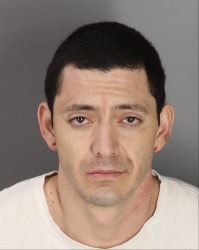 Convicted Felon in Possession of a Firearm
Convicted Felon in Possession of Ammunition
Possession of an Unlawful Firearm
Possession of Unregistered Firearms
Possession of High Capacity Magazines
Distribute Firearms for Sales
The Riverside County Sheriff's Department has a zero-tolerance policy for these offenses. If you suspect illegal activity in your area, please contact your local Sheriff's Station. In addition, The Colorado River Station Special Enforcement Team is locally dedicated to serve our farming and rural communities and willfully enforce the law to protect our citizens. Anyone with additional information regarding this case is urged to contact Deputy Pfohlman or Corporal Eckenrode at the Colorado River Station by calling (760) 921-7900.
For media inquiries regarding this incident please contact the Media Information Bureau.
Find your latest news here at the Hemet & San Jacinto Chronicle