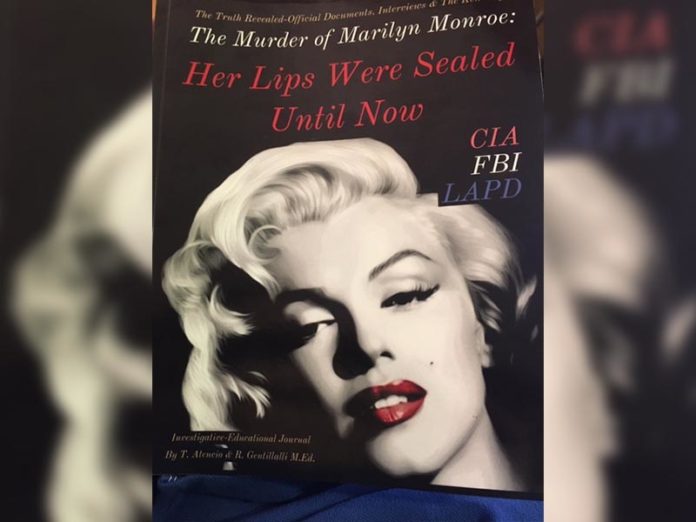 (Review of the book)
New book names names and then some…in the murder (not suicide, per the book) of Marilyn Monroe
"Probable Suicide."
What is "Probable Suicide"? How can someone die by "Probable Suicide"? You'll find out why this bogus finding was used in the death of Marilyn Monroe. Tantalizing questions abound in this book: "Why wasn't there any pill residue in Marilyn Monroe's small intestine? Why no pill residue in her kidneys? She would have died long before the entire amount (of the pills) had completely digested past her stomach and small intestine." This is just one of the salient points made in this book.
This book is a hard read. After all, the authors are not professional writers, but professional investigators. It's the kind of book which senior writer Rusty Strait could have written to a fare-the-well. And why not? Rusty Strait figures heavily in the book's narrative. Rusty Strait is a professional journalist with almost 40 books to his credit and his credential speak for themselves. Most of those books deal with Hollywood as Strait was publicist for Jayne Mansfield for a decade. The book certainly could have used Strait: it's uneven and the pertinent information is scattered, but within these pages you will find a treasure-trove of information…and the finding is worth the hunt.
Some passages literally jump off the page. "Operatives used an injectable form of Nembutal to kill Marilyn."
Hard-hitting questions (some answered directly, some not) are asked: "If Marilyn had so many sedatives near her bedside (as was found)…why did she call friend (actress) Jeanne Carman for more?" The inference being of course that Marilyn's bedside death-scene was a set-up. Spoiler alert: it was a set-up.
Parts of the book seem to close the case for murder without needing to read further: "Marilyn's body was picked up by Westwood Village Mortuary's Guy and Don Hockett, where Alan Abbott was waiting to embalm Marilyn. However at around 9am, her body was transferred by coroner's officials to the county coroner. Where is the chain of evidence? There is none. The chain of evidence is lost when Westwood Village Mortuary picked up Marilyn's body, sealed the doors and took her to the morgue. Then the coroner's office picked her body up at the mortuary 3 hours later."
(Review of the book)
"In theory we can stop right here and conclude, based solely on the above paragraph, that the autopsy was completely invalid and unable to confirm accurately any findings." And with just these two paragraphs, one can see why the theory of suicide has been questioned since the day Monroe died: it holds very little weight.
The authors also cast a jaundiced eye toward the oft-told lie of Monroe's being suicidal (she wasn't).
But the book goes further than just casting aspersions on the "Official version" of Monroe's death: it blatantly names those involved in her murder. Chapter 8 alone is worth the price of the book. Here are just two of this chapter's revelations:
"Was Peter Lawford directed by the British Secret Service to act as an agent? Being Peter Lawford was the liaison between the Kennedys and Winston Churchill, Lawford had no problem conveying information he learned from the Kennedys to his London handler/controller. How do we know? Top-Secret documents reveal these findings!"
Why did a helicopter pick up Peter Lawford at his home (causing many problems, kicking up sand in neighboring pools) from a clandestine airport?
We have it on good authority that OCID (A clandestine department within the LAPD which figures heavily in the Monroe-was-murdered narrative) operatives picked up Robert Kennedy on August 4, 1962 (the day Monroe died) form the Santa Monica Airport according to Dan Stewart LAPD OCID around 1:30pm and took him to Marilyn's. We also know a fixed-wing aircraft or military helicopter flew in to Santa Monica airport from Hollister airport. We have solid information that Robert Kennedy was able to fly from Hollister to Santa Monica in a fixed-wing aircraft in approximately one hour. Kennedy was at Marilyn's and orchestrated the murder of Marilyn Monroe using Dr. Greenson and the two OCID operatives, Ray Cadena and George Arnold. I understand that Peter Lawford hid in the closet."
Again, the book is uneven and untidy. A professional writer like Rusty Strait could have taken the book's explosive material and detonated it in a most orderly and devastating way, but, for those who love classic Hollywood, Marilyn Monroe…or just a good, true unsolved mystery…the book is more than incendiary enough.
Find your latest news here at the Hemet & San Jacinto Chronicle
Search: Review of the book