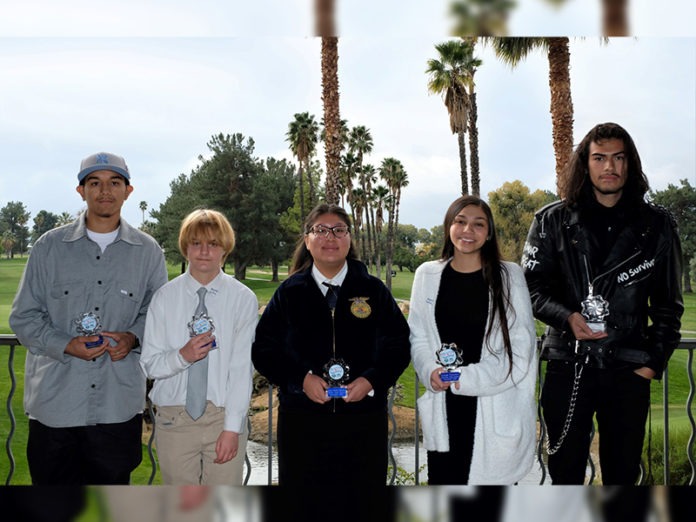 The Hemet/San Jacinto Student of the Month program held its most recent recognition breakfast event at the Maze Stone restaurant at Soboba Springs Golf Course, December 9. Six local high school seniors were recognized and honored for their character, love of learning and commitment to academics in addition to their involvement in school and community activities and their ability to overcome difficult life challenges. And they do this all in a setting that honors God, America, family, community and free enterprise. Students are nominated by teachers or other school personnel for making a difference in their homes, schools and communities.
Program founder and event hostess Karena Zermeno also represents one of the sponsors, Altura Credit Union. Backpacks filled with gifts, a Student of the Month plaque, certificates of recognition and much more were donated by the program's sponsors to the award recipients. Each student was invited to the podium to share their personal story, past challenges and future goals with a room full of supporters that included principals, teachers, peers, family members and community and school district dignitaries.
December's students of the month from Hemet Unified School District schools are Lanaya Contreras, Aaron Holaway, David Lieras and Kimberly Montanez Quintanilla. San Jacinto Unified honorees are Adanesne Carrasco Soto and Derin Ramos.
Hamilton High School's Lanaya Contreras was recognized for all of her hard work and passion. Principal Jeff Franks said she is a leader on the basketball team with drive and passion that carries over into the classroom. Her teacher, Preston Brimhall, said the reasons he selected Lanaya for this honor is because she is all heart and determination, she has the qualities of a resilient person and she possesses forgiveness. "An important thing about me that I take full pride in is being Native American from the Santa Rosa Band of Cahuilla Indians as well as the San Pasqual Band of Diegueño Mission Indians also known as Kumeyaay people," Lanaya, of Mountain Center, said. "Growing up on a reservation has taught me so much. It wasn't always easy, but it made me the person I am today. I have stayed true to myself and the people I love." Her plans are to attend Cal State San Marcos to major in psychology with a career goal of becoming a counselor for her tribe.
Aaron Holaway from West Valley High School was introduced by biology and chemistry teacher Mary Grace Padron, who said she has been fortunate to have Aaron in her classes since he was a freshman. She described him as passionate, humble and caring. Aaron wants to major in biology and eventually have a career in scientific research. He admits to entering high school with low self-worth but was able to find his way through biology thanks to Padron's motivation. He said that was a lesson that he will take to college as it helped him realize he could turn things around with the right positive mindset. "One of the things that impresses me about Aaron is his ability at helping other people," his father said.
Tahquitz High School recognized David Lieras for December. His English teacher Molly Otis shared one of his quotes, which she says David writes to help motivate others. "You can do anything you put your mind to. Whatever you want you can get it. Work hard. Never give up. Set goals and live up to them." Otis said, "This young man totally represents Tahquitz Pride." David said some of his contributions to his school and community have been demonstrating good citizenship to his peers and being an active student. He is looking forward to becoming an electrician and plans to attend San Joaquin Valley College to pursue that goal. "There have always been many obstacles that have shaped my life," David said. "However, one that has challenged me day by day was losing my beautiful mom. And though she may not be here today, it makes me more determined to keep pushing and pursuing for her."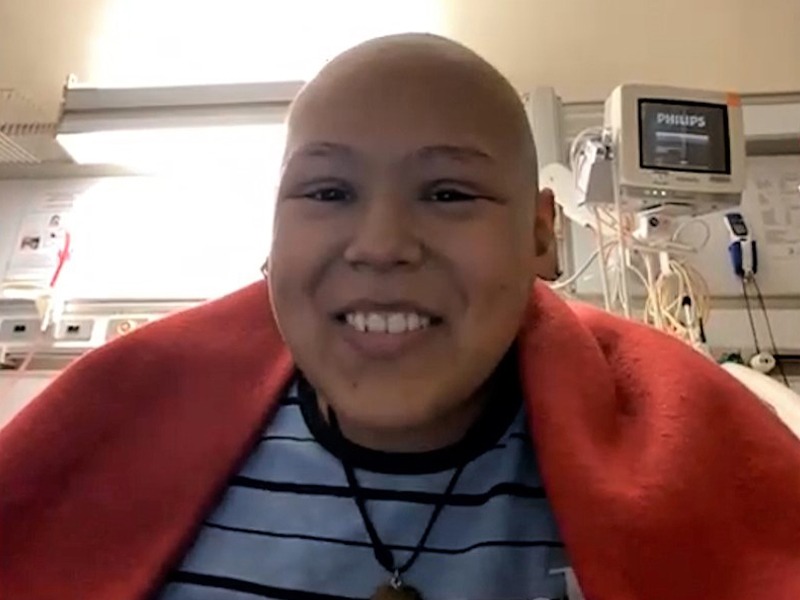 Kimberly Montanez Quintanilla was Hemet High School's choice for December. An active member of the school's vet science program and FFA, she feels the greatest contribution she has given to her community, school and family is her inclination to help and her empathy. "Everywhere I go, I never hesitate to agree to help," Kimberly said. "I plan on giving back to my community by volunteering at animal shelters." Her career plan is to be admitted to the animal science program at Cal Poly Pomona followed by admission to UC, Davis' School of Veterinary Medicine to earn her doctorate degree, with the goal of becoming a small animal veterinarian.
Adanesne Carrasco Soto from San Jacinto High School was singled out for this month's honor. She could not be present at the event as she was in the hospital undergoing a week long chemo treatment for Ewing's Sarcoma, which she was diagnosed with in September. She was able to attend via Zoom and said, "I was given life-changing news," Ada said. "After a while I accepted my new path, the path that would be taking me away from everything I knew and was known for: school and sports." Principal Courtney Hall said Ada has had to face incredible obstacles throughout her life that would be crippling to most people. "She, however, persists and she does it with a smile and optimism like none I have ever experienced before." That persistence has allowed Ada to continue to achieve academically and earn her high school diploma early. "One of Ada's goals is to inspire people and we all want her to know that she has far exceeded that goal and that she inspires us every day," Hall said. With aspirations of becoming a registered nurse, Ada shared her favorite quote which she said has kept her going since she first heard it while in middle school: "She believed she could and so she did."
Mountain View High School selected Derin Ramos for being involved in his school through ASB. His future plan is to enlist in the United States Army after graduation. He wants to work in the medical field while serving in the military and then pursue that as a career after he returns to civilian life. He also has an interest in engineering and starting his own business someday. Derin said an important life lesson he has learned is to make smart choices as to who you have around you as they can be negative or positive influences. He credits his stepfather with showing him the right way to live. Derin also gave "a big thank you to all the sponsors for giving me this opportunity and helping me let my name be known." Principal Ken Swanson said Derin is a great role model for the other students on campus as he is "very friendly and accepts people the way they come."
Zermeno asked all the students to stand and be applauded for their accomplishments. "I think many components make us who we are and the most important is what's in here, our hearts, and every student here today shares that," she said. "Education's important and our health is important but having a heart and helping others makes a huge difference."
For more information, www.studentofthemonth.net.
Diane A. Rhodes
Find your latest news here at the Hemet & San Jacinto Chronicle