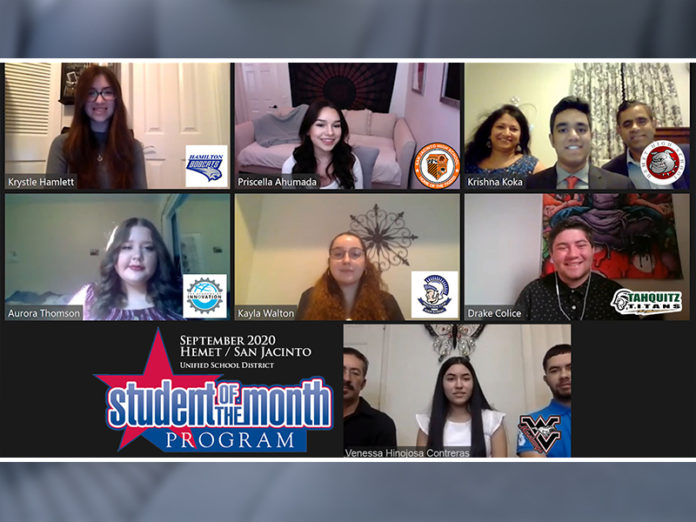 The Hemet/San Jacinto Student of the Month program began its eighth year of recognizing local seniors for demonstrating character, integrity, love of learning, involvement in school activities, athletics and community service. Students are nominated by teachers or other school personnel for making a difference in their home, school and community.
Due to the COVID-19 pandemic's limitations regarding public gatherings, the event was held virtually on Sept. 10. More than 50 participants logged into the Zoom meeting where students shared their stories and sponsors and administrators offered their support. Program founder and meeting hostess Karena Zermeno also represented Altura Credit Union, one of the sponsors.
Seven outstanding students were introduced after the Pledge of Allegiance was led by San Jacinto Unified School District's Vincent Record and an opening prayer was given by Pastor Jeff Johnson of San Jacinto Assembly of God church. Johnson said circumstances are forcing people to become more creative and develop things they wouldn't normally have had to, and these students are no exception.
September's students of the month from Hemet Unified School District schools were Aurora Thomson, Alyssa Hamlett, Krishna Koka, Drake Colice and Vanessa Hinojosa Contreras. San Jacinto Unified students were Kayla Walton and Priscella Ahumada.
Aurora Thomson, from the Academy of Innovation was cited for her positive attitude, hard work on her studies and her dedication to others as ASB president.
Hamilton High School Principal Jeff Franks said his school's honoree, Alyssa Hamlett, doesn't let anything stand in her way. She feels her biggest contribution at home is assisting her U.S. Marine Corps veteran father with his daily living needs due to injuries he suffered in an overseas tour of duty and also tutoring her younger brother in math.
"A significant life lesson I've learned is to adapt and overcome," Alyssa said.
Hemet High School's Krishna Koka was singled out for this honor by his teacher and coach, James Walsh. After the death of his beloved grandmother in his junior year, Krishna said it reaffirmed his desire to become a doctor and to return to the community to serve after he completes medical school.
Mountain View High School honoree Kayla Walton was nominated by her English teacher, Tia Gaither.
"I love caring for the earth," Kayla said. "Although I'm only one person I know I can contribute. Just because something is tough, it doesn't mean you can't get through it."
Priscella Ahumada was this month's choice from San Jacinto High School. She said that growing up surrounded by her father's passion for art and seeing the beauty of his work attracted her to it. She hopes to inspire others like her dad did for her as she pursues an entrepreneurial career in the entertainment industry.
Tahquitz High School honored Drake Colice who was described as "a natural conversationalist and wise beyond his years" according to Assistant Principal Matthew Centofranchi. Formerly in foster care, Drake said that experience helped him become resilient.
"I want to prove to myself that I can be whatever I want, despite my past," Drake said.
Vanessa Hinojosa Contreras plans to attend the University of California, Riverside after she graduates from West Valley High School in Hemet. She is an active member of FFA, AVID and is on her school's volleyball team. She also serves as ASB president. She plans to return to the district as a teacher once she completes her higher education.
After all the students had finished their acceptance speeches, Sen. Mike Morrell's field representative Heather Perry added some words of encouragement for them. She chose a quote from Helen Keller:
"The struggle of life is one of our greatest blessings…It teaches us that although the world is full of suffering, it is also full of the overcoming of it."
HUSD Superintendent Christi Barrett expressed her feelings to the students by telling them that "our interactions with you always fill our cup and remind us of why we became educators."
Information, www.studentofthemonth.net
-Diane Rhodes
Find your latest news here at the Hemet & San Jacinto Chronicle