Phil Ayala, Brian E. Hawkins, Crystal Ruiz, Cynthia Stroffolino, and Russ Utz are running for the three council seats. Ruiz and Utz are current council members trying to win another term.
Today we are posing questions to Brian E. Hawkins, a conservative trying to win a seat on the council for the first time.
Q. Why do you think you are the best candidate for the job?
A. Our Country is currently divided. While the media and many politicians are playing the left against the right, I believe these elections need more than politicians running for office. I'm running as a patriot. I love this country, and I love the city of San Jacinto. I didn't decide to make this city better the day I pulled papers to run for the city council seat. I have tried to help in every area of the community. I have volunteered to help trouble youth at San Jacinto Unified School districts. When the city had an issue involving a deputy of the San Jacinto Sherriff Department and a young man at the High school, I intervened to bring unity. Our Supervisor, Chuck Washington, presented me with a certificate to bring harmony in the city between law enforcement and faith-based organizations. I believe in my voice to bring change and strong leadership to move this city forward
Q. What do you see as the biggest challenges facing San Jacinto in the future.
A. The current COVID-19 crisis has challenged this nation. Our city being a small town, seem to be hit the hardest. We have a few businesses that meet the full needs of our community. During this pandemic, I have noticed a shortage of rental property. I only can imagine the many residents evicted due to financial hardship. The current jobs available will not help take care of the average size of families in the area. We need better jobs in our city. We must petition the governor with a plan to aid residents with either rental assistance or rental forgiveness. I realize this may not be an issue for all; I believe that along with opening up our city entirely without fear of being shut down. The Board of Supervisors should give Every small business and schools the same guidelines and procedures that Wal-mart currently has in place to operate and stay open.
Q. What ideas do you have to help the city attract new businesses and create new jobs.
A. I want to help current businesses that have endured the covid crisis bring in more revenue. I've watched the city support the new companies that eventually shut down and left. I believe it's essential that businesses know that they will thrive here when they come here. I also plan to help revive the downtown main street area. We have some historic buildings in San Jacinto. It's time we provide a beautiful city that will invite many to visit our valley. Cleaning up San Jacinto of its homeless, gangs, and drug problems will promote a healthy business atmosphere.
Q. How can the council assist the Sheriff's office in combating crime in the city?
A. As a community pastor, I have helped the sheriff department over the years in San Jacinto. I will continue to be a bridge of support for our law enforcement. My campaign has supported our police. During the call to defund the police by outside communities, I petitioned the community to encourage the current city council to hire more officers. The fight against crime will take more than a local authority. We need full community support. We need to bring back trade programs and better substance abuse centers. We also need to consider working with mental health facilities.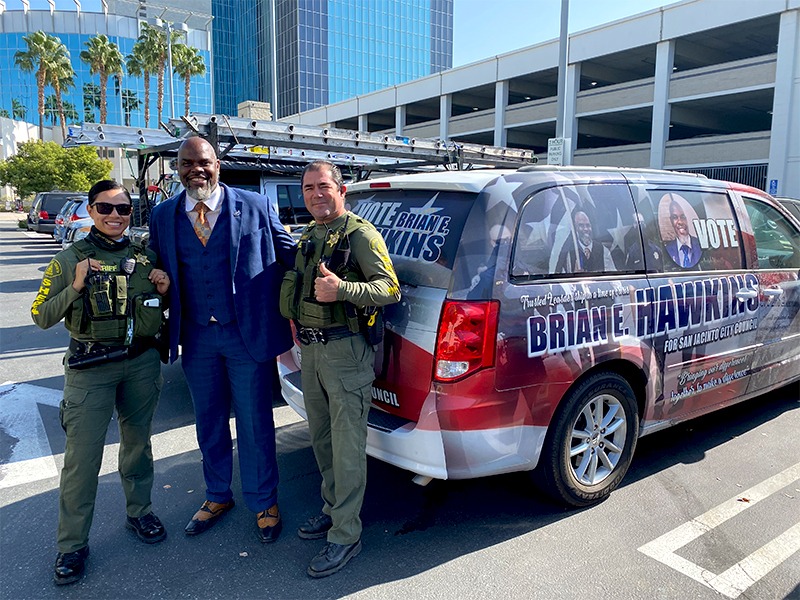 Pastor Brian E. Hawkins
Find your latest news here at the Hemet & San Jacinto Chronicle