(Soboba Helps School)
The Soboba Foundation readily stepped up to help St. John's School in Hemet implement a project for students to reduce use of plastic water bottles. The recent installation of two water filling stations has been met with excitement and involvement by the 160-member student body in transitional kindergarten through eighth grade.
Administrators at the school began talks last summer on ways they could reduce the use of plastic bottles after the issue was brought to their attention by students who have always participated in environmental awareness in one form or another.
"The 'Reduce the Use' program is moving forward in phases," said Stephanie Lynch, Director for Staff and Students. "We bought and installed two bottle filling stations, using the Soboba Foundation grant monies," said Lynch.
Lynch credits the student council with trying to find a solution to the amount of plastic being used and concluded this would be a worthwhile project. Members Emily Domenigoni, Cayleigh Epstein, Marley Puckett, Luke Teague, Daniel Valdez and Riley Valle said they were eager to share details with classmates about the many reasons the stations should be utilized as much as possible.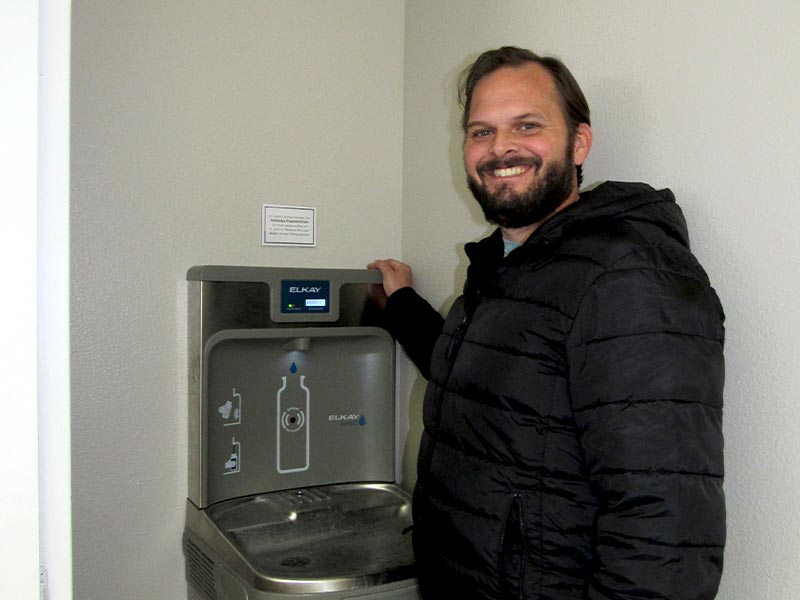 "There are so many things ruining our environment and animals die because they lose their habitat and that's not right," said Luke, 10. "I looked it up, and soon there will be more plastic than fish in our oceans and it's just ridiculous."
Eighth-grader Daniel said it's important to realize that it's not just plastic bottles causing the problems and that we need to keep our beaches and other areas clean of all waste.
"A lot of times the plastic caps on single-use water bottles don't get thrown away or recycled so refilling our own water bottles takes care of that," said Marley, 13.
The students said they are environmentally conscious all the time, not just at school. "In my family we sometimes use metal straws and when we go to the grocery store, we re-use our grocery bags," said Daniel, 13.
The next step of the "Reduce the Use" project is to move to water-only service with hot lunch and snack programs, which 100 percent of students and staff have agreed to do. Along with encouraging students to bring refillable bottles for use at the new filling stations, cafeteria manager Georgeann Bryan used this opportunity to begin serving fruit-infused water from two-gallon glass water dispensers to encourage students to replace sugary beverages with water.
"She's really on board with this program from a health education and nutrition side," said facilities manager David Bellamy.
The school's aim is to expand its environmental conservation program and to improve service to the community by ultimately having: four hands-free, refrigerated bottle filling/drinking fountain units: one hands-free, refrigerated bottle filling/ADA bi-level drinking fountain unit and one outdoor water bottle filling station/ADA drinking fountain unit on the school's campus.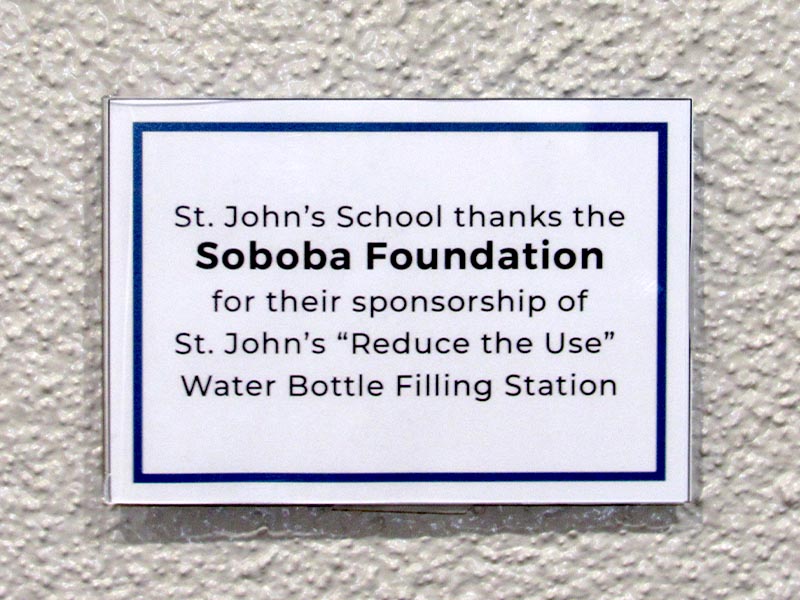 (Soboba Helps School)
"We are using this project as part of our science and health curriculum," Lynch said. "We began our conservation efforts here years ago, moving away from Styrofoam and just learning how to be more environmentally friendly."
The water filling stations also include a filtration system to remove deposits, including lead, so consumers are delivered a higher quality water. The Elkay stations are the type used at stadiums, resorts and parks and come equipped with a "Green Ticker" informing users of the number of 20-ounce plastic water bottles saved from waste by using the station. More than 1,000 plastic bottles have been saved since both stations were fully installed at the end of January.
"The kids love seeing the numbers go up," said Bellamy, who has been at the school for 23 years.
Posters showing the positive results of the stations are posted at each station including the fact that students will drink 500,000 ounces of clean filtered water during the school year and that 6,500 single use plastic water bottles will be saved from landfills annually by St. John's School.
A survey of staff and students was conducted before the installation of the bottle filling stations to evaluate the impact and found more than 40 percent said they sometimes or always used a single-use plastic water bottle during school or after-school activities with an average of 35 bottles being used weekly.
The majority, more than 83 percent, said they disposed of empty water bottles in one of the many recycling bins located on the campus. More than 85 percent of responders agreed with the statement that "the production and disposal of single use water bottles negatively impacts our Earth's resources, the size of our landfills and the level of water pollution in the fluids you drink every day."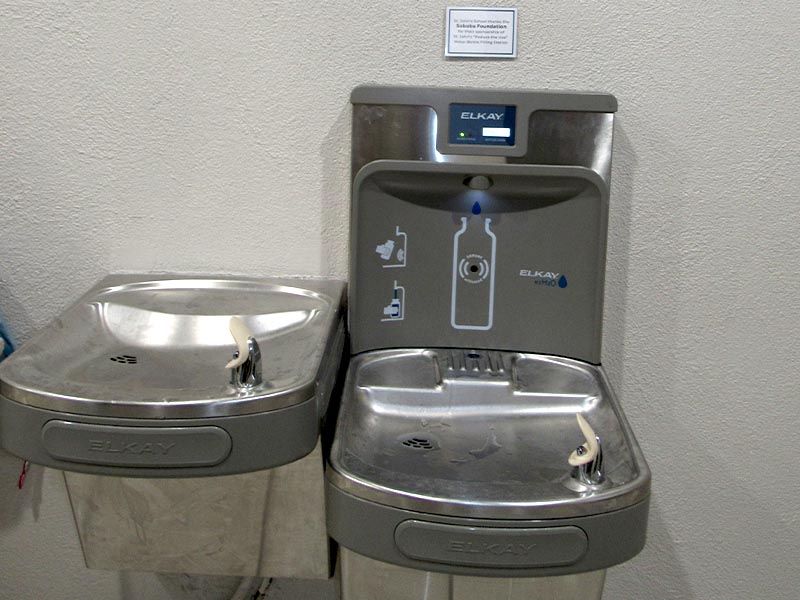 Since it opened in 1983, the mission of St. John's School is to serve the San Jacinto Valley by preparing students to be leaders and confident scholars by guiding them in recognizing and nurturing their talents and fostering a community that seeks to love, serve and encourage others.
Lynch said this latest program has been so gratifying because the kids feel like their words made a difference and it helps them learn that gradual change is still change.
Find your latest news here at the Hemet & San Jacinto Chronicle
Search: Soboba Helps School