(Soboba supports scouts)
Girl Scout Troop 2412 members were proud to show off the efforts that earned them a "Think Like an Engineer" badge during a ribbon-cutting at the Hemet Scout House on October 19. Thanks to a $10,000 grant from the Soboba Foundation, the six high-school freshmen – and friends – were able to complete "Project Sparkle."
"Today we are here to celebrate the realization of a Girl Scout troop's vision, said Chuck MacKinnon, Chief of Staff for Girl Scouts of San Gorgonio Council. "And as with every Girl Scout activity, the girls learned by doing and earned one more badge for their vests."
The troop was one of 10 nonprofits to receive funds from the 2019 Soboba Foundation Charity Golf Tournament in April. This year marked the seventh year of Soboba giving back to the community by choosing beneficiaries who would each receive $10,000 for a particular project or program proposed to the Soboba Foundation board of directors earlier this year.
"On behalf of Girl Scouts of San Gorgonio Council, I want to thank the Soboba Band of Luiseño Indians and the Soboba Foundation for choosing Girl Scouts to be a beneficiary of the golf tournament," MacKinnon said. "The time and the hard work invested in the tournament makes a positive impact on so many people in the San Jacinto Valley."
Isaiah Vivanco serves as Soboba Tribal Council Vice Chairman and member at large for the Soboba Foundation. He was joined by the foundation's Vice President, Dondi Silvas, at the ceremony.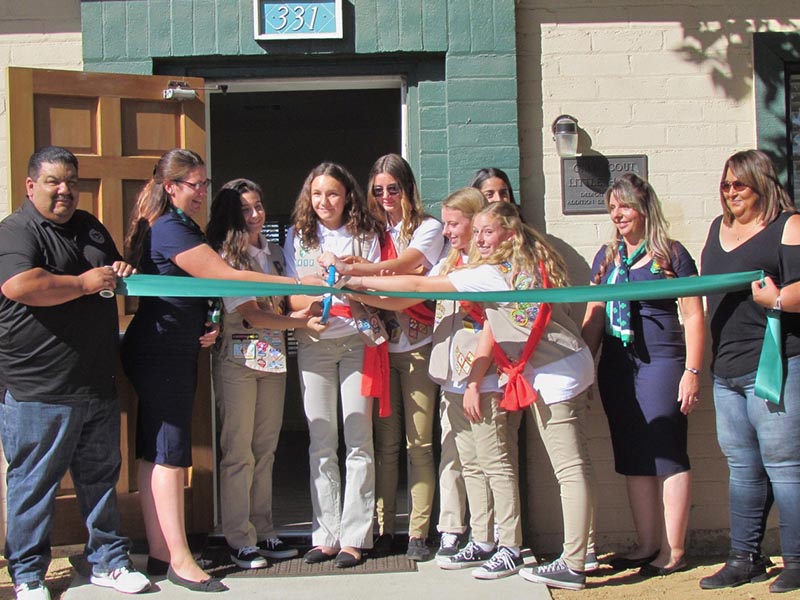 "This is a great moment for us because it allows us to really see how the golf tournament funding impacts our community," Vivanco said. "It's an event we like to do and seeing it pay off like this, benefits us as well. We work on the tournament for four months and it's rewarding to know the funds are being put to good use."
Silvas was a Girl Scout in the 1970s and was impressed with the advances that Girl Scouting has made since that time.
"I think we just sold cookies and got badges for camping and sewing," Silvas said. "To see the hard work this group put into this project is really great."
A plaque to honor Soboba's contribution will be displayed at the Hemet Scout House as a reminder of the tribe's dedication to the community. Knea Hawley, Vice President of Development for the Girl Scouts of San Gorgonio Council, was grateful the group was chosen as a recipient. The Scout House, which serves girls ages 5 to 17, was last updated in the mid-1970s. This phase of renovation concentrated on planting native, drought-tolerant plants in the front yard, installing durable flooring and adding a fresh coat of paint indoors.
"Support from the golf tournament enabled Girl Scouts in the San Jacinto Valley to earn their Science, Technology, Engineering and Math (STEM) badges," Hawley said. "This funding made it possible for Girl Scouts to improve the aesthetics and put their own stamp on their Scout House."
Girl Scout Camryn Bailey also addressed the crowd at the ribbon-cutting. She has been a member of Troop 2412 for the past eight years with her twin sister, Kaelyn. Their mom, Ami Bailey, is a troop leader.
"Project Sparkle was created a few years ago when my fellow Girl Scouts and I were doing a journey called 'Get Moving,' said Camryn Bailey, 14. "We wanted to go water-wise that year because we were in a severe drought and it was really important for us to save water and help our environment. When we realized that the cost was too high, we installed motion-sensing lights in the two bathrooms and the kitchen to save energy, and 'Project Sparkle' was put on the back burner."
She said in the three years since their first designs were done, the girls have used the project as a stepping stone to help them earn their Gold Awards.
(Soboba supports scouts)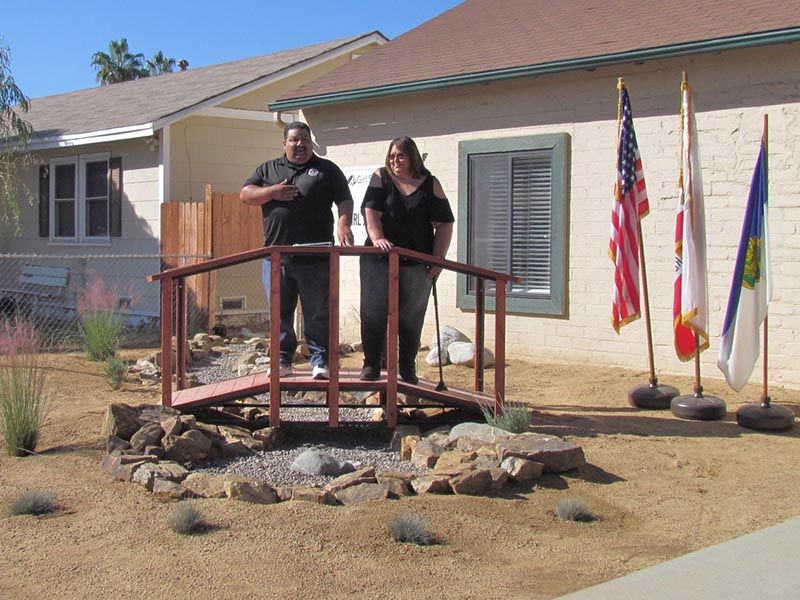 "The Girl Scout house has been valuable to our troop and our scouting experience, so it was very important for us to make sure that other girls can enjoy it as we do, for many years to come," Bailey continued. "In order for this to happen, the Scout House needed to look inviting and be a source of pride."
Mystik Hamby has also been a Girl Scout since her mother, Melissa Spurling, became Troop 2412's leader eight years ago.
"The project was hard work but also a lot of fun," said Mystik, 14, who sang the National Anthem at the ceremony. "We spent the final day putting all the finishing touches on the house, making sure everything was ready for today."
Troop member Maya Keys said, "It warmed my heart to have a little girl come up to me today and tell me she loves the new house and what we've done."
Girl Scouts of San Gorgonio Council Troop 2412 members are Camryn Bailey, Kaelyn Bailey, Kristyn Graham, Mystik Hamby, Reagan Harich and Maya Keys.
Find your latest news here at the Hemet & San Jacinto Chronicle
Search: Soboba supports scouts