COVID-19 sure turned Hemet upside down, but as the Riverside County colors become lighter, Florida Avenue is red hot and raring to go. Last week we caught up with downtown Hemet. This week we sauntered out to the west side hinterlands to see what happened Friday night when Riverside County was reduced to Orange, giving the go-ahead for restaurants and bars to allow 50% occupancy. Let's take the two most popular venues on the west end of Hemet.
I had a chance to speak with Jeff Platek, Manager of the AMF Bowling Center at 2850 West Florida Avenue, prior to last Friday and he filled me in with their inactivity over the past year and reopening this past Friday night, April 13th. People have all but forgotten when Brunswick Alleys occupied the location and AMF was playing second fiddle out in Valle Vista.
Brunswick went under and the lanes were closed until AMF vacated their old location and moved into their current 32-lane establishment.
"When the pandemic hit us, we closed officially in March of 2020, reopened for one week in June and then closed down until now."
Question: How are you lined up for the reopening?
"We'll be opening Friday night and hopefully rolling out between 8 to 10 leagues in two weeks. Right now we will offer open bowling. Meanwhile, we've kept busy working to clean the place up for our reopening and have also been working with AMF centers around the state, helping out where we can. We're almost 100% and it looks different than it did in the past.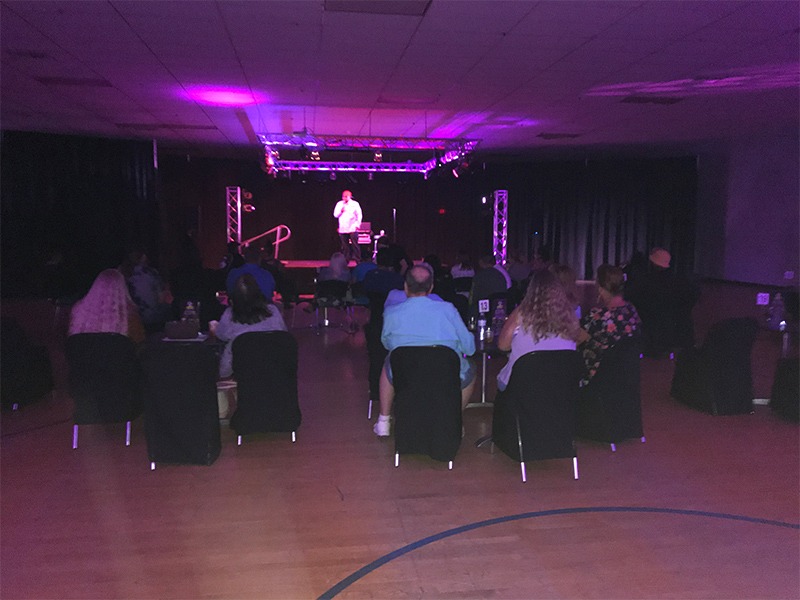 Question: Anything special planned?
"Mainly to get opened and hear the sound of bowling balls rolling and pins cracking. Our staff is excited. We caught the Orange County openings and it was a delight to see smiling faces popping through the doors down there. I have 3 kids; one in college, one in high school and one in elementary school and they can't wait to get back to normal."
I was there opening night and heard the familiar expressions of "strikes, spares, splits and turkeys." Balls were rolling pins were jumping. The lights were low and it was a reminder of the Friday date nights they used to have when the place was packed with the young and young at heart. Yes, bowling is back in Hemet.
THE WHEELHOUSE DEBUTS THE PURPLE LOUNGE WITH COMEDY NIGHT
Adjoining the Bowling Lanes to the west is Jesse Vivanco's Wheel House Skate Rink and Derby Bar and Grille. Jesse has a long history with both organizations. He was, at one time, General Manager of both the Brunswick Lanes and The Wheelhouse. When Brunswick closed he took over the Wheelhouse and later added the Bar and Grill. I also caught up with him prior to the County going Orange.
Question: Talk to me. What have you got up your sleeve for an anxious public?
"Roller skating was on the upswing prior to COVID last year. I was more excited about roller skating than I had been in quite some time. In fact, we took the plunge to making an investment to purchase all brand-new skates which I received and had on the racks barely 3 weeks when the pandemic hit us like an unsuspecting punch in the gut. That's where they have sat idle ever since because skating is not on the current reopening allowances.
"We had also begun expanding our kitchen which will allow us to offer more food options to our guests. Our next goal is to resurface the skating rink floor. All of that had to be put on hold due to the closure."
Question: Tell me more about the kitchen.
"As we all know, big dreams bring big problems. Inspections and hurry up and wait and what have you always come with the dreams. We were two-thirds of the way towards completion of that project which had to be put on hold. There are a few architectural and engineering designs plus installation of a new kitchen hood and we'll be ready to fire it up. Our new kitchen equipment also arrived the Monday before we had to shut down. Everything is sitting there waiting to be unwrapped and connected up."
Question: How does the County going Orange affect your seating capacity?
"At the allowable 50% capacity, the Derby Bar and Grill will allow approximately 100 persons. In the Wheelhouse, our seating capacity is normally 700 plus, so that allows us seating for 350 which accommodates banquets and dining activities even though skating is not back yet.
"Earlier, we were allowed a smaller percentage in our patio and area to the side of the rink, which our customers enjoyed during warm weather. One function doesn't interfere with the other. We are opening the new Purple Room (part of the rink) with a Comedy Show which was previously one of our monthly attractions.
"Lack of live entertainment has handicapped not only club owners but musicians and other live forms of entertainment. The new arrangements are a win-win for us all. We remain available for banquets and other meetings, parties and similar functions."
I caught the Comedy Show on opening night and it was a big success. I sensed a feeling of being set free to get out and go again.
As I cruised back down Florida Avenue, a story cooking inside my crania I could almost feel the pulse of the city, like heart-pumping blood into the system. The main aorta of the town was coming to life. The streets were crowded like days of old and tomorrow promised us freedom from lockup, so to speak. Just sayin' rustystrait@gmail.com
Rusty Strait • Senior Reporter
Find your latest news here at the Hemet & San Jacinto Chronicle