This month, the 100-year celebration at the Historic Hemet Theatre continues with two special events focused on the history of Hemet.
On Monday, the Hemet Heritage Foundation presented their monthly timecapsule of valley history, this one featuring a presentation by Ken Graff on the history of Ryan Field.
Ken's presentation revealed many little-known facts about Hemet's airfield, including the large role the field played in World War II, training hundreds of pilots for the war effort.
Ryan Field, was constructed in 1940 as a World War II training facility for pilots. The U. S. Army Air Corps contracted with Ryan Aeronautical Company to purchase 320 acres of open land in Hemet and built an entire airfield in just a couple of months. In just 4 years, over 14,000 army cadets were trained to fly here.
In later years, the airfield became a popular site for sailplanes and a glider school operated there for 40 years. Then in the late 1950's, the field was developed as part of Cal-Fire's facilities to fight wildfires in Southern California. Ken's book, "Mr. Ryan's Field," is available in the Hemet Museum (located in the train station).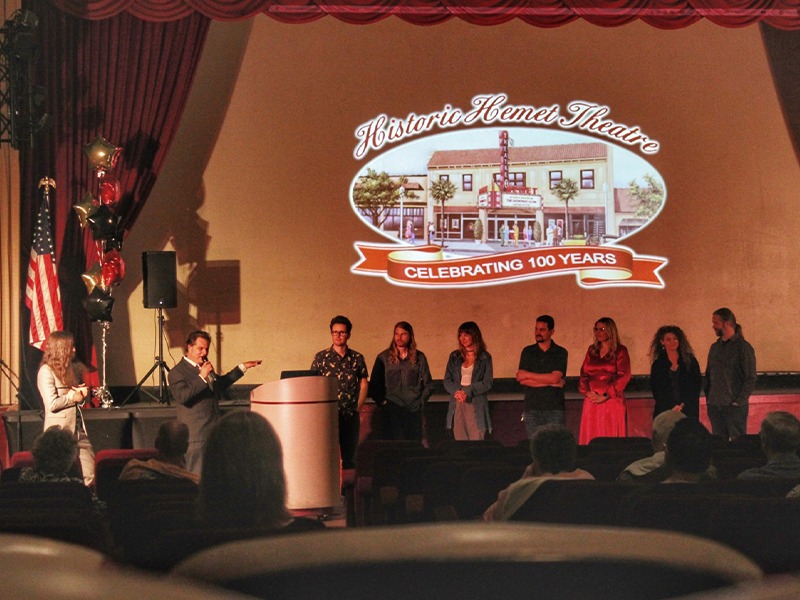 Next month, the Hemet Heritage will return to HHT on Monday December 13th at 7 pm to present a Christmas celebration featuring the Hemet Harmonizers Barbershop Quartet.
Then on Friday, the theatre hosted a showing of "Remembering When: The Story of Mr. Whittier's Hemet." The film tells the story of William Whittier, who constructed the Lake Hemet Dam which led to the creation of Hemet. Director Daniel Maggio and the film's cast were on hand to talk about the project to create the film.
The event also featured the local premiere of the directors latest project, "Kesi" about a girl who deals with her mother's death by expressing her feeling through her stuffed animals. Attendees were also treated to a surprise viewing of a new short video tour of HHT, narrated by Tennant, that the Foundation will use to promote the HHT project.
Information on all theatre events is available at www.HistoricHemetTheatre.com or by calling the ticket office, (951) 658-5950. You can subscribe to the HHT email blast by enrolling on the website.
Emily Rand | Contributed
Find your latest news here at the Hemet & San Jacinto Chronicle