Red Ribbon Week opened with The Truth About Drugs Running Team running throughout the Golden Era Productions 525-acre campus on October 24th with red ribbon flying in the air, all as a part of the Mission Inn Race as a fund-raiser for the Mission Inn Foundation, in its 44th year. Due to the COVID pandemic, the Mission Inn offered the option to run the race "virtually." Participants can run in their own location and log onto the Mission Inn Run website to register their times.
The Golden Era Running Team has long been dedicated to drug prevention. Red Ribbon Week is a drug prevention awareness campaign observed annually on the last week of October. It began as a tribute to fallen DEA special agent Enrique Camerena in 1985. Citizens of his hometown in Calexico, California, opted to wear red ribbons to honor his sacrifice.
The movement became so popular it spread to other states when it was adopted as a national anti-drug campaign by First Lady Nancy Reagan in 1988 when she coined the phrase, "Just say no" to drugs. The DEA declared Red Ribbon Week to be the nation's largest and longest-running drug awareness and prevention program in the country. Today, a new generation of synthetic drugs plague the nation like never before. The most deadly are Fentanyl and Carfentanil, especially among our youth.
VITAL INFORMATON REGARDING CARFENTANIL:
1. One microgram of Carfentanil, about the size of two grains of salt, is lethal.
2. Carmentalnil is produced in underground laboratories in China and shipped to the United States.
3. Carfentanil is 100 times more potent than Fentanyl, 4,000 times more potent than heroin and 10,000 times more potent than morphine.
4. Carfentanil was developed in 1974 as a tranquilizer to sedate large mammals such as elephants and was soon taken off the market because of its dangerous impact.
5. Drug dealers "cut" their supply of other drugs with Carfentanil. Unsuspecting users have no idea what they are getting.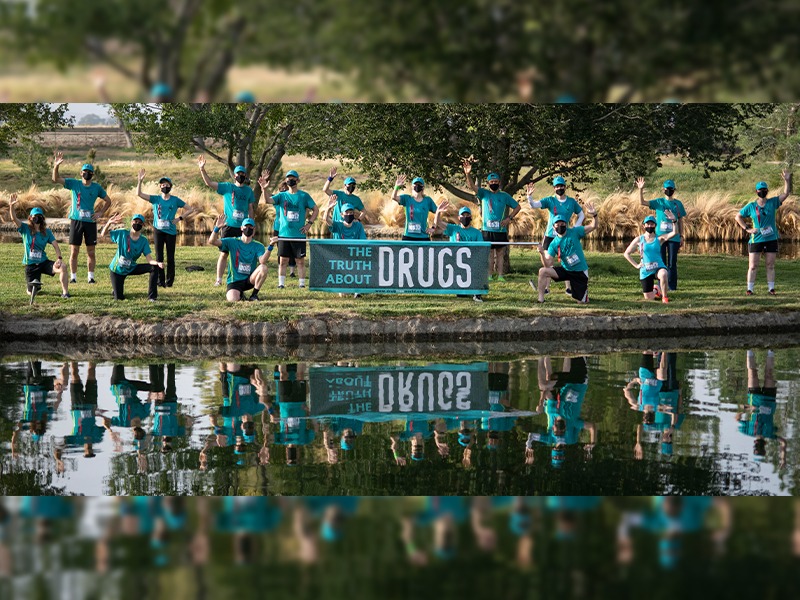 It is an established fact that education is the most effective weapon against such lethal narcotics. The Truth About Drugs Running Team urges community partners to help save lives by incre4asing awareness of drugs and help young people make informed decisions to live their lives free of drugs.
The Truth About Drugs program is said to be the largest international, most comprehensive nongovernmental drug education and prevention program of its kind. Overseen by the Foundation for a Drug-Free World, the program provides effective drug education resources: videos, booklets and other teaching aids in 20 different languages. These materials leave our young generations adequately informed of the danger of all illegal drugs.
Educators praise these hard-hitting materials for making an impact on young people, inviting them to make educated decisions about the use of drugs.
All Truth About Drugs materials are available to anyone free of charge to parents, educators and community leaders. They can be downloaded from the Drug-Free World website.
Golden Era Productions operates a state-of-the-art film and audio facility that produces audiovisual information and training materials for social betterment activities and humanitarian initiatives. For further information, visit https://www.drugfreeworld.org/drugfacts.html
The San Jacinto Valley has a large illegal drug problem, especially among unknowing young people. So it is well-advised for all to know as much as possible about prevention from overdosing or death with such drugs. One life saved is a life spared. Especially if it is your son or daughter.
Just sayin' rustystrait@gmail.com
Rusty Strait | Senior Reporter
Find your latest news here at the Hemet & San Jacinto Chronicle