(Tigers Prey On Golden Bears)
San Jacinto High Was Too Much To Handle For Temecula Valley
This was it, the final game before it really starts to matter. Temecula Valley came into San Jacinto last Thursday to play the Tigers. This was the last game before Senior Receiver Antoine Sullivan transfer suspension is over, which should help San Jacinto's offense dramatically. Antoine was Tahquitz's leading receiver last year as a Junior and will add some more firepower to San Jacinto's offense. Antoine will give Kajiya another reliable receiver and an every-down deep threat to compliment Damonce Williams and Kameron Rocha through the air, while Juan Denny, Kelvin Davis, and Kajiya Hollawayne continue to be threats on the ground.
But they still had to finish this game before they get to see how the offense works with him in there. San Jacinto was coming off a loss against Eastlake, so they had to bounce back and build momentum before League play starts. San Jacinto came out of the gates firing on all cylinders putting up points fast and often. Everyone was getting in on the fun. Kajiya Hollawayne looked dominate with 283 yards three touchdowns and no interceptions. Juan Denny ran hard all night and banked in 103 rushing yards, two rushing touchdowns, and 60 receiving yards.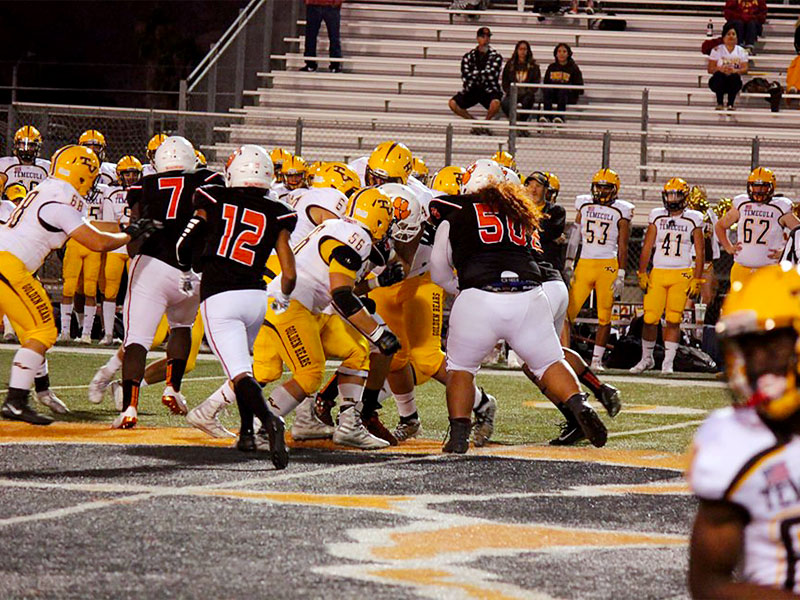 The Defense looked great, San Jacinto's Defensive Coordinator Ryan Cogdill was relieved to get his two big guys back Sheldon Newton & Mahe Hamala on the line. Together they dominated Temecula Valley's offensive line even though they had players who on paper were bigger than them; they couldn't match Sheldon's & Mahe's aggression and pressure. Keith Hunter came down with an interception in the opening drive. Elijah Torres and Roman Garcia made huge tackles all game long, both of them got huge sacks on Temecula Valley's Quarterback.
Player of the game goes to Kameron Rocha who made two huge touchdown catches, 80 receiving yards, punished Temecula Valley's running backs with big hits, and caught a great interception in the third quarter that he returned for 44 yards. San Jacinto finished the game on top 41-3. San Jacinto had a lot to prove in this matchup and took it as an opportunity to make a statement to the rest of the league. The time to prepare is over, now you have to show up and play real football, or you will be sitting at home in November. San Jacinto will be on a bye this week, which couldn't have happened at a better time so they can rest up and recover. Their next game will be against Beaumont in Beaumont and this should be the first game of the season that they have a completely healthy roster.
For more images of the game Ffllow Author Kyle Rae Headlee on Facebook and The Hemet & San Jacinto Chronicle on Youtube.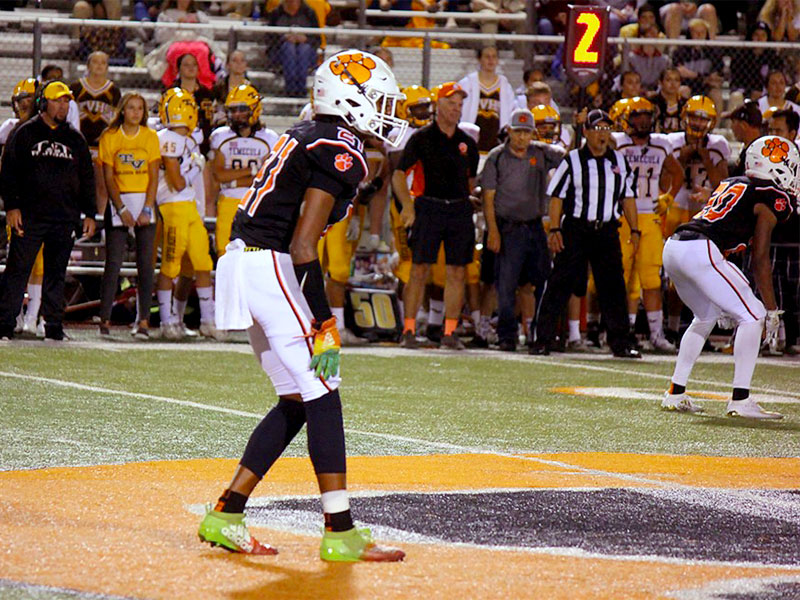 Find your latest news here at the Hemet & San Jacinto Chronicle
Search: Tigers Prey On Golden Bears